Haven't heard of Savennières? Either had we, at least not until we planned our trip to the Loire Valley and begun digging into what wine tasting in the region could bring. The Loire Valley is best known for Sancerre's Sauvignon Blanc production along with the famous Chenin Blancs of Vouvray, but the production in the Loire extends beyond that. We were based in the quaint commune of Vezins, a tiny town just south of the heart of the region. Sancerre was hours away driving, and Vouvray, too, was a bit too far for a reasonable wine tasting day. We ended up doing a bit of an off-beat Loire Valley expedition: venturing to Chinon, Saumur, and Savennières to quite literally taste the fruits of their labor. During our visit in early to mid-October, the weather was a perfect representation of a French fall week: a bit of sun, a bit of drizzle, a bit of cloud coverage, and mostly crisp days, perfect for cozying up with a glass of wine, a fresh baguette, and a wedge of brie.
Read this great piece on Savennieres: the best wine you've never tasted, for a great description of how winemakers use Chenin Blanc in this region. For those planning on doing their own wine tasting in Savennières and the surrounding areas, here's how we mapped out our day.
Vignoble du Beau Soleil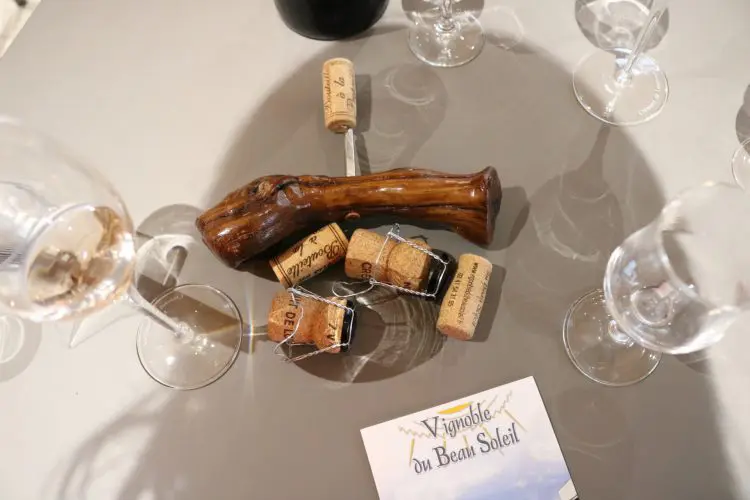 FIND IT: 4 Rue des Coteaux du Layon, 49380 Bellevigne-en-Layon
One of my favorite ways to start a day of wine tasting is with a bit of bubbly, so our first order of business was seeking out a place known for its sparkling. True Champagne can only be produced in the Champagne region of France (you can read about our one day in Reims where we delved into the epicenter of sparkling), but many of France's wine-producing regions produce a cremant, their own sparkling wine produced in the traditional method, a painstaking process that's widely considered the gold standard for production.
We chose to start at Vignoble de Beau Soleil, a small outpost with 4th generation winemakers producing a variety of wines. We had an opportunity to try a few sparklings and a few still wines, though their sparkling rosé was a fan favorite. The tasting here was educational as we sat around a rectangular table sipping away with the winemaker at the head. We took home a number of bottles to share at the villa, plus a few more to take home with us. The wines varied in cost, but most came in under €10/bottle.
The winemaker/owner helped explain each wine to us, though the conversation was a bit tough with our group's French skills grossly lacking. If you're planning a wine tasting trip to Savennières (or anywhere in the Loire Valley), French skills will go far and even some basic knowledge with wine-focused words and phrases will help with getting around. We found ourselves floundering quite a few times and thanking Google profusely for its handy translation tool.
Coulée de Serrant
FIND IT:  7 Chemin de la Roche aux Moines, 49170 Savennières
For me, Coulée de Serrant is a non-negotiable must based on the wineries we visited during our day of wine tasting in Savennières. When we arrived, Nicolas Joly, the winemaker behind Coulée de Serrant was there providing a tour to a visiting group of sommeliers from Asia. When they were done he graciously took us in and shared with us the history of the vineyard and his take on winemaking and the importance of organic and biodynamic methods, speaking in such a beautifully eloquent way that we were all a bit entranced. Wines here were the most expensive but also the most interesting of the bunch. If you had us do a blind tasting at the end of the day, I think most of us would have picked Coulée de Serrant's wines as the most impressive of the lot.
The Joly family produces wines in a biodynamic way, and the vineyard's history (it was once a monastic vineyard) adds to its allure. It's one of the few estates in France that's also its own appellation and the history includes 900 consecutive vintages. We left with three bottles that are still in our wine fridge waiting for a special night to be opened!
Domaine du Closel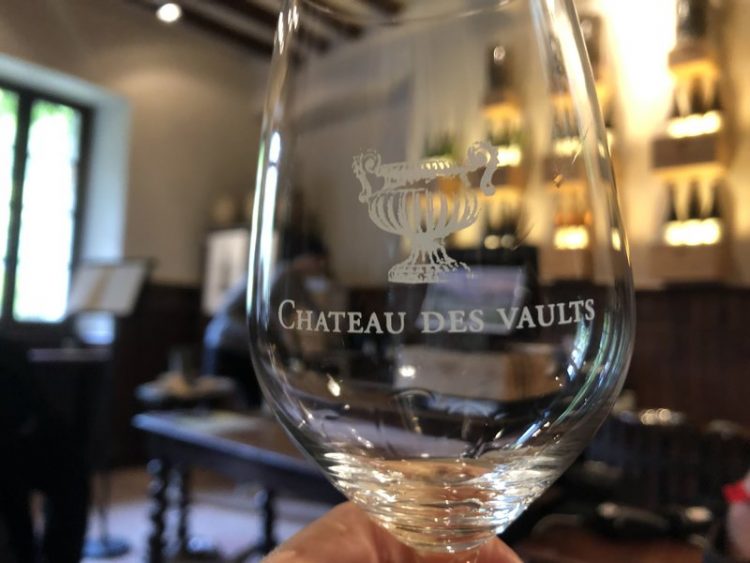 FIND IT: 1 Place du Mail, 49170 Savennières
Our final wine tasting before lunch, we settled into Domaine du Closel for a round of tastes (historically this estate known as Château des Vaults; you'll see it listed both ways). The winery produces a number of wines, and during a tasting session (€7 per person), you'll have a choice of which ones you'd like to try. We generally coupled up so we could try a solid range of wines through sharing. Prior to the tasting, guests are provided a map for a self-guided walk through the grounds. On a sunny day, I'm sure it would be a great way to start the tasting experience but we visited on a particularly cool and rainy day which made the tour very short-lived.
The winery, like many neighboring producers, uses Chenin Blanc from Savennières and Cabernet Franc from Anjou to make their sparkling, dry whites, rosés and reds. Cab Franc isn't a personal favorite of mine but for those interested in this varietal, you'll find it heavily produced in this region. Most of my experience with Cab Franc is in Bordeaux blends where it's used rather modestly. Cab Franc on its own isn't quite my cup of tea but a few people in our group really enjoyed it. It's a great area to try – and to compare – Cab Franc if it's a varietal you're not familiar with.
?? Check out Wine Folly to learn more about Cabernet Franc.
Lunch at Le Chenin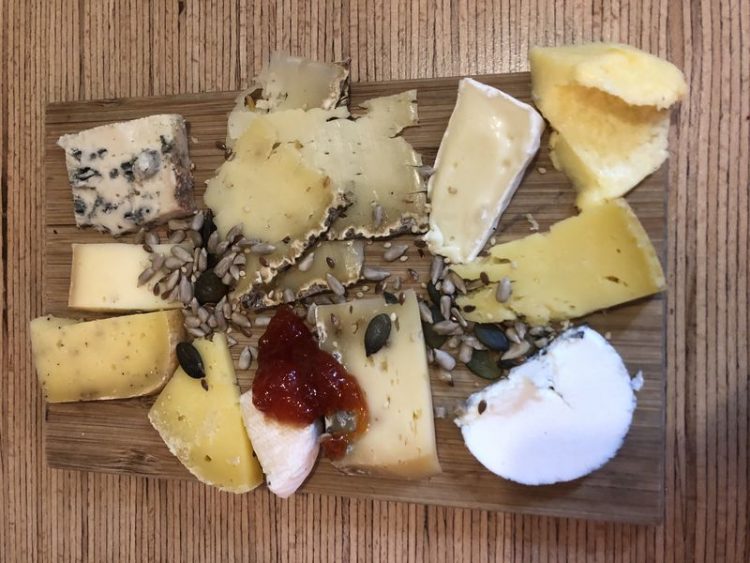 FIND IT: 3 Rue de la Mairie, 49170 Savennières
We booked a 1:30PM lunch at Le Chenin in the heart of Savennières for a classic French lunch, and it delivered in spades. You'll have the option of two or three courses and we all chose to have two courses, a starter and a main. The portions are large, the food is excellent, the service is friendly (even with our touch-and-go French) and they have a nice wine list to continue your wine tasting going through lunch. A two-course lunch was in the €15 range, and a three-course was slightly more if you like a sweet treat to finish off your mid-day meal. For cheese lovers out there, their cheese plate starter is hard to beat!
Chateau Soucherie
FIND IT: La Soucherie, 49750, Beaulieu-sur-Layon
Our lunch finished around 3PM, which gave us enough time to visit one final winery for the day before heading back to our home base in Vezins. In this region, we found three wineries + lunch a perfect combo for a full day. In some instances in other regions, like wine tasting in La Rioja, tastings are more organized with scheduled tours that take hours. In Savennières that wasn't our experience. Most places offered guided tastings, but we sort of help set the pace in most cases, and never really had more than an hour so in any particularly winery.
Our final stop for our day of wine tasting in Savennières was Domaine de la Soucherie, a gorgeous chateau that's also home to four cottages for guest stays within in a vineyard setting. As far as natural beauty goes, this wine estate was the winner, with beautiful views over the Layon Valley. The wine tasting experience here offered us more of a tour of the winemaking area as well, something that our previous stops hadn't included. The winery offers dry whites, sweet whites, rosés, sparkling, plus reds to try but our favorite was one of the dry whites (a few bottles of which came home with us).
By the time we'd finished our tasting at Domaine de la Soucherie, our work was done for the day. For Chenin Blanc lovers, a day of wine tasting in Savennières is a fun, slightly more off-the-beaten-path destination in the Loire to put on your radar. For those wanting a bit of a contrast, a Vouvray vs. Savennières tasting combo will give you a fun tasting trip to compare Chenin Blancs in the Loire Valley. Savennières' warmer climate (compared with Vouvray) means Chenin Blancs that are more full-bodied and complex (you can read Vine Pair's full take on the best Chenin Blancs). I say, why not try both regions to find your favorite? ✪
Have you been to the Loire Valley? Which wineries are your favorite?