A guide to spending a day in Champagne during a long layover
"Too much of anything is bad, but too much champagne is just right." –F. Scott Fitzgerald
Champagne has long been a drink associated with luxe living and celebratory moments. Prosecco, cava, franciacorta, cap classique; there are many sparkling varieties that have followed the lead of the acclaimed original, but for many champagne lovers, a pilgrimage to the heart of the Champagne region is an experience without compare. The slice of land situated not far outside of Paris is chock-full of history, including a thousand years of coronations, UNESCO-recognized chalk caves and the more recent impact of world wars, which forced restoration of parts of the region's main towns. When we talk about Champagne in France, we're often referring to the region as a whole, which encompasses a host of small towns and the world's illustrious champagne houses. In terms of wine production, Champagne is divided into five districts, and the towns of Épernay and Reims are the two primary commercial areas in Champagne. Reims is locate about an hour and a half outside of Charles de Gaulle (30 – 45 minutes on the TGV), making the Champagne region an easy day trip during a layover in Paris. So, if like us, you're facing a long layover at Charles de Gaulle and looking for an alternative to jetting into Paris for the day, head out for a day in Reims, complete with Champagne tasting, your choice of gastronomic endeavors, and a hearty dose of French history.
Getting to Reims
In a perfect world, you'd be able to zip to Reims from Charles de Gaulle aboard the TGV and arrive in Champagne in around 30 minutes. In the real world, there may be some issues with that concept: 1) timing doesn't always work. When we looked at heading to Reims by train, we would have had nearly three hours in the airport before being able to board the first train to the Champagne region (we arrived at 6:05AM and the first train was at 9AM). 2) There are factors out of our control. During our time in France, there was an SNCF strike which meant one out of three trains on average were going as scheduled. If you're dealing with a rather specific timeline like ours on a layover in Paris, getting to and from Reims on time is important. Having factors out of your control does nothing but add stress to what should be a fun, relaxing day. If the trains do work for your timing, you're golden. If they don't, you're best off booking a transfer/driver for the day to allow yourself to enjoy stress free.
We talked about the idea of renting a car, but a one-way rental is astronomically expensive, and a roundtrip rental makes absolutely zero sense if you're planning on Champagne tasting in Reims or Épernay. France has very strict laws about drinking and driving (and even if they didn't, it's just a bad idea), so even a glass of Champagne is probably not worth the risk. We chose to work with H.M. Prestige VTC, a transfer company recommended by the Reims Tourism Board that worked to make our day stress free. There are plenty of tours from Paris but we didn't want a group tour with pre-defined stops. With just a day in Reims, we knew what we wanted to see and how we wanted to craft our day so the autonomy aspect was important to us. Our driver, Ahmed, picked us up at 7AM as planned, and escorted us to Reims for the day, dropping us off at our key stops and then returning us to Charles de Gaulle for our evening flight to Rhodes. Our van could have comfortably accommodated six, so it was extra spacious for the two of us, which meant getting in a power nap to and from Reims was doable. The other benefit of having a driver? Luggage isn't a worry when you're dealing with a layover in Paris. If we had taken the train, we would have gone through the process and expense of storing our luggage at CDG in T2 at the luggage storage facility (we've done this before and it's simple, though it will take up some of your time). Having our luggage with us meant that we never had to worry about luggage drop off, pick up, or storage fees, which made it easier for us to maximize our layover in Reims. So, with a 13-hour layover ahead of us, we hopped in the car and zipped off to Reims for a day of Champagne tasting and sightseeing in the historic town.
Champagne Tasting at Ruinart
I'm not a huge Champagne drinker. I'm half-embarrassed admitting that since I feel like I should love Champagne because it's so decadent and luxurious and lovely (and it pairs well with caviar, which is my secret love), but I've never been very keen on sparkling. To be honest, I've never felt like I could truly discern between an average bottle of bubbly and a world-class Champagne. Then, during one fateful evening out with guests in Anguilla, we opened a bottle of Ruinart.
My theory on champagne changed forever. I realized I could actually tell run-of-the-mill sparkling wines from high quality Champagnes, and at the very least that was a step in the right direction.
We had the blanc de blancs that evening in Anguilla but I had no doubt in my mind that I'd be equally enamored with their rosé. Needless to say, when we began planning this day trip to Reims during our layover in Paris, there was one non-negotiable: we were going to visit Ruinart to explore their art plus their world-famous chalk caves which have earned them UNESCO World Heritage status.
The Tour
Ruinart is the region's oldest champagne house, founded in 1729 when France was embracing – or perhaps pioneering –  the joie de vivre philosophy in an incredibly decadent way. The chateaux that Ruinart calls home brings the French splendour that you'd imagine and is set on a perfectly manicured expanse of green with captivating artwork throughout. I was enchanted even before the Champagne started flowing.
My only run-in with a wine tasting that focused on sparkling wines was our Italian wine tasting in Franciacorta. We tasted Cap Classique in South Africa but that tasting was less about wine education and more about the simply lovely process of sipping bubbly in the morning (nothing wrong with that). Producing Champagne (or any sparkling wine produced using the traditional method) goes beyond traditional wine making.
Crafting true Champagne means that the sparkling has to be produced in the Champagne region, where strict guidelines are enforced. The terroir is very specific, including cooler climes and ample rain (the only watering that happens in the region is natural rainfall), which allows the region to grow pinot noir, chardonnay and pinot meuniere grapes used for Champagne production. The tour includes a bit on the wine making side of this, which is similar to traditional wine making with some added complexities that are unique to producing sparkling varieties.
The tour also includes a visit to the crayéres, the underground chalk caves, which have earned UNESCO World Heritage status. The below ground caves are an interesting contrast to the finessed grandeur of the grand chateaux. The caves date back to the Middle Ages and were hand carved with rudimentary tools which have yielded a mesmerizing cave system of connecting pathways that go deep into the earth. Naturally, the caves are dark and chilly, which is an ideal climate for storing Champagne. It was Nicolas Ruinart, the founder of the champagne house, who was the first to recognize this natural wonder – at least as far as its use for Champagne producers goes – and began utilizing the underground system for storage. Other producers soon followed suit. For those visiting, bring a jacket or you can borrow a blanket from Ruinart for added warmth underground.
The Tasting 
Ruinart offers daily tastings, with a number available in English (other languages available upon request), and tastings need to be secured in advance to ensure a tour at your requested time. We opted for their 9:30AM tasting, the first of the day, which included us along with 4 other couples. For the tasting portion, we returned to the plush lobby space where we all started, and were offered a choice of Ruinart's classic blanc de blancs (100% chardonnay) or their rosé. Each tasting would include two pours: one of a newer vintage, and a taste of the Dom Ruinart to sample the difference. I opted for the rosés, and Scott opted for the blanc de blancs so we could each try all of the Champagnes on offer (all of the couples did the same).
For those that believe they can't tell the difference between Champagnes, a tasting will help reassure you that you probably can. Which you enjoy the most is a matter of pure preference, and there's no right or more refined choice so don't let a tasting intimidate you. I enjoyed the rosés more, while Scott preferred the blanc de blancs, and we ended up buying two bottles of rosé before departing.
Speaking of buying Champagne at Ruinart, you'll have the ability to make purchases at the end but there's not a huge shop to explore. You'll be provided with a brochure that includes everything on offer from single bottles to larger collections. Whether or not it's a better value than buying it at a local wine shop, I'm not sure, but you'll have some cool packaging options that are unique to Ruinart (e.g. our two bottles of rosé came with a really cool Ruinart box, perfect for our bar at home).
Now, let's talk timing and feasibility: If you're dealing with a trip to Reims on a long layover in Paris, I'd stick to one champagne house. It's tempting to try for two but a mid-morning tasting will realistically be all you can comfortably fit in. Afterwards, you can spend the day exploring the town and enjoying some sparkling at champagne bars if you're still jonesing for a taste.
History + the Town of Reims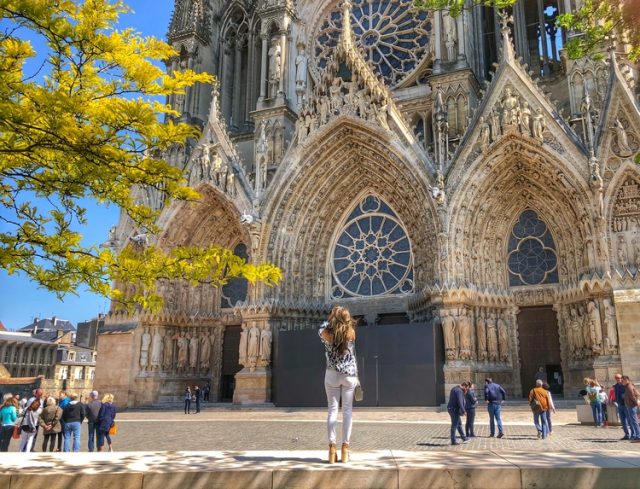 It's easy to think of the region as exclusively tied to Champagne but that would do Reims a bit of a disservice. Reims has a very layered history that goes far beyond the genesis of Champagne production in the 18th century. Historically, it was the city of coronations, where the French monarchy was crowned in Reims Cathedral. For those that feel inspired walking past Notre-Dame in Paris (I'm with you!), you'll be awe-struck by the Reims Cathedral as well. The style is very similar to that of Notre-Dame with huge stained-glass windows that light up the interior in a rainbow of shades. You can spend a bit of time walking around the inside, but if the day is a rare sunny one (like the one we enjoyed), then you'll be begging to just sit outside and enjoy the view of the cathedral facade. Inside, you'll see a plaque outlining all of the kings who were crowned in the cathedral.
Then there's the town itself.
Due to our early arrival time, we started our day with a morning Champagne tasting at Ruinart and then jetted back to the main town of Reims to explore the boutiques that dot the streets. Ruinart and a few of the other champagne houses are situated a short drive from the heart of Reims so it's worth bearing that in mind when you're crafting your itinerary. In theory you can get there on foot, but when time is of the essence you'll be better off with a cab or an Uber if you don't have a driver for the day.
If your day in Reims is courtesy of a long layover in Paris like ours was, you'll know going in that your experience is a bit limited by time constraints. Ideally you'd have a few days to explore Reims; to taste at a few of the classic champagne houses, and to stop at the charming boutiques, fromageries and patisseries that line the streets. That being said, my philosophy is that one day in Reims is better than no days in Reims, so maximization is key when the opportunity presents itself.
On a sunny day, the town's outdoor dining areas are bursting with people enjoying long lunches in the sun. It's worth noting that many shops will close for a couple of hours in the afternoon (e.g. 1 – 3PM or so; sometimes longer). We ate lunch around 12:30PM with the intention of shopping afterwards, but quickly discovered that we would have been better off swapping those to have greater availability of boutiques and specialty food shops. I was on a secret mission to stock on on French cheeses and a few specialty items for our trip to Greece, but by the time we were ready to shop most stores had closed for the afternoon. The town is home to a number of cute boutiques and specialty shops, and also has a number of champagne bars which provide a nice way to sample a range of producers without dedicating time to a single champagne house.
Lunch 〰 Cafe du Palais
When I reached out to the Reims Tourism Board to get some insight and guidance for our quick stay, one of my questions was on lunch. Where do we dine to have a quintessential experience in the heart of Champagne? They directed us to the lovely Café du Palais, a classic art deco bistro founded in 1930, serving up classic French fare like salads with foie gras, and decadent cheese plates. I opted for the cheese plate (yes, as my lunch – don't judge me), which was a fabulous mid-day meal when paired with a requisite glass of vino. For €9, I had four cheeses and far more than I could eat; not that I was complaining. With a big basket of French bread, I judiciously parceled out hunks of cheese and happily gorged myself while Scott ate his salad.
I mentioned it was a sunny beautiful day in Reims – a somewhat rare treat as we discovered – and while we were tempted to dine outside, we found the inside to provide an eclectic cool space that drew us in. We had reservations though we probably would have been fine without them (for premier seating, reservations are advised). For those looking for more of fine-dining slant, the town offers many options including Racine, Le Foch and L'Assiette Champenoise. If the dinner prices are a bit of a shocker, the lunch options may provide a more accessible option for a splurge-worthy meal.
Club Tresors de Champagne
As I mentioned above, I think trying to cram two champagne houses into your day in Reims on a long layover is a challenge. If you have a full day on a trip from Paris as part of a longer trip in the region, you're dealing with a different time frame and can definitely do a morning and afternoon tasting experience. With tastings and tours lasting about two hours each and a very specific timeframe during a layover, it's a bit of a stretch.
Instead, we opted to explore the town and spent an hour tasting at Club Tresors de Champagne, located in the heart of Reims. The facility is a combination of tasting room and lounge meets wine shop. It was just the two of us during our time there but it would be a perfect place to taste with a group as well. The shop is full of Champagnes produced by a range of smaller producers in the region and you'll have the option of tasting any of the six Champagnes on offer that given day (a flight of three Champagnes cost €20). We each opted to taste three, which gave us the opportunity to taste all six between the two of us. The pours are generous though, so be ready!
If you're heading to Reims during a layover in Paris, my main takeaway is this: it's easy to think of Reims solely for its bubbly – after all, the region is producing the world's finest! – but Reims offers more than just its world-class sparkling. The town has a lovely feel so try to avoid the temptation to cram too many organized aspects into your day. Initially, we were tempted to squeeze in a small Champagne producer just outside of Reims in the afternoon, but given our time we felt it would feel too forced and rushed. Giving ourselves the leeway to explore town, to pop into fromageries and Champagne shops, and enjoy the history and lovely small town feel of it all was far more enjoyable that having to run from one stop to the next. If you're looking for an alternative to Paris for a long layover in Charles de Gaulle, a day in Reims might just be your perfect, sparkling alternative. ?
Have you been to the Champagne region? How would you spend a day in Reims during a layover?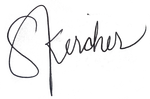 Like the travel outfit? Shop the post: