"Wine is one of the most civilized things in the world and one of the most natural things of the world that has been brought to the greatest perfection, and it offers a greater range for enjoyment and appreciation than, possibly, any other purely sensory thing." – Ernest Hemingway
We spent our first day wine tasting in La Rioja at three wonderful wineries and winding down in our temporary home in Laguardia at Castillo el Collado, a castle-cum-hotel within the walled town. The region is jam-packed with hundreds of unique bodegas so we planned on a second day of wine tasting in La Rioja to explore a different set of offerings.
While we mapped out our first day on our own, we worked with Ernes from Basque Country-based tour company Ikusnahi to help us craft our itinerary for our second day.  We shared with him information about the wineries we'd already visited, and he recommended two other bodegas to round out our experience in Rioja Alta: Álava-based Remelluri and Haro-based R. López de Heredia Viña Tondonia. In Euskara, the Basque language, Ikusnahi means 'curiosity', and we were excited to work with a company that was helping to satisfy our curiosities about the region with some serious inside knowledge.
Ikusnahi offers a range of options for exploring Basque Country (from gastronomy to culture and adventure) but our focus was on working with them to delve deeper into La Rioja from a viticulture perspective with a bit of gastronomy thrown in for good measure. We opted for Ikusnahi's Rioja Wine Tour, which appealed to all of us from the get-go. The tour typically includes two different winery experiences, including one larger, more modern winery, plus one smaller, family-run experience. In our case, having been to Bodega Ysios and Marques de Riscal the day before (two larger wineries that would typically be woven into an itinerary like this), we focused on one traditional winery and one bodega that melded modern elements into their traditional ways.  As an intermezzo, we had a five-course meal (!) with wine pairings to test our sipping prowess.
Within five minutes of departing our hotel we were thrilled with having chosen Ernes as our guide. A fellow traveler with an interesting career in crafting tours (dream job, anyone?), he immediately made us feel comfortable and excited for what we were about to experience. In all honesty, the more we embark on private tours like this, the more I recognize the value in them. I always hesitate to use the term 'tour' because it has a bit of a nasty connotation for me; a bit of that big bus tour feel, which is precisely what we avoid. Private or small group options like this are something that I find incredibly appealing though. They're generally a great way to add an inimitable layer of local knowledge with the perk of going off the beaten path and allowing yourself to defer – or collaborate – with a professional on the itinerary front. In hindsight, the format of our second day in La Rioja represented what I think is a perfect day in the area.
Granja Nuestra Señora de Remelluri
Our first stop of the day was Remelluri, a small winery surrounding by stunning vineyards. Remelluri has been certified organic since 2010, and while this isn't necessarily a common certification, it's becoming a more desired direction in the global movement towards sustainability. We began inside of the winery with a couple of other visitors and a guide who shared the history and foundations of the winery before we were escorted into the wine cave where barrels were stored for aging.
The winery has over 200 different plots and each barrel showcases the name of the plot that its derived from. Their Reserva is their most famous, claiming 350,000 of their 450,000 annual bottle production. Their Gran Reserva and their Lindes (their Crianza) only account for around 40,000 bottles a year each. The Gran Reserva comes from their older vineyards and the method of production is a traditional all-by-hand practice, staying true to the roots of viticulture in the region.
Also on property is a centuries-old chapel, Santa Sabina, a charming church with a stunning interior covered with art commissioned by the owners. The brainchild of Vicente Ameztoy, the paintings represent modern Basque art and depict a whole host of saints with the Remelluri estate as the background.
The route from the chapel back to the tasting area had us making our way through olive trees and fallen pears, a perfect rustic fall scene. When we arrived back to begin our tasting the weather was far too nice to stay inside. We moved our tasting experience outside to glimpse the vineyards while we sipped wine and dipped torn bread into homemade small-batch olive oil produced from the fruit on property.
Unlike the other wineries that we visited, this tasting was actually more of a tour than a real tasting. We ended up trying their Reserva and Gran Reserva (both great!), but didn't have the traditional tasting element (discussion of flavor profiles, scents, and unique qualities about the wine) tied into it while we were sipping.
Of all of the bodegas that we were able to visit during our time in La Rioja, Remelluri reminded me the most of a Sonoma-style winery with the intimacy, the vistas, and the homey feel. It was comfortable from the outset and captured much of the spirit that I personally like in wineries (as a point of comparison, I generally prefer the feel of Sonoma to Napa). For us, it was the perfect way to start the day before heading to lunch in nearby Briones.
Lunch and Wine Pairings at Vivanco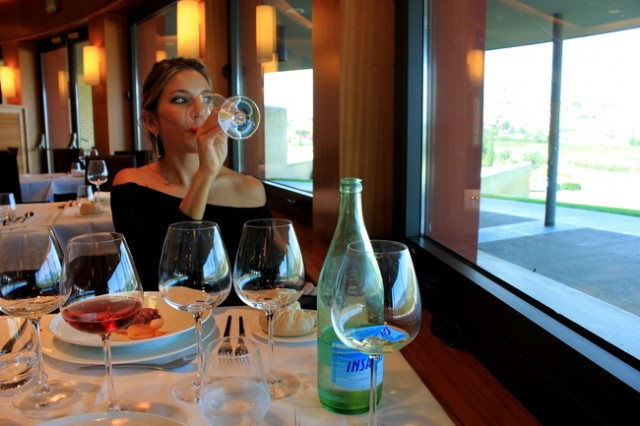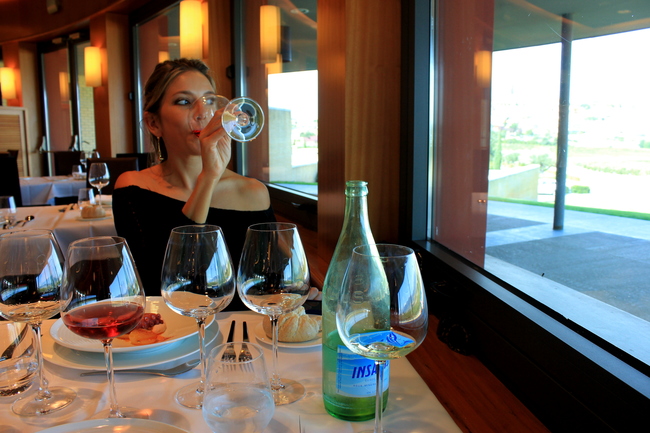 Vivanco was a stark contrast to the wineries we would experience on our second day in La Rioja. Remelluri was traditional, and our post-lunch winery, Vina Tondonia also has resounding traditional elements. Vivanco is something different. It's a winery, it's a restaurant, it's a museum; it's a place that generally celebrates wine on a large scale… it's a whole lot of things that I probably can't entirely capture.
Our experience at Vivanco brought in a bit of the region's gastronomy into our wine tasting experience. We were geared up for a five-course (yes, five!) tasting menu with wine pairings. They constructed a special meatless menu for me in advance (big thank you to Ikusnahi for handling that!), and despite the fact that there was so much food, we couldn't help but devour it all.
With all of the wines, of course.
All of the courses were lovely but the standout was this wine sorbet cheesecake creation with a dessert wine. How does it get better?
For the record, I don't normally eat dessert at lunch (even on vacation) but I couldn't pass it up this time!
Viña Tondonia
After lunch, we headed to our second and final winery of the day, Viña Tondonia, located in the town of Haro. Over 130 years old and family-run, we could feel many of the traditional elements during our tour and tasting. Generations of the Lopez de Heredia family have helmed the winemaking efforts at Viña Tondonia and maintained the reputation and tradition of the process.

We toured the underground cellars where barrel after barrel of wine was being aged. The barrels make up one of the more unique elements of Viña Tondonia's story. An engineer on site (called a 'cooper' – this was a new term for me!) produces barrels for the winery, in part using wood sourced from the Appalachians.

Finally, we made it to the tasting room where our guide poured whites and reds while giving us a rundown of each wine. Whites in La Rioja generally take a back seat to the ever-present tempranillo, but whites are actually a bit more celebrated at Viña Tondonia. Their whites are aged, sometimes longer than the reds, to produce some seriously great golden-hued versions that are worth a second look for red lovers.

Fun perk? The bottle of wine they gave all of the guests as a parting gift. Ours is proudly sitting at our bar at home in Anguilla waiting for the perfect opportunity to be uncorked.

We departed Haro around 5PM after a full day of wine tasting and enjoying the utter beauty of La Rioja. Our time with Ernes from Ikunahi was fun, educational and memorable, and we left feeling as though we'd connected with a like-minded traveler, someone we will likely stay in touch with for years to come. In hindsight, between our time in French Basque Country, La Rioja and San Sebastian (more on that soon!), La Rioja may conjure up the warmest memories for me. I'm nowhere near an expert on the wine front and probably never will be, but I always greatly enjoy the experience of wine tasting and wine education. As I mentioned earlier, certain parts of La Rioja remind me of Sonoma in Northern California in a we-produce-great-wines-in-an-unpretentious-setting kind of way. For me, this is the ultimate type of wine tourism; it makes the lofty idea of understanding wine something approachable and fun. Isn't that what travel and experiences are all about?
Have you been wine tasting in La Rioja? Did you go solo, with a private tour or with a group?
xo,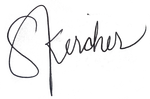 ---
You'll notice that our two days in La Rioja were visited with private guides/drivers in the region. Spain has a zero tolerance policy and it's never worth drinking and driving. If you're planning on wine tasting in the region, this is honestly the best (arguably the only) way to go if you want to enjoy your day without any worries. I'm generally all for renting a car and driving for added independence but this is one situation where the cost of a private driver or small-scale tour is 100% worth it!