Hang Gliding in Rio with Quem Fly
Don't stop running. That's the main thing.
I was geared up for my hang gliding expedition, strapped into a set of aluminum wings with a Brazilian man named Marcos. I was simultaneously excited and nervous, and happy to have an experienced pilot guiding the way. He reiterated to me that I should look into the horizon and that I shouldn't stop running off of the hang gliding platform; I had to run run run – not jump – until there was no longer land beneath my feet. Of course they have to reiterate this to all newbies as our natural inclination is to either jump off of the edge or to stop running entirely before the platform is gone. It's generally counterintuitive to run off of a mountain when there's nothing beneath us, right?
I had promised myself that I would go hang gliding in Rio de Janeiro. It was a personal challenge to myself to push myself outside of my comfort zone a bit and experience something totally new. I've never had a real desire to skydive or bungee jump but hang gliding is something different; the ability to float over the earth like a bird for a handful of minutes seemed like something more peaceful than frightening.
I'm not an adrenaline junkie by any means but I do love a decent dose of adventure when we travel. For me, it's more about the experiences in a new place and the layer that adds to a destination (and the memories!). It's not just hang gliding; it's hang gliding in Rio. It's not just zip lining; it's zip lining in Honduras. It's not just deep sea fishing; it's deep sea fishing in Kenya. Those experiences make memories extra fun to recall.
I earned my wings with Marcos Sampayo of Quem Fly, an experienced pilot with 29+ years under his belt. His driver collected Scott, his family and I from the Miramar Windsor Hotel and drove us to São Conrado (about 30 minutes, R$75) where hang gliders land. I was the only one flying but Scott came to see me off and his parents were there to watch me land.
The wind was a bit finicky on the morning I was slated to fly and Marcos assured me that we wouldn't take off until all of the elements were right; he'd rather not go than risk potentially bad wind conditions. That mindset alone was comforting. I paid my R$30 fee to Associação de Vôo Livre do Rio de Janeiro, Rio's Hang Gliding Association, to allow me to fly tandem. After filling out some paperwork with my personal details (always ominous), we were on our way.
From the base, you drive through Rio's Tijuca National Park until you reach the hang gliding platform, a long wooden plank tilted at a slight downward angle. When we arrived, I was third in line with two other flyers gearing up with their equipment in front of me.
Marcos geared me up: a jacket with a series of tethers plus a helmet were my gear for the flight. Our 'practice' consisted of two quick runs (maybe 30 feet) where I held onto Marcos so we could practice running in sync. After this, Marcos confirmed that I was ready to fly and I trusted his judgement. I was clipped onto the the hang glider so we could do a quick test to make sure that I was properly connected; I dangled for a few moments until we got the thumbs up. We watched the two hang gliders in front of us soar off of the mountain one at a time, dropping off the edge before the wind caught them and brought them up, floating into the distance. Now I was standing on the plank waiting for my cue; it was my turn.
"Ready Shannon?" Marcos began the countdown to me, "1… 2… 3!"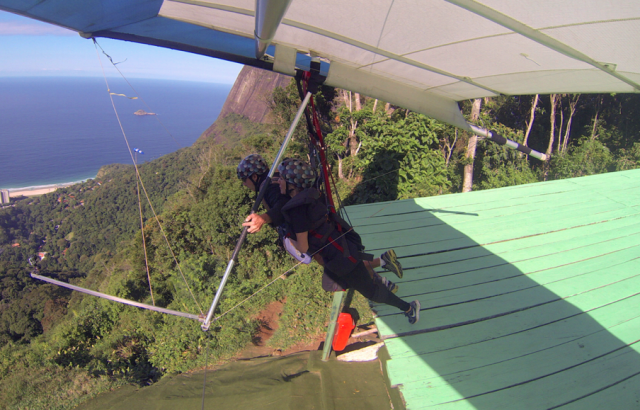 On his cue, I ran, and I continued running until I the wind grabbed us and pulled us into the sky. I could hear him perfectly but the only other sound was the whoosh of the wind. This was our first sunny day in Rio and it was utter perfection; I could see everything perfectly from the air. The beach was ahead of us with crystal blue waters, the forest was beneath us, Christ the Redeemer was open armed in the distance.
On a fear factor scale of 1 – 10, this is probably a 3, and it's only in the lead up that there's any sense of concern. Once you've run off the ramp (the only real moment where your heart is pounding), you're airborne in peaceful flight. There were birds around us and a sea of green. I had read about flights lasting anywhere from 6 – 20 minutes but Marcos confirmed that they typically last about 7 minutes. His estimate was spot on. According to the GoPro footage that I left with, we were in flight for under 10 minutes and once I was comfortably flying I only wished that it could have lasted a bit longer.
Then there was the landing. He briefed me on the landing before we took off, mentioning that he would ask for my right leg and then we'd 'stand' in the air before hitting the beach where we'd run to a stop. It sounded easy enough but the landing was my biggest concern: would it hurt? We were coming from the sky so I imagined there'd be a fair bit of pressure once we finally hit.
As we circled over the beach, Marcos signaled to me to give him my leg, which he promptly unstrapped so it was free to run. I immediately (way prematurely) began my air run so I could gracefully land. We gently hit the sand and came to a full stop almost immediately. It was easier than I'd envisioned and a far less scary task than I had originally thought.
Success!
All in all, it was an incredible experience and I couldn't be happier that I actually went through with it! I would 100% recommend it to anyone who's interested in experiencing being airborne. It's a wonderful experience and I cannot imagine a prettier backdrop than Rio de Janeiro for a first flight. Marcos, in particular, was a great partner in this journey; he made me feel totally comfortable and made the experience fun. I hardly had time to be nervous!
I'm still editing, but stay tuned for the video footage from my flight!
Have you been hang gliding? Where did you experience it and what did you think?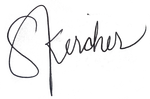 Planning your hang gliding experience? You can contact Marcos from Quem Fly here.