After my recent girls getaway to Antigua, I began brainstorming how I'd shape my post about the island. Top 5 things to do on a girls getaway? Best hotels to scope out? Something more broad about Antigua compared with other islands when planning a girls trip? I still may try to tackle some of those in due course but to be honest a lot of our trip to Antigua revolved around beach time, drinks by the pool, and the convos that you only have with your closest friends. Sometimes those are the simplest but greatest getaways that perhaps don't leave you with any major cultural insight but send you off with your batteries recharged from both a physical and mental level.
People ask us all the time, 'How was the transition from California to Anguilla?', 'How is it living on such a small island?' My answer, invariably, is that it's great and we've learned to navigate the waters but we travel to stay sane. For me, it's the key to embracing island life, and it's necessary for happiness. Sometimes travel involves a quick trip to another tiny neighboring island, and sometimes it's a far-flung adventure that provides us a whole new perspective and take on life. Either way, it's our time to escape for a brief period. When end of December rolled around, I brainstormed a girls getaway with a close friend of mine. We had gone on an epic girls getaway to Sea Island most recently but this year we were looking at something relatively last-minute and some place that both of us could get to fairly easily.
Enter Antigua. Neither of us had been (one of our criteria), we both had doable flights (I actually had a direct flight from Anguilla on TransAnguilla Airways, which launched days before my flight), and it fit the bill as far as warm weather, relaxing locales was concerned. Choosing the hotel was probably the most difficult part of the process, looking relatively last-minute for accommodations during the island's high season. Here was a bit of a newsflash for me: Antigua is expensive. I thought Anguilla was expensive but Antigua is spendy in a whole different way. The island slants towards all-inclusive hotel offerings (that concept inspired my most recent post on how all-inclusive resorts are not created equal), and the properties that you'd be really keen on can have some intimidating price points in high season. We were ditching our hubbies on this trip and didn't want to add insult to injury by forking out a ton on accommodations. Most rooms we saw were $1500 – $2000/night for 5* all-inclusive properties, probably due in part to limited room choices available at the time we booked. If this were a honeymoon escape or an anniversary rendezvous, maybe I could begin to wrap my mind around those numbers, but on a girls trip? It wasn't going to fly.
So, we settled on COCOS Hotel, an all-inclusive tree house inspired hotel set perfectly between Jolly Beach and Valley Church Beach. The climb to the room – up steep pathways and a series of steps to your private cottage – isn't for the faint of heart but the views were certainly worth the climb with stunning sunsets and peaceful morning glimpses over the Caribbean.
COCOS markets itself as a couples hotel, which I interpreted as adults only (which, for the record, really is the right interpretation of this), but we kept laughing to ourselves every time we'd get an email from them mentioning their couples only sub-title. Luckily we met another duo of gals on a girls getaway of their own which assuaged our fears that were inappropriately crashing a couples only destination.
Most people think that living in the Caribbean means drinking rum punch on the beach most days, and while I hate to shatter that glamorous image, that's not the reality of people who work and live here. After Hurricane Irma in particular, it's been a long and sometimes bumpy road with lots of long days to get back on track. Dare I say I finally understood the need to really just unwind? Reading a mindless magazine on the beach with a painkiller in hand sounded like precisely the solution for my overactive brain.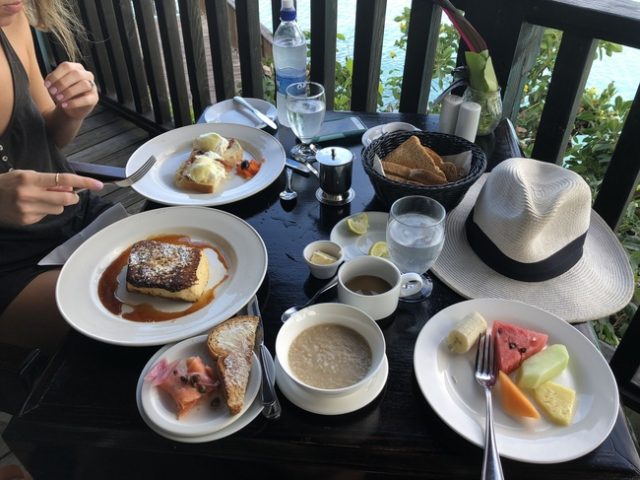 Mornings brought ample breakfast spreads overlooking the sea, and afternoons brought sun and sea just as anticipated. Evenings are an interesting experience at all-inclusive resorts because going off property isn't part of the itinerary. We dragged it out by moving from aperitifs in the lounge to long dinners in the dining area. We spent one day with a rental car zipping around the island and experiencing Antigua's Stingray City, but for the most part moved between pool and beach enjoying the sun and the prospect of no itinerary.
We were lucky enough to spend the latter part of our trip at Hermitage Bay, a stunning property that brings island chic in major doses. The whole evening experience that I originally thought was a bit isolating or confining was actually a beautiful thing at Hermitage, with craft cocktails and hors d'oeuvres served over live music before migrating to dinner – a dinner far too romantic and perfect for a girls trip, but we marinated in the rare moment nonetheless.
For a four-day getaway, it really did feel like an escape and a chance to disconnect for a bit, which was refreshing and needed. My takeaway on Antigua as an island? Well, to be fair, I didn't get to really uncover much of Antigua as a whole, but our experiences (from what we did get to enjoy) were good. Hermitage Bay was our highlight, especially our evening spent there which felt like the perfect upscale Caribbean vibe. I've said this upon returning from other island trips as well, but sometimes visiting other islands is what helps remind me how great Anguilla is as a destination. I'm constantly on the hunt for another Caribbean island that ticks the boxes that Anguilla does (beaches, people, culinary scene, safety element, and options that range from toes-in-the-sand to super chic) and I haven't quite found it yet. That being said, Scott and I are set on returning to Antigua to discover the couples side of the experience… as always, the journey continues. ✧
Check out this quickie video from our girls getaway to Antigua:
Have you been to Antigua before? What were your highlights from the island?