Island Hopping in the Dodecanese
Set just an hour away from the island of Rhodes in Greece's Dodecanese island chain sits the tiny island of Symi. At about 22 square miles, the island is dotted with beaches and monasteries, but Yialos, the main harbour area, is the primary draw for most visitors. With its ever-present neoclassical architecture and myriad of pastel hues, the harbour has been touted as one of Greece's most beautiful, a bold claim that's hard to refute once you've seen it in person.
Spend 24 hours on the island, and you'll quickly see that it has an allure that keeps visitors coming back for more. Visitors hail largely from the UK and Australia, and the island draws in repeat guests that come back year after year, many drawn to the slow pace and authenticity of the island. We all quickly began to liken it to our home island of Anguilla. If Rhodes were St. Maarten, Symi would be Anguilla, with its off-the-beaten-path feel, upscale vibe, and friendly locals that quickly make you feel like you belong. With an hour-long ferry from Rhodes (about $15 – 20 per person) to reach the beaches of Symi, getting there takes dedication but most visitors wouldn't have it any other way. There's an undeniable upmarket feel with upscale boutiques and facades that feel authentic but also well cared for. Restaurants abound, from mom and pop eateries to more upscale establishments serving up fresh Greek fare. Even the fanciest of restaurants don't feel stuffy though; there's a congeniality that's ever-present with a homey vibe that makes every experience feel approachable. Thinking about jetting to this tiny island in the Dodecanese? Here's our take on how to spend two days in Symi, though Grecophiles will tell you that you can easily spend weeks on end delving into this little gem.
Day 1 〰 Explore Symi on Foot
If you're arriving from Rhodes, you'll likely be popping over on the public ferry in the morning. We departed Rhodes at 9:30AM and arrived in Symi by 11AM, giving us the entire day to explore. If you're spending two days in Symi, your initial instinct may not be to rent a car. Truth be told, with limited time you'll be able to enjoy the main draws on foot during your first visit. The main harbour of Yialos is a stunning scene with a sea of colors rippling down the hillside. Symi's ever-present hills and stairs will make you feel better about indulging in a long lunch; you'll be getting a workout just exploring town.
The island of Symi is actually amongst the top 5 places in the world in terms of longevity, with residents well into their 90s still scaling staircases with their daily catch and freshly baked bread from the waterfront.
We settled in at The Old Markets, our picture perfect home base for our two days in Symi. When Scott and I began researching for this getaway, there was no doubt in our minds that this historic boutique property was the right choice and it exceeded expectations for us. More on our hotel stay later, where I'll share some details about our highlights! Our first order of business? Lunch.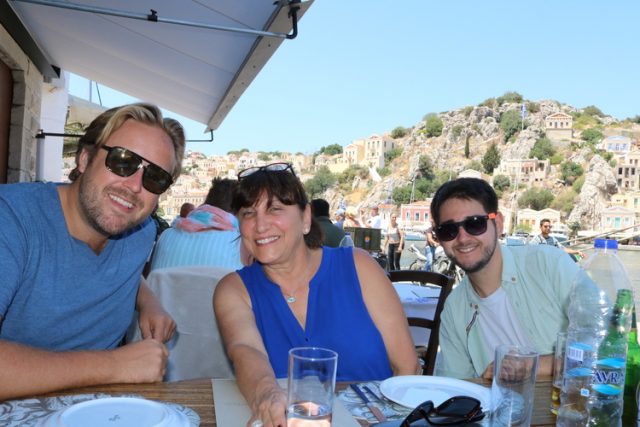 If you're first timers to the island like we were with just two days in Symi, your lunch dining will probably be centered around the waterfront where the views are too beautiful for words. We chose Pantelis per the recommendation of our hotel proprietor and were not disappointed (in fact, it took all of our might to not go back on day two). We quickly fell into our dining rhythm in Greece, with lots of shared plates instead of entreés which gave us the opportunity to try a huge range of Greek favorites. As I've mentioned before, dining in Greece was extraordinarily affordable. We rarely left a meal paying over €15 per person and were enjoying drawn out experiences with fresh inputs.
Following lunch, we spent the day popping into boutiques and specialty shops and wandering around the waterfront. Historically, Symi's main export was sponge, and while the island now thrives on tourism you'll see plenty of shops doling out sponges, pumice, and shells, a bit of an homage to the island's history. If you're on the hunt for decorative driftwood and art for your home, you'll be spoiled for choice in Symi. Here you'll find less of the touristy shops that you'll find in Rhodes Old Town and more upmarket places selling locally sourced items and specialty goods.
Continue walking around the point of the main harbour and you'll be spoiled with lovely views, fewer tourists and a public beach where you can spend time lounging in the sun or enjoying a drink with a view. During a hot summer day, cooling off with a local Mythos can be a perfect excuse for a stop.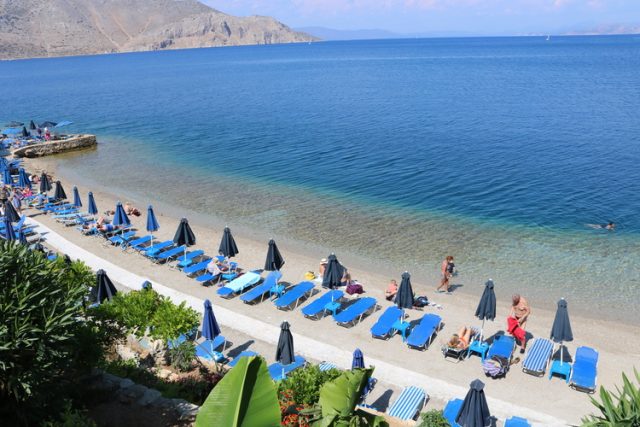 We spent hours exploring on foot before heading back to our hotel for the evening. Perched up on the hill, the views from the Old Markets were stunning; so much so that we couldn't think of a better place for a pre-dinner drink. Armed with a round of cocktails, we took in the views over the harbour while we prepped for our evening out. There are plenty of places on the harbourfront to enjoy a pre-dinner drink as well. EVA and LOS Art Yacht Club in particular were two places that were a great draw with a cool vibe in the center of town.
For dinner, we headed to Tholos, about a 25 minute walk from our home base, perfect for building up an appetite and for working off our dinner. To be fair, the views are more spectacular during the day but you'll have a lovely view across the glittering harbour when you're seated there in the evening. As with all of our meals, the food was great, especially the sea bream ceviche (a fan favorite in our group). As a side note, when we talk about dining, know that Greeks tend to dine on the late side. A local put it to us like this: there's no right or wrong time to dine. Dine when you're hungry – whether that's 7PM or 11PM. There are people out at all hours so don't feel bad about making a late dinner reservation, and conversely don't feel odd if you're dining early and no one else is around. It's all acceptable! We found that we quickly fell into the Greek dining schedule after maximizing our days (I never thought it would happen!). Most nights we'd dine around 9:30PM, often coming home close to midnight. Needless to say, we made the most of our days!
Day 2 〰 Explore Symi by Boat
With just two days in Symi, it's worth taking one of those days to explore the island by boat. If you're one that likes to rent a car, you can absolutely go that direction and zip around the island, popping into beaches that interest you and heading to Symi's famous Panormitis Monastery. We preferred to see the island by water due to our limited time and jetted off with Poseidon, a local boat operator that does a beach hopping trip with lunch on the island of Sesklia. We had looked into chartering a boat privately for a day but being early in the season our options were limited. For €40 per person (including lunch!), we couldn't have found a better experience or a better value. I'll be sharing a full post on our boat day in Symi so stay tuned for that with more details and photos from our day.
If you do opt for the boat day experience, expect to be out from about 10:30AM until nearly 5PM. As I mentioned, we became late diners on this trip so we still had plenty of time to enjoy the evening when we came back. Following our boat day, we continued with our newfound routine of drinks on the rooftop at our hotel; we found it hard to pull ourselves away, and the relaxation of it all made for a perfect balance.
For dinner, we headed up to Chorio, a town situated at the top of the Kali Strata in Symi. Our hotel was about 50 steps up the main artery, and we'd continue up around another 400 to reach the top. It's tempting to stay in Yialos the entire time, but Chorio brings a slightly different feel, with locals and expats dominating the scene. The climb can be a bit of a workout if you have joint problems (or aren't used to working out regularly) but it's absolutely doable. Make a few stops along the way and you'll be rewarded with stunning views while you pace out your climb.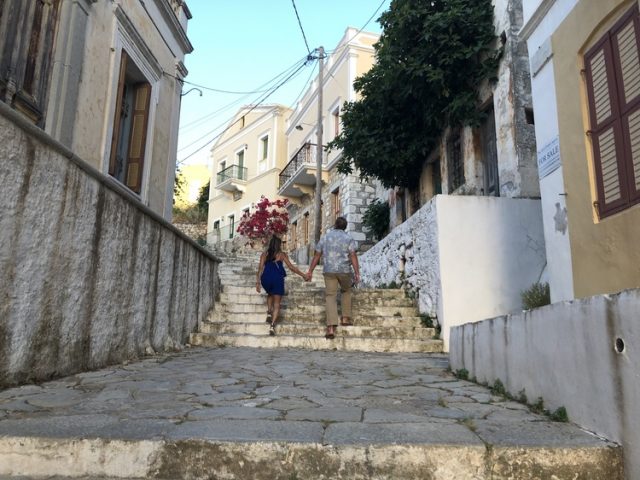 Be aware that you're not going to have a ton of options when you reach the top. There's Georgio & Maria Restaurant, where we dined, with a couple of casual restaurants/bars immediately beyond. We grabbed a drink at one of the bars before sitting down for dinner. As I mentioned, the feel is quite local. It's one of those rare experiences where you sit down to no physical menu, just a family member rattling off a list of the options for the day. If you're curious about what's cooking you can pop back into the kitchen where they'll show you the fresh catch on offer. It was quiet the night that we dined, but food was great and authentic. Be aware that while we never had issues with speaking English while we were there, we did find a bit more of a language barrier here, made a bit more of a challenge by the fact that we didn't have a physical menu (no pointing and smiling here!). Food came out perfectly though, and we were all ready to burn off our meals on the walk home.
Day 3 〰 Further Exploration
For real though, I entitled this post two days in Symi so it's not really fair for me to delve further. We actually did have a third day as our ferry back to Rhodes didn't depart until 4:30PM, giving us nearly a full day to explore more. I'm just going to share a bit in case you find yourself in the same boat (figuratively and literally). Ideally, if you have a third day and want to explore vs. laze, there are options to rent scooters, cars, or ATVs. We tried to rent three ATVs to go explore the inner part of the island but availability was limited on the day we reached out. If this is something you do want to do, be sure to book in advance to ensure that you're confirmed! We ended up wandering, shopping, and enjoying a long lunch at Taverna To Spitiko, but would have gladly spent our morning exploring further if we had planned properly.
Does Symi intrigue you for a Greek getaway? Pin this ?? to revisit this post when you're planning your adventure!
Pictures of Symi drew us in, but our experience on the island would keep us going back.
Pictures of Symi drew us in, but our experience on the island would keep us going back for more. There's a reason that people continually plan repeat trips to the island, and its small size creates a cool sense of community not unlike what we've come to love in Anguilla. It's not easy to reach the island, but that's part of the charm. It's a step removed, which means that your experience feels rather unique in some ways; like you're experiencing a place that not many others get to enjoy. Symi, you exceeded our expectations! ??
Anyone else been to Symi? What were your thoughts on the island?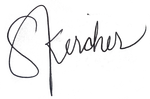 Like the travel style? Shop the post: