You know your Greek vision of white-washed, azure-capped, sun-drenched buildings in the Aegean? When we chose the island of Rhodes, situated in the Dodecanese, we chose an island that challenged the idea of the Grecian archetype. To be fair, most people envision the Cyclades when they think of Greek island hopping (Mykonos, Santorini, Paros, etc.) where those white washed buildings dot the islands. Rhodes Old Town, which has achieved UNESCO World Heritage status, is one of Europe's most well-preserved medieval cities. It's more like Malta in its feel and architecture than it is like the Cyclades; with limestone buildings, cobblestone streets and tiny balconies overlooking the main thoroughfares. Rhodes Old Town feels like a product of its past parts, with influences from the Middle East, North Africa, and Europe. 6000 people still call the Old Town home, but the majority of those you'll see wandering the ancient city streets are visitors, taking in the rich history and legends born on this island. The fact that it's taken me so long to share our Greek getaway is a testament to how consumed we were with family time and truly clearing our minds on this trip. We've traveled a lot this year but we've not really had a wholly relaxing getaway until our trip to Greece, which absolutely nailed it for a mixture of R&R plus historic immersion.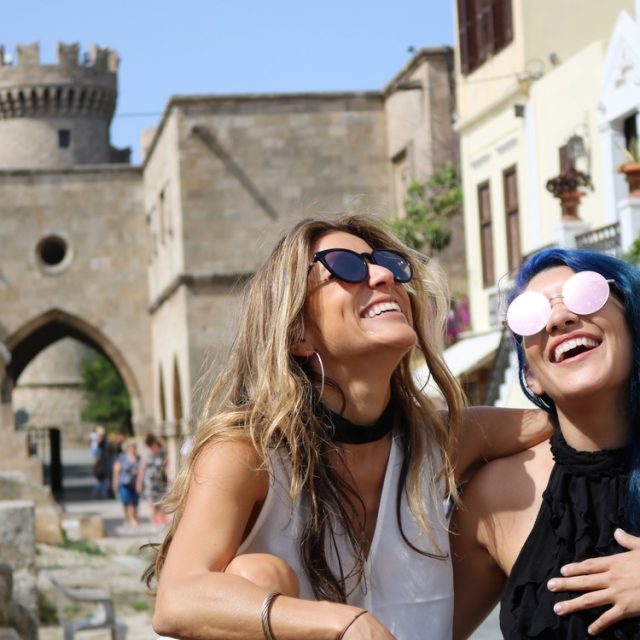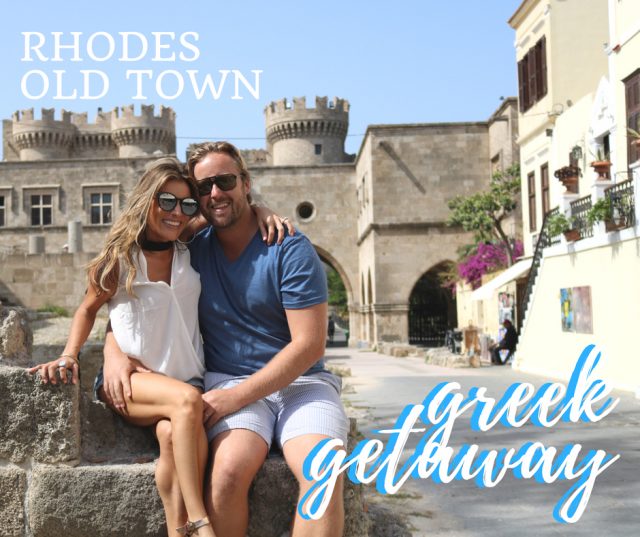 When we talk about sun-drenched, Rhodes certainly qualifies. With over 300 days of sun each year, it's almost guaranteed that you'll get sunshine during your stay. We opted for a getaway in early May which is traditionally outside of the 'season' in Greece (most folks go in the heart of summer for guaranteed sunshine). Since Rhodes is situated so far south in the Aegean, temps were perfect and sunny (75 – 80 degrees) for nearly our entire stay, with the exception of one drizzly morning.
There are seven gates to the Old Town with a few larger points of entry. Like many other preserved medieval towns, the Old Town is pedestrianized within the city walls. I keep referring to the 'Old Town', and there's a reason for that. It's easy to get a bit mixed up when planning your trip: Rhodes Town sits at the tippy top of the island of Rhodes, and is a city within a larger island. Rhodes Town has two parts: the Old Town and the New Town. For most visitors (at least first-timers) who are going for the historic side of the city, the Old Town with its famous Street of the Knights, will be your focus and where you'll want to stay.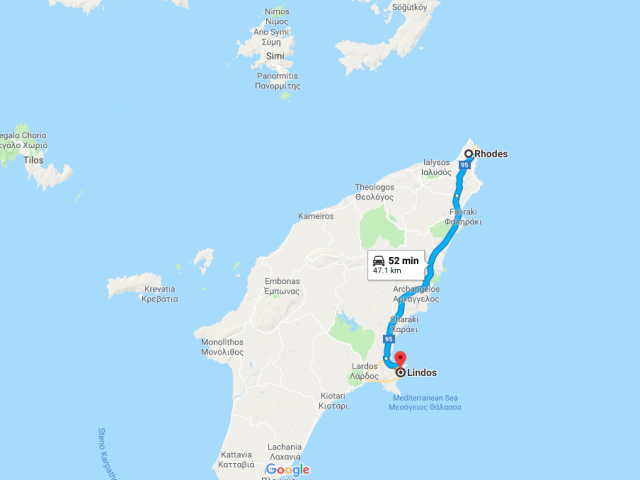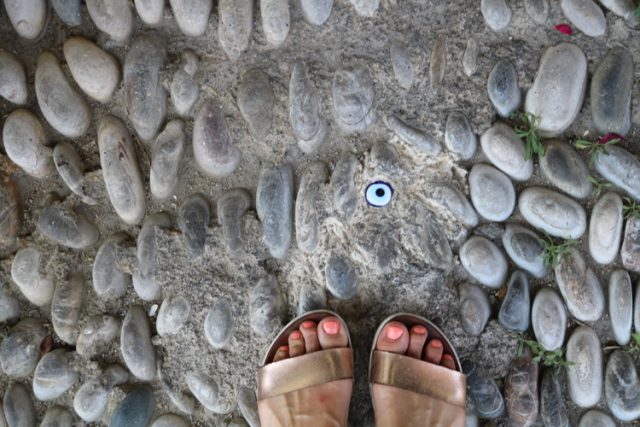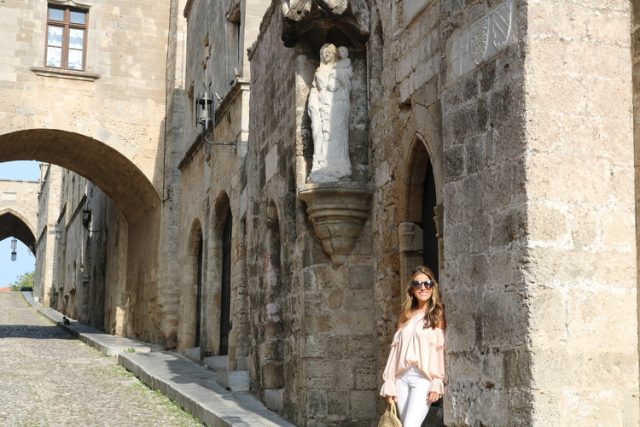 We chose Rhodes for a couple of reasons: first and foremost, Scott had nothing but glowing reviews of the island based on his memories from 20 years ago as a teen visiting with his parents. The fact that he wanted to return instead of seeing new islands solidified for us that it was a pretty special experience. Secondly, my Maltese heritage has some links to Rhodes, and my mom (born and raised in Malta) couldn't help but be excited by the similarities between the two islands. The real connection between these two places stem from the Knights of the Order of St. John, now based in Malta but previously in Crete and in Rhodes, where they had a prominent influence. One of the most famous sights in Rhodes Old Town is the Palace of the Grand Masters, the castle-like structure that dominates photos of Rhodes. The palace sits off of the Street of the Knights, which once housed the Knights of the Order of St. John. Dating back to the 14th century when they resided in Rhodes, the Street was home to different 'inns', representing different nationalities of knights (the Inn of the Tongue of France is a stunner inside!).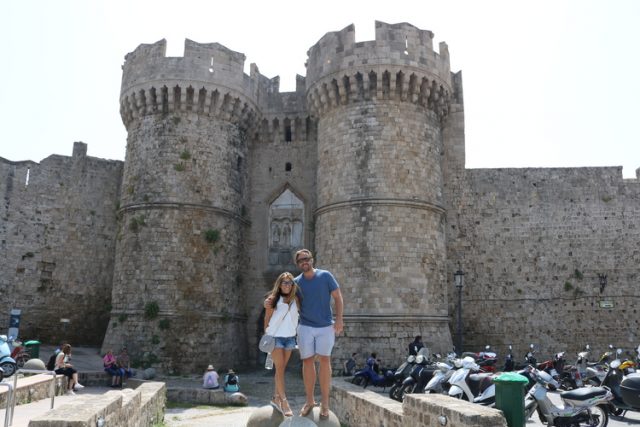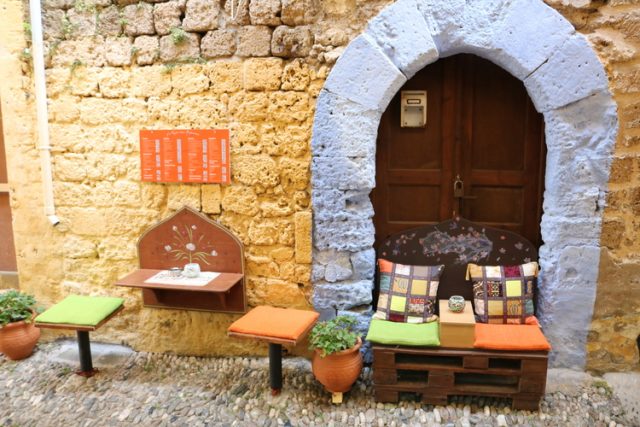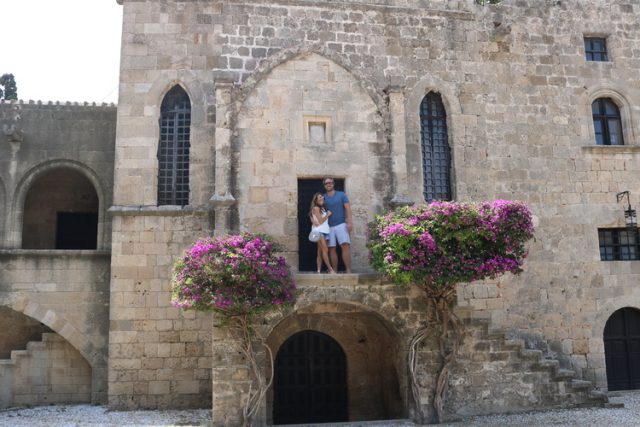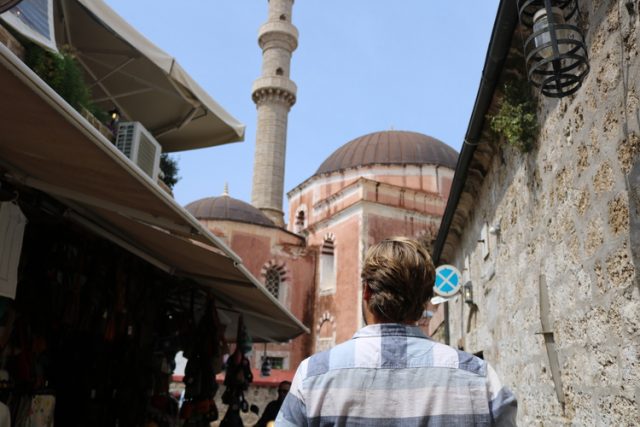 We opted for a tour of Rhodes with Tourtlee on our second day to give us as more historic primer and better understanding of the rich history of the island (more on that soon). Rhodian history is incredibly layered, and includes the birth of philosophers, politicians, and artists flocking to the island in its heyday. It also includes a strong mythological aspect with Helios being the patron god of the island (the Colossus of Rhodes was a statue in his honor). For our first day in Rhodes, we just wandered through town, and that's the way I'd suggest approaching it. Getting a primer during your stay will help shed some light on the history that unfolded on this island over the course of 26 centuries but there's something beautiful about simply taking in the ancient facades and boutiques at your own pace. There's a ton of shopping for those interested in taking home a piece – or many – of Greece, and while there's certainly a number of touristy finds, there are also a number of great shops selling really unique jewelry and art.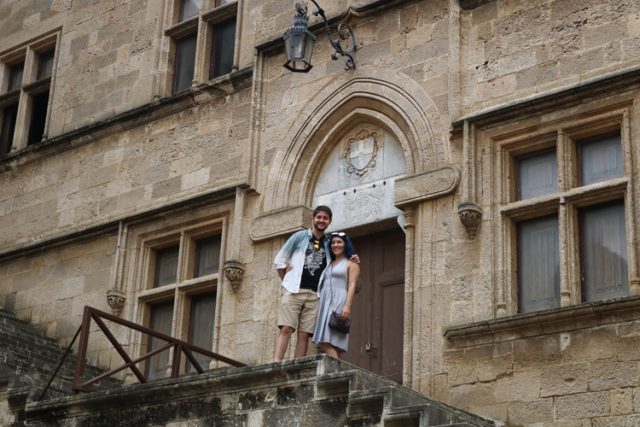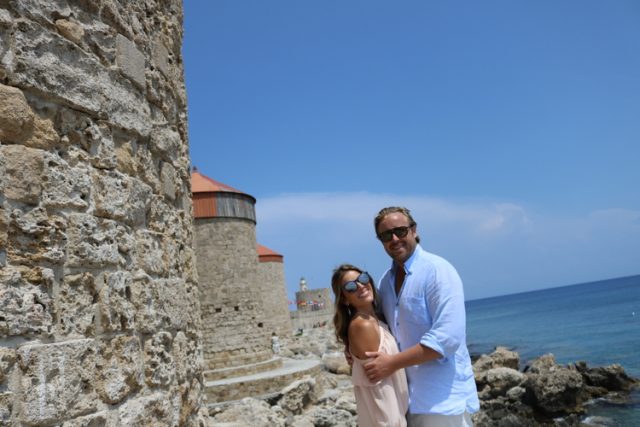 Now, let's talk about where to stay in Rhodes Old Town. I'm a lover of boutique hotels and quirky B&Bs when we're in places like this – the last thing I'm looking for is a big box hotel with no personality. For our family of six, we opted for a well-located three-bedroom villa, Casa Mediovale, which we booked through Airbnb (sign up here for $30 in Airbnb travel credit). For a group, a centrally located villa is a perfect way to have a local experience, along with some shared space for together time. We dined out for our meals since we had limited time to explore Rhodes' culinary scene, but we had post-dinner chats and game nights in our common spaces, complete with the requisite ouzo and local wine. If you're traveling a deux, there are a range of cool properties to stay in. We spent our first night at Minos Pension (literally around $50 per night), which sat adjacent to our villa rental in the heart of the Old Town. It's not luxe by any means, but as a family run operation it has a healthy dose of charm and with stunning rooftop views, it provided a total sense of place. There's also Marco Polo Mansion, a great little gem where we dined one evening. The proprietress is a lovely woman named Efi who ironically also managed the home we rented (serendipity at its finest). If you don't stay at Marco Polo, be sure to dine on their rooftop for a lovely evening experience! Other fan favorites include Spirit of the Knights Boutique Hotel (where we probably would have stayed if we hadn't gotten an Airbnb), Camelot Hotel, and In Camera Art Boutique Hotel.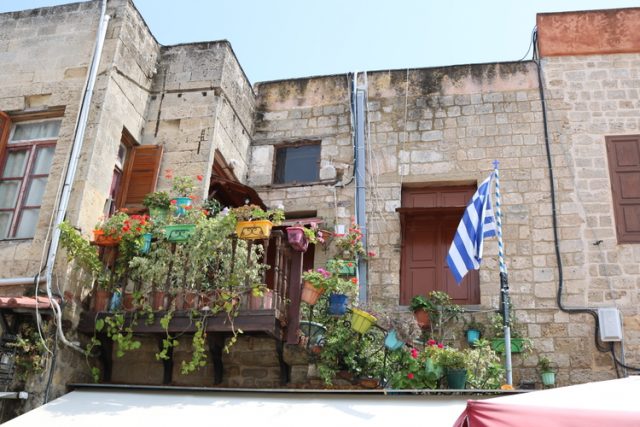 Stay tuned for more on our walking tour of Rhodes with Tourtlee, which gave us some historic insight plus took us to the Palace of the Grand Masters and the Archaeological Museum, two sights that are absolute musts when you're in Rhodes. For my family, Rhodes was a win despite the fact that it didn't fit the traditional Greek postcard image. The Old Town in particular brought major history, a gorgeous Mediterranean vibe, plus an incredibly affordable experience which made the experience even more enjoyable. For history lovers wanting a different side of Greece, Rhodes is worth putting on your short list.
Who else has been to Rhodes? What did you think of the island as a whole and the Old Town in particular?