Scott and I are on-the-go travelers. We know it, and the people we travel with are always quick to identify it. When we're in a new destination, our focus is often on understanding the history, culture and landscape; R&R usually takes a back seat. In Nevis, a tiny island about the size of Anguilla with a population to match, we opted to hit the road with Funky Monkey Tours to explore the island's highlights that sit off the beaten path.
Nevis is easy to explore independently. We had a car for our entire stay, and minus the British driving component (drive on the left, wheel on the right), it's a cinch for most visitors. The island has one primary ring road that circles its way around Mount Nevis, making it easy to find key sites dotted along the way (the owner of Funky Monkey Tours told us to think of Nevis as a clock, an analogy that works well for identifying positions on the island). Nevis has an incredibly rich history though and many fascinating ruins sit off the main thoroughfare. Without a tour guide or knowledge of the landscape, newbies to the island could easily miss secret swathes of sand, plantation ruins, and jaw-dropping views. With an afternoon dedicated to exploring with Neil from Funky Monkey, we hit the road in our Polaris to discover more of Nevis off the beaten path. What we uncovered gave us a newfound love for this tiny gem of an island.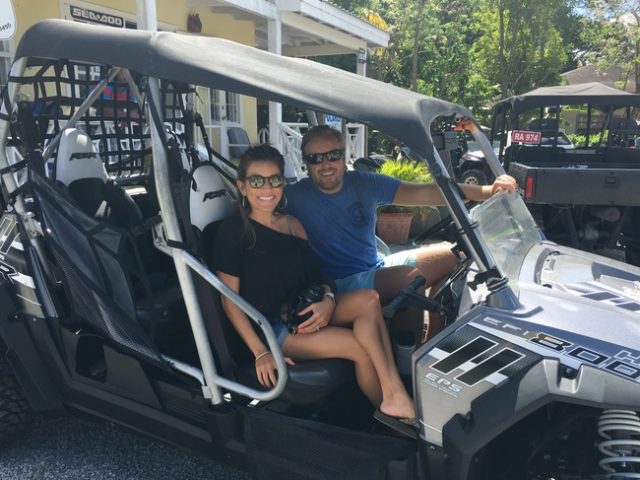 Cottle Church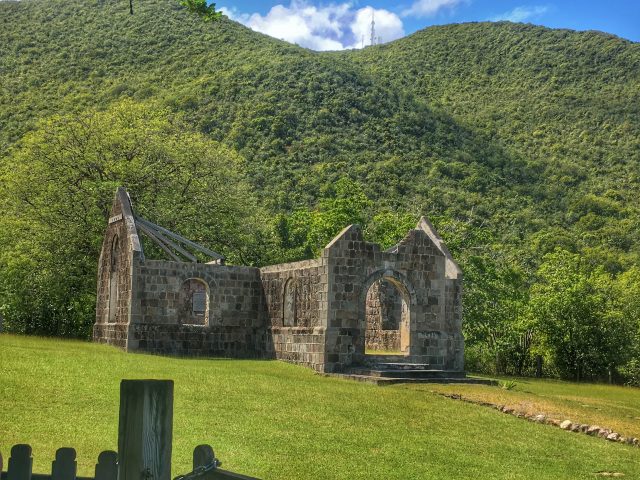 Nevisian history is altogether different from Anguillian history, which made this getaway particularly fascinating for us. It only takes a quick drive around the island and a glance at the island's top hotels to realize that sugar plantations once dominated the island's industry and landscape. Slavery is inextricably linked to the history of the island; during its peak, Nevis was the hub for the region's slave trade. The Cottle Church, built by Thomas Cottle in 1824, was our first stop. We headed down a dirt road into brush before coming upon gated ruins for what was arguably the most moving stop of the day.
The church was built as a place where Cottle's family and slaves could worship together under one roof. On the wall within the church, there's a plaque that recognizes the slaves that were involved in the building's construction, with children as young as four years old contributing to the church's foundation. Nearly 200 years later, the ruins are a favorite site for weddings for an extra special ceremony locale. On a side note, a visit to the Museum of Nevis History in Charlestown is a must during your trip for a better understanding of Nevis' path. It gives great insight into the role of plantations, the history of slavery on the island, and the Abolitionist movement.
Beach Vibes in Nevis
One thing we weren't banking on in Nevis was great beaches. We'd seen some pale brown sandy beaches reminiscent of California during our first day on the island, and figured the majority of the beaches would be dark volcanic sand. With the lush landscape, rich history and heritage, and great dining, we couldn't hold the whole beach thing against them. Plus, coming from an island known for its white sand beaches, we were in search of contrast anyway.
Then Neil surprised us by leading us to Herbert's Beach, a seemingly secret stretch of sand offset by brilliant turquoise water, vibrant palms, and the gorgeous contrast of neighboring islands in the distance. We stepped out of our Polaris and took in the views with a Rum & Ting in hand. We were the only people there at the time, a perfect pit stop for a dose of natural beauty amidst a day of manmade ruins and historical sites. One of the beauties of the tour was our downtime at each stop. We had enough time to enjoy the sights and chat with fellow travelers at each stop. Our guide's vehicle was loaded with ice chests of water, rum, ting and beer to cool down at each stop around the island. Like Anguilla, the drinking and driving rule is largely based on the notion of knowing your own limits and using common sense.
Coconut Walk + New River
In Nevis, you can move from beach to ruins pretty quickly, and this is absolutely true at Coconut Walk Estates where you'll glimpse the rugged seaside with views of Montserrat adjacent to a stone Lime Kiln where mortar was made for construction purposes. Nearby at New River Estates, the remnants of the last functioning commercial sugar mill are still remarkably intact, with a chimney that reaches for the sky. Unlike many of the ruins we saw previously, the machinery (a steam engine used to crush sugar cane) was still mostly in place, which made it a bit easier to visualize the actual production process.  A glimpse through the window offered up pretty views of the sea and neighboring islands in the distance. Again, the museum in Nevis provides a great primer on the role of sugar in Nevis and helps understand why its remains are ever-present on the island. Nevis was amongst many Caribbean islands that produced sugar, but it produced higher quality sugar than its neighbors. In the late 17th century, Nevis outranked much larger islands with sugar production and was the richest of the British Leeward Islands. Tourism has since taken over as the primary industry, but sugar cane production was the lifeblood of the island in the past.
Hamilton Estate
Alexander Hamilton has taken center stage with his namesake musical dominating headlines, and Nevis is the perfect place for a history lesson on his home turf. There's an entire museum on the island that delves into his life and touches on his background as an immigrant born in Nevis, later moving to St. Croix and then finally New York City where he became one of the most influential figures in American history. We'd spent close to three hours visiting ruins at this point in our tour and I was still mesmerized with each dilapidated building that we came across.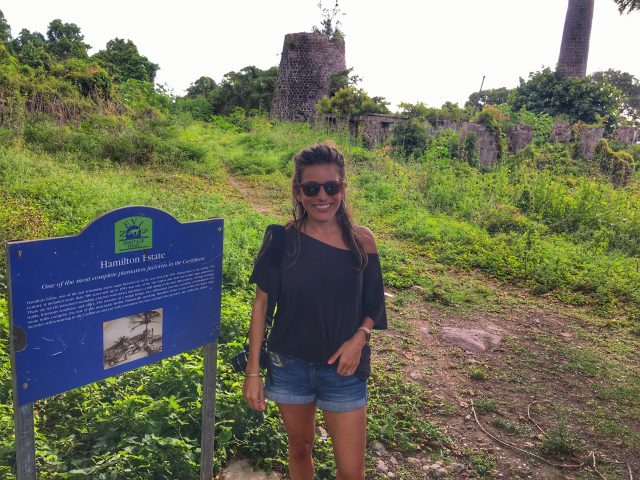 The Hamilton Estate, owned by the Hamilton family, is one of the few intact sugar factories still remaining today in the Caribbean, and represented one of the largest and most successful estates up until its closure in the early 1950s. When we first spotted it at a distance, we were wowed. The estate is expansive and the remains give a little glimpse into the past. We've visited a number of nearby Caribbean islands over the years, but the history and ruins that we saw in Nevis are like nothing I've seen anywhere else in the region thus far. The relics hidden in the greenery felt more like a page out of Ireland than they did out of the Caribbean. Generally speaking, the idea of a Caribbean getaway conjures images of powdery beaches, crystalline water, rum cocktails and beach chair under a perfectly placed palapa. We've been to other islands that have challenged that – tiny Saba and lush Dominica with their hiking and adventure opportunities, for example – but our tour of Nevis brought to light a very different side of the Caribbean.
For first timers to the island, hopping on a tour with Funky Monkey Tours ($135 per person) early on in your trip will provide you with better context for the rest of your time exploring the island. Or, if you're travelers that absolutely prefer relaxation to history and exploration, it may be an even better opportunity: a perfect primer in three short hours so you can return home well rested and armed with a better knowledge of the island. We found three hours to be the perfect amount of time to keep us constantly going and learning without a chance to be bored. Plus with free-flowing rum & ting during our strolls in the Caribbean sun, what could be better?
For those that prefer to not do a group tour, look at renting a 4×4 in Nevis for the ultimate off-road adventure! For adventure travelers and tourists on-the-go, there's absolutely no better way to explore the island.
Have you been to Nevis before? What were your highlights?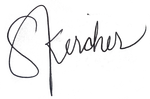 A big thank you to Funky Monkey Tours for allowing us to experience Nevis with your team! As always, all thoughts and photos are my own and are genuine.