My cousin and I woke up in Florence with the day ahead of us and a mission: see everything that Florence has to offer in 10 hours or less. I'm sure most Florentines would laugh off such an endeavor, but we knew what we wanted to see and made a beeline as soon as we were up and ready.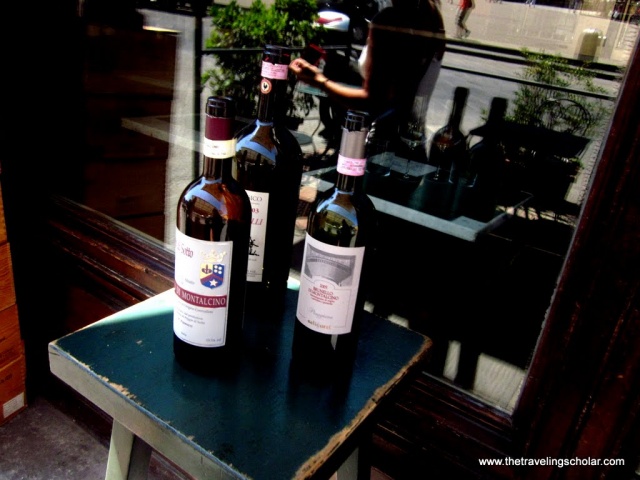 Florence is undoubtedly a walking city. We were provided with a city map upon arrival at our hotel, Casa Billi, and mapped out our plan: visit the Galleria dell'Accademia to see Michaelangelo's David, check out Basilica di Santa Maria del Fiore (Duomo), Santa Croce and then head down across Ponte Vecchio to explore some famous sites like the Pitti Palace & Boboli Gardens south of the river before heading back through the Uffizi Gallery. There were a few modifications on our route, but we managed to see the most important things on our list.
After grabbing coffee & breakfast at a nearby eatery in the San Lorenzo area, we headed to the Galleria dell'Accademia where David is housed. I had looked online for pricing for our 'must-sees' so we could figure out how much sightseeing was going to cost us. The articles I read mentioned that the entry fee was around €6.50 (€3.50 with a student discount). When we arrived at the Galleria, there was already an intimidating line forming. After we got in line we found out that we needed a ticket to stand in line since tickets were equipped with an entry time. We headed out and got our ticket from a nearby museum only to find out that tickets were far from €3.50. They were €14 each and there was no student discount available. Let's be honest though: a trip to Florence is not complete without seeing Michaelangelo's most famous work. We huffed for a split second, paid the €14 and headed over to the gallery to get in line. We entered around 12:30P and made it our mission to explore everything the museum had to offer to get the most bang for our buck. We noticed pretty quickly that David was unequivocally the main draw for the gallery; there weren't that many rooms and while the artwork was great, it was limited. David, however, was worth it. Truly amazing. I think we were both a bit surprised at how tall the statue is in real life. It's an enormous sculpture that is impressively perfect. Like most people, I have seen pictures of David a million times; I knew what it looked like and thought I knew exactly what to expect but I was truly awed by the power of seeing it in person. It is absolute perfection. We couldn't take pictures inside, but even if we were, pictures can't really do it justice. If you're headed to Florence, I'm sure this is on your list. It should be.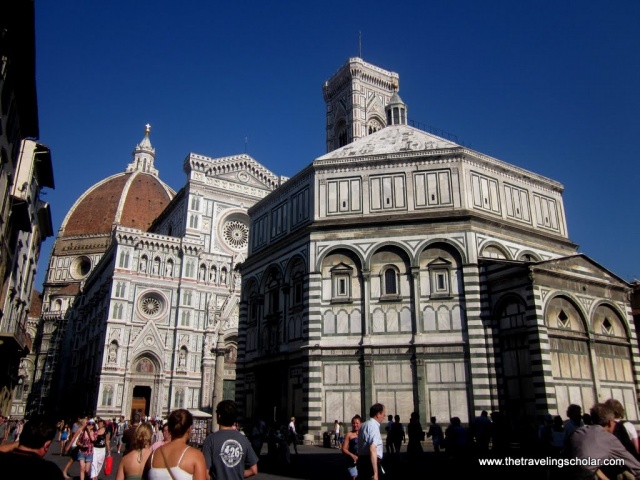 After seeing David, we ventured to the iconic Duomo, an amazingly elaborate church in the middle of Florence. I had heard about it, but I was awe-struck when I saw it first hand. Not only is it a huge structure, it's incredibly elaborate and ornate with so many impressive details. When we headed inside. my cousin was given a shawl to cover her shoulders before we could explore, much like the head scarves you have to wear at mosques: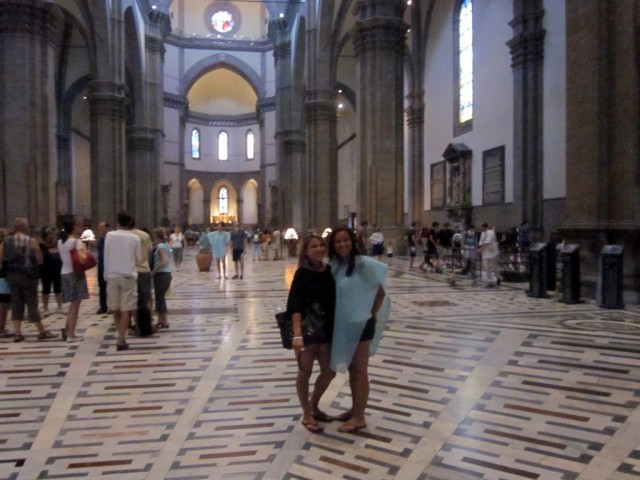 After leaving the Duomo, we headed past San Croce, where we got to see the church and the square. We passed through Palazzo Vecchio and the Uffizi Gallery next and checked out the replica of David, happy that we got to see the real thing only hours earlier.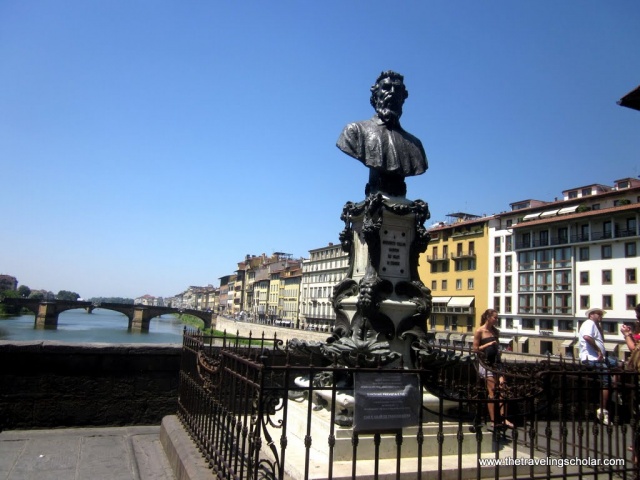 We headed out shortly after and decided to head to Ponte Vecchio, the site that my cousin was most excited to see. The bridge is pretty amazing and, being the only bridge that survived WWII, is oldest bridge in Florence. At one point it was the only bridge that people could use to cross the river. It was built in the 1300s and is home to loads of jewelers. Other vendors used to have stalls on the bridge (a long, long time ago) before the Medici family ordered the bridge to be dotted with jewelers so commoners wouldn't peruse the area.
Such a thoughtful family.
I zipped past the jewelers (since I am clearly not in a place to be buying myself glitzy jewelry) and we grabbed gelato after crossing the bridge. With the intense summer heat beating down on us all day, we were thrilled to cool off inside the air conditioned gelateria before heading back out into the scorching sun.
After snapping a few pictures, we wandered down to the Pitti Palace but after finding out that everything in Florence (everything!) requires an entry fee, we left after grabbing a few quintessential photos. Now, I must admit, I am spoiled. I have become exceptionally spoiled living in London, a city where the best art galleries and museums are free for all visitors. When I have to pay €5 – €20 entry for a museum, I tend to choke a bit. If I were more of an art buff or had extra money to spend on museums during our travels I may have paid the fees for Palazzo Vecchio, the Uffizi Gallery and the Pitti Palace. Maybe next time!
All in all, my thoughts of Florence: it's nice. Perhaps my friends hyped it up too much, perhaps the weather was just ungodly during our visit or perhaps there were too many tourists. Whatever the reason, I don't have a much better review than just, simply nice. I can see why art buffs rave about it. It's one of the prettiest cities around with its stunning architecture, love locks, and incredible art scene. I would love to go back during another time of year when sightseeing can be done more comfortably, without the intense heat and without having to fight other tourists to get around. To me, it's also a palpably romantic city which would be perfect for wining, dining and soaking up the arts scene with a significant other. Knowing how much everyone loves it, t's a city worth a second chance in by book. Hopefully one day in the future… and in the fall!
xoxo,