If you've been following the recap on our adventures in Dominica, you probably read my piece on why choosing your hotel and home base in Dominica is especially integral in mapping your adventures on the island. As I mentioned, the island's large and the roads aren't exactly the paragon of perfection when it comes to infrastructure. Getting around can be a time-consuming task and can be particularly precarious at night when roads aren't lit to guide your way.
That being said, let's talk about how that affects your ability to dine out on the island of Dominica. 
Real Talk: Lunch is where the magic happens
Before we embarked on our journey, friends who had visited the island previously warned us not to expect dining a la St. Martin or Anguilla, but rather an island dotted with roadside stands serving up homemade fare. There's not a really a fine dining market on the island, though some of the resorts are home to acclaimed dining establishments. In line with Dominica's positioning as an island of health and wellness, the food reflects that quality. For example, our breakfast at Jungle Bay Resort was often a large glass of fresh coconut water paired with fresh-cut papaya, mango and pineapple. For those wanting something a bit more, homemade banana and coconut breads were served up with nut butters and jam for a pre-hike boost. It was simple and delicious – to me, it was perfection.
Now, if you're like us and do your fair share of researching and planning beforehand, you may be looking for places for dinner while in Dominica. We had scoured the pages of TripAdvisor and looked at travel blogs detailing people's personal adventures on the island. When I spoke with the customer service manager at Jungle Bay, she told us that we'd likely eat at the resort the majority of the time for dinner (she referenced that whole bit about the roads at night, etc., etc.). I scoffed a bit to myself – we like to explore by car and surely driving can't be that much of a task, right? Well – surprise! – she was totally right. If you're in Roseau, you can probably walk to nearby restaurants without too much of an issue. If your hotel is off the beaten path, you'll likely end up eating at your hotel's restaurant for dinner. We're not ones to eat at our hotel every night (if at all!), but we had dinner at Jungle Bay every night without fail. Places like Jungle Bay, Pagua Bay, Rosalie Bay and Secret Bay all have restaurants on-site with menus and offerings that draw off of the local environment.
What we quickly discovered was that lunch was our prime opportunity to dine out and try local fare. We ate at Romance Cafe in Mero Beach and had lunch underneath a cashew tree at CarRod's in Soufriere. During our hike, we took a sack lunch prepared by the team at Jungle Bay so we could eat and recharge when we reached the Boiling Lake. We had Kubulis at Champagne Reef after a snorkel and stopped at Zam Zam in Roseau for mojitos and margaritas while the sun began to set. It actually became a fun part of exploring – we hit the road in the morning with ideas of places that piqued our interest. At Romance Cafe, we had the opportunity to explore the quaint town of Mero. At Zam Zam, we met the owner's daughter (who was maybe three years old) and listened to her stories about Dominica. At CarRod's, we experienced a blissful oasis that truly felt worlds away.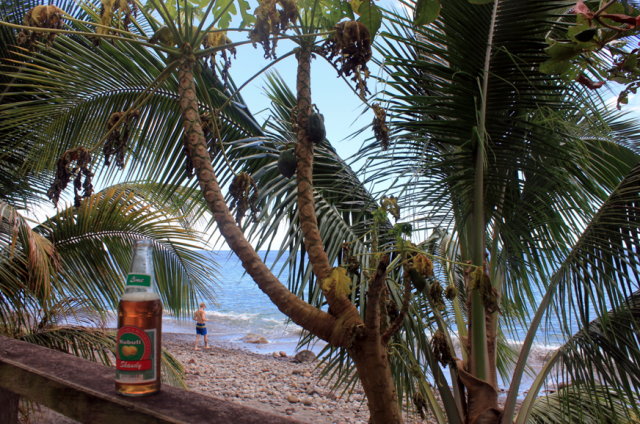 For lunch, plan on budgeting around $8 – $15 per person in most places. A local brew will cost you around $3 and coconut water will run you about $2. A glass of wine or a cocktail cost us $4 – $6 in most places.
Share your favorites: what are your favorite restaurants for lunch in Dominica? Any great places to grab a drink and take in the view?
xoxo from the Caribbean,