Journey to Ross Castle + Lough Leane
I most recently recapped our second day on the Ring of Kerry including our trip to Skellig Michael (you can read about our first day here). Our time on the Ring of Kerry had given us time to explore a bit of Killarney National Park, plus the towns of Killarney, Kenmare, Portmagee and others along the south side of the Ring of Kerry.
When I initially began our planning for this trip, I left our final day free so we could work together to figure out how to fill it. Would there be a place that we felt short-changed? A place we'd want to revisit? A new place that we would want to explore?
I felt like we missed a few key experiences along the Dingle Peninsula, and while we wanted to return to explore a bit more, it was a bit too far afield for us to justify the day trip there. Of the areas that we had seen nearby, Killarney National Park was the most naturally stunning and we had barely put a dent in what there was to see in the 26,000 acre space. From the moment we left the park on our first day in the area, I knew I wanted to return but I didn't want to be the one to suggest it since I had been crafting our itinerary thus far.
When my mom suggested renting bikes to explore the park, I immediately gave her the thumbs up and everyone else agreed. It would be the perfect final day on the Ring of Kerry; somewhat leisurely, taking in iconic, gorgeous vistas. We still had some gourmet goodies in our fridge waiting to be used so we packed a box with wines, cheeses, crackers, fruit and chocolate so we could have a picnic along the way.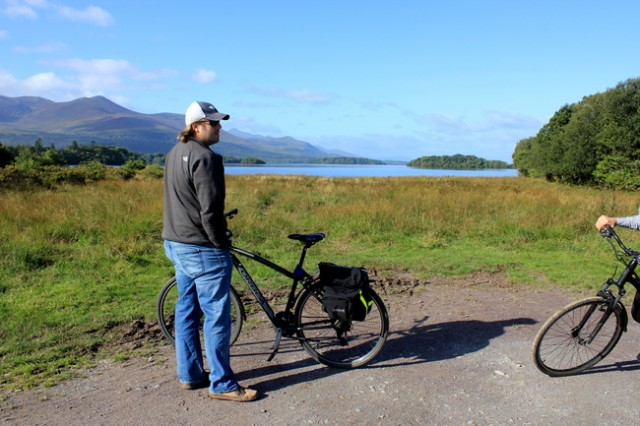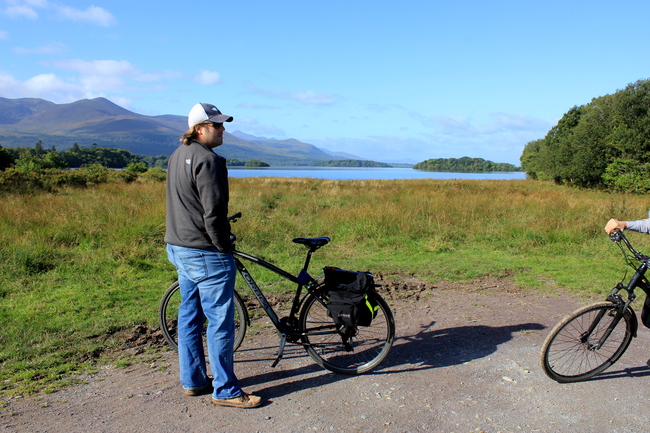 We rented bikes from O'Sullivan Cycles in Killarney, where they equipped us each with a bike and provided two backpacks for us to use along with a pannier (€15 per person). It was another beautiful day in the Irish countryside (yes, we realize how lucky we are that our weather was great!), so we set off to explore, with no particular plan in mind.
I had suggested a visit to Innisfallen Island during the day. It was one place we had missed out on during our visit a few days prior and I found the idea of the island with its monastic history captivating. On a sunny day it would be the perfect location for a picnic.
Lough Leane + Innisfallen Island
The boats leave for Innisfallen Island from Ross Castle, a place we had visited during our first day in Killarney National Park as part of our family photo shoot (more on that to come). The ride was somewhere between 1 1/2 and 2 miles of mostly well-paved – and well-signed – bike path.
None of us had ridden bikes for years, but it's true what they say: you never forget. We were all riding like old pros, breeze blowing, and nothing but greenery and vistas around us.
After locking our bikes up at Ross Castle, we headed down to the boats at Lough Leane, the lake within the park where Innisfallen Island sits. A boat had begun making its way out but we had caught it just in time. Within three minutes, we were all boarded on the wooden vessel with life jackets on, making our way to Innisfallen Island.

Truth be told, the ride on Lough Leane itself is a peaceful and transcendental experience, especially paired with the powerful history of the area. The lake was as smooth as glass when as we moved through it, with the reflections of the park bouncing off the water. We cut through slowly, just barely enough to disrupt the waters around us, and watched Ross Castle disappear behind us as we made our way to the island.
Lough Leane is the largest of the three lakes of Killarney, and the name translates into Lake of Learning due to the monastic presence on the lake, likely as an homage to the monastery built on Lough Leane's Innisfallen Island.
We arrived at Innisfallen Island, a grassy hub in the middle of the lake, now uninhabited but sprinkled with the ruins of Innisfallen monastery. In the middle ages, the island was a center for scholarship, and the Annals of Innisfallen were produced somewhere between the 12th and 15th centuries.
Our boat, about ten people in total, was the only vessel on the island so the ten of us dispersed to explore the ruins. A monastery was founded on Innisfallen in the 7th century by St. Finian the Leper, but the remains that exist are alleged to date back to the 12th century and are in incredible condition. We first entered the ruins of an old structure, presumably the place of worship, with a cross in the center. Coins were dripping off the top of the cross where visitors clearly exchanged a coin for prayer. We followed suit as if we were each making a birthday wish before blowing out the candles, gently setting coins on the top of the cross.
The monastic ruins are much more expansive than I had realized, and extend around the center of the island forming a variety of rooms within multiple buildings. We were only given about 40 minutes on the island in total so we walked around the ruins before stumbling upon a sole picnic table. Who were we to turn down this divine place?
Ideally, we would have an hour for a picnic so we could marinate in the surroundings but we were content to even have fifteen minutes to unload our backpacks and enjoy the view. Could this be the best picnic site in the world? I think yes.
We opened a bottle of wine and my dad neatly poured us each a bit in a plastic cup. We laid out our bread, chunks of cheese, dips and olives, and were proud of ourselves for having thought about this in advance. It was a picture-perfect moment and somehow Innisfallen Island was the perfect place for it.
My dad, the history buff, looked around and commented that our meal in this moment wasn't all that far off from what we may have eaten when the monastery was first built. Sure the wines, cheeses and olives have come a long way since then, but there's still something lovely about the notion that while so much time has passed and so many advancements have been made, there are some things that are fundamentally the same: the strength of family, a meal washed down with wine, a monastery, and the simple joy of a beautiful place.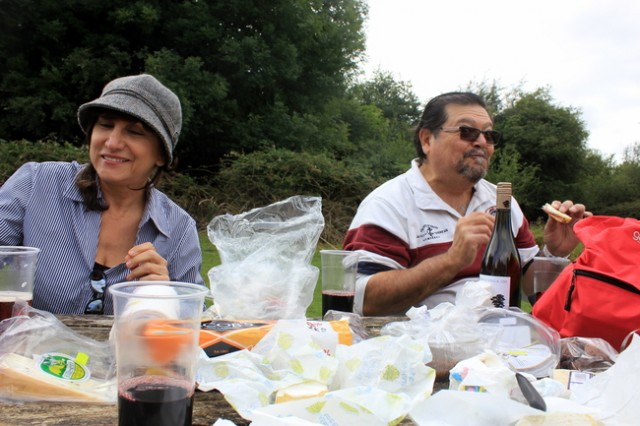 We explored a bit more by bike, but mostly made our way back to the cycle shop to return our bikes. Our day, which we had planned relatively last-minute, ended up being a beautiful success and was the perfect way to end our time in Ireland.
If you're visiting Killarney National Park, this experience is an absolute must (I'm not letting you miss this!), especially if the weather is working in your favor. If you choose not to ride to the castle, there are parking lots nearby that you can use, and then walk to Lough Leane to catch a boat (€10 per person round trip).
Have you been to Innisfallen Island? Was this as much of a
highlight for you as it was for me?
xo,