Exploring the Brazilian Side of Iguaçu Falls
The weather wasn't great when we arrived. It wasn't terrible, but it wasn't the sunshine and rainbows (quite literally) that I had seen in photos leading up to our journey. Still, despite the thick cloud coverage and brisk weather, the views from the hotel were stunning and we were both just excited to have finally arrived to get to take it all in. As luck would have it, we saved our falls exploration day (getting up close and personal with them) for our last full day which ended up bringing the most perfect weather possible. The sunshine and rainbows that I was secretly hoping for? Yeah, that happened.
We made our way along the trail around 8:15AM, bright and early for an extra special experience. The national park officially opens at 9AM but guests at Belmond's Hotel das Cataras get the benefit of enjoying the national park on the Brazilian side before the crowds pour in. I can't emphasize this enough: being able to enjoy the peaceful and inspiring quality of the falls in a less touristed and crowded setting is so invaluable. Truthfully, that alone made our stay at Hotel das Cataratas worth it. Belmond offers a morning tour of the falls which also leaves at 8:15AM but we opted out of that as it visited the same spots we could explore solo. If you're staying at Belmond though, and want a bit more insight into the flora and fauna, this would be a good way to go (R$35 per person).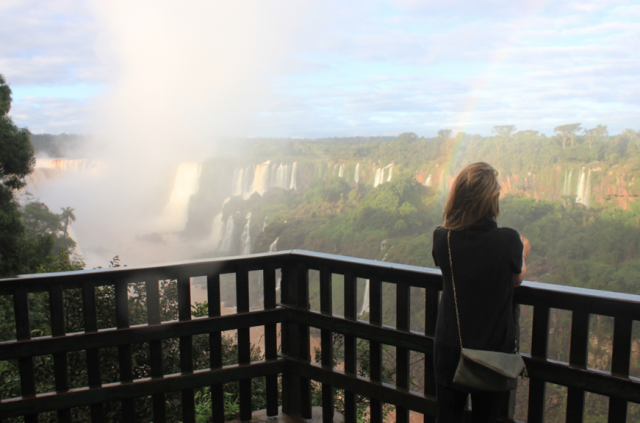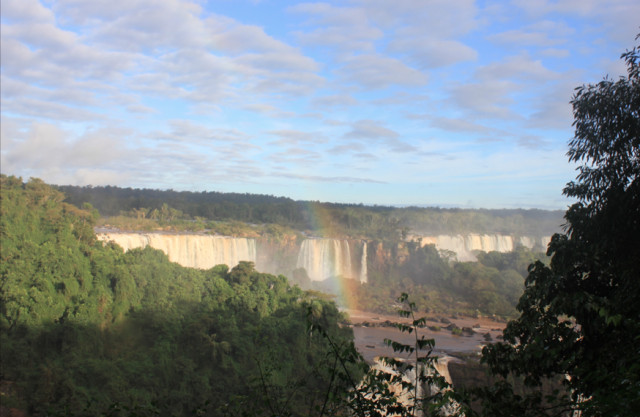 What we had seen upon arrival was a mere sliver of the park. The waterfall system at Iguaçu Falls is insanely impressive. The park represents around 275 independent waterfalls that come together to form this incredible space. The result is absolutely awe inspiring. The fact that this is a natural occurrence is a mind blowing realization. We actually visited the falls after we did the helicopter tour which provided us a really interesting perspective. From above, we witnessed a gorge in the earth that seemed to vacuum all of the water into its deep abyss. From above, it's nature. It's physics. From straight on as an observer, it's magic.
The journey to the main viewing platform takes you down a series of steps that get progressively mistier. I wore flip-flops, leggings, and a lightweight sweater and was totally fine with that. You don't need hiking shoes for this at all. In fact, considering the fact that we did end up getting pretty wet at the end, flip flops were actually a nice way to go. You also don't need to be particularly fit to do this so if you're not in the best of shape, don't be discouraged.
The entire journey feels like you've fallen into Jurassic Park. The way the falls tumble down the rocks, the dramatic greenery, the mist that billows from the river; it's all incredibly mystical, made even cooler when you're the only people in sight. There are a series of viewing platforms during the walk to grant you the best vantage points possible for the greatest glimpse and best angles of the falls. I couldn't stop snapping pictures and video – each stop gets better but they're all so captivating that it feels wrong to not take in each stop fully.
This panoramic shot is one of my favorites because it captures the extent of what's going on from the final viewing point. And this rainbow… I couldn't have dreamed up a more perfect photo if I tried.
Check out this video from the final viewing platform to get a feel for how spectacular the space is. This was taken around 8:45AM, and the few other people you see in the clip are fellow Belmond guests:
Iguacu Falls, Brazil from Shannon Kircher on Vimeo.
Practical Information
Tennis shoes are not necessary for this walk; a good pair of flip flops would work just fine!
You will get wet (not saturated, but pretty wet) at the final grand finale viewing platform – be prepared to cover your electronics or bring something waterproof. Unless it's raining, you probably don't need a poncho.
Tickets will run you about R$52 per person (about $16) for park entrance; kids 11 and under pay only a small fee.
Go early! If you're staying at Belmond's Hotel das Cataratas (highly recommended!), you'll be able to go before the park officially opens at 9AM. Take advantage of that! If you're not staying in the park, be there when it opens so you don't have to weave your way through crowds to snap a picture.
Have you been to Iguaçu Falls? What are your thoughts? Any recommendations for those who've not been before?
xo from Iguaçu Falls,