Saturday morning was bittersweet. We said our goodbyes to everyone and saw the group off as they all departed for their respective homes. I should have been on the ferry on Saturday morning, making my way back to California. Instead, I ended up changing my flights (for a few reasons) and wound up staying through to Tuesday. With the rest of our party gone, Saturday, Sunday and Monday ended up being reserved for a few mild days with Scott and his family.
After having breakfast at Straw Hat, we spent the morning lounging on the beach, soaking up sun and floating in the ocean. With the rest of his family heading to Smokey's to grab lunch and check out the Musical Brothers in action, we headed out to grab some local eats and then met up with the rest of the crew at Smokey's afterwards. We ended up stopping by a local BBQ joint called B&D's which sits right down the street from Jacala and Blanchard's. The food was definitely authentic — it was cooked up and served in someone's yard — and delicious to boot! Bonus: we both snagged lunch for under $20. I don't know that you can do that anywhere else on the island! Afterwards we packed up and headed to Smokey's to listen to the tail end of the Musical Brothers and to catch up with the crew for a few minutes before heading back.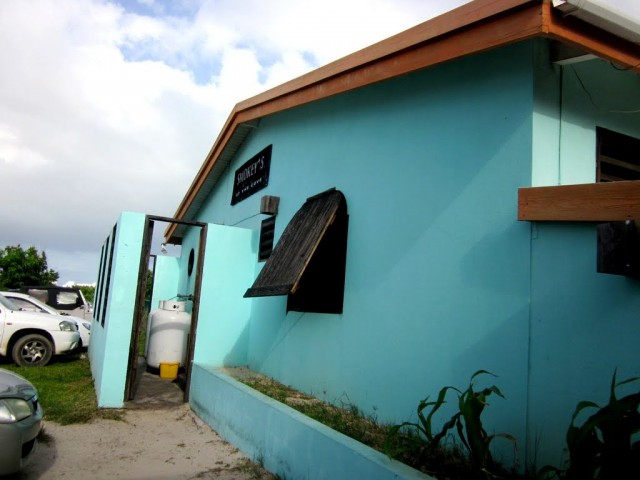 Scott's family decided to have a family dinner on Saturday night and I was lucky enough to be a part of the festivities. We loaded up two cars and headed to Crocus Bay to dine at Da Vida, one of the best meals in the most beautiful settings that we'd experienced thus far. Da Vida is owned and operated by Anguillans (Scott alerted me to this fact on our drive over), which makes it that much more enticing. The beachfront location is gorgeous and the food and service were both top-notch. While we had missed out on the frozen mojitos at CuisinArt, we ended up enjoying them at Da Vida and they were even more delicious than I had hoped. Everything we ate — from the vegetable tower to the blackened Fiji shrimp — was superb, so I can't really single any one thing out. I can, however, advise one thing: save room for dessert. I'm not really much of a dessert person (by that I mean I don't really ever order dessert when eating out), but the banana caramel spring rolls on their menu were out-of-this-world amazing. Remarkably so. Like I said, if you don't have room for both and you're deciding between ordering an appetizer or a dessert, go for the dessert! Food aside, the evening was amazing. It was nice to have a low-key night and to actually spend some time with Scott's family. Despite the fact that we'd been on the same island for a week, I felt like I hadn't really gotten a chance to see them or spend time with the extended family on the island. In my book, this was the perfect conclusion to the week. I must have been more tired than I knew, though, because I fell asleep on the ride home.
I'm such a child sometimes.
As you can imagine, the night ended there. I found my way back to my room, threw on pajamas and was pretty quickly back in a deep sleep, no doubt dreaming about chili queso corn-on-the-cob and banana caramel spring rolls.
xoxo from Anguilla,