Exploring Myanmar, Thailand and Laos
We woke up at Anantara's Golden Triangle location with sweeping views as the sun rose over Myanmar and the Laotian hills in the distance. The aptly dubbed 'Golden Triangle' marks the meeting of Myanmar, Thailand and Laos where the Mekong runs through and the borders are rather muddled. With three nights in the Golden Triangle-based on the Thai side, we wanted to make the most of our journey and focus not only about the famed Asian elephants in the area (you can read about our Elephant Encounters with Anantara here) but also on the people and cultures that make up the region. While there are three countries that make up the Golden Triangle, there are countless ethnic groups that make up this region's identity; an identity that has evolved quite dramatically in the past half-century.
Myanmar has intrigued me for years but it's only recently that it really opened its doors to visitors. When Anantara offered up a Three Country Tour as part of their adventure offerings, I knew we had to try it. For guests staying at the resort, one experience is included each day. Experiences include elephant-focused engagement, this three country tour offering, spa pampering, and cooking classes. I'll be sharing a full post on how to choose the right experience for you soon (we tried most of them!), but first I thought it may be helpful to run down what each experience entails.
As you'd suspect, the Three Country Tour includes stops in Thailand and Myanmar, plus Laos if you'd like to add it into the mix. We had an entire segment of our trip dedicated to Laos so we personally decided to focus our time on Myanmar and Thailand, which suited us perfectly.
Tachileik, Myanmar

We met with our guide, Anon, in the morning to set off on our adventure. Our drive to Myanmar was brief; perhaps thirty minutes to reach the border town of Tachileik where we'd be spending our time learning a bit about Burmese history and culture. Let's stop there for a moment because sometimes terminology in these areas can make me hyperaware. Burmese. Can I say that? Is that politically incorrect? It turns out, the term is still used even though the country isn't called Burma anymore, and we heard 'Burmese' used interchangeably with the word Myanmar (e.g. some people would say the Burmese language, and then also call it Myanmar language, which sounds grammatically incorrect but it gets the point across). If you're worried about some unintended political edge using one term or another, a day with our guide made it feel like it wasn't really an issue.
Myanmar was historically called Myanmar by local people but the country was christened 'Burma' while under British rule. In 1989, they reverted back to their original moniker. We asked Anon about the influence of the British in Myanmar. Was English still widely spoken? As it turns out, it's spoken fairly well by the older generation but it's not as commonly spoken amongst the younger crowd. We were excited to see what was in store for our day, which included stops at a couple of local markets, a temple, and a pagoda.
Crossing the Border in Myanmar
So, then, of course, there's the matter of border crossing. You do need a visa to enter Myanmar but on trips like this where you're exclusively visiting a border town, you can go in visa-free for the day. And — be prepared! — they keep your passport. Is there honestly anything scarier than leaving your passport with some border agents at a tiny border town in Southeast Asia? We were there with a guide though so that assuaged our fears a bit. We got stamped in and left our passports at the border so we could collect them later (spoiler: no issues getting them back on our way back through).
A tuk-tuk was pre-arranged after crossing into Myanmar and off we went. First stop: a local market.
Markets are one of my absolute favorite things. To me, a market visit is such a wonderful glimpse into local life, plus it's a bit of welcomed sensory overload with the sights, sounds, and smells of local happenings. In many ways, a local market place is the heart of the city, where people coalesce, shop, and socialize.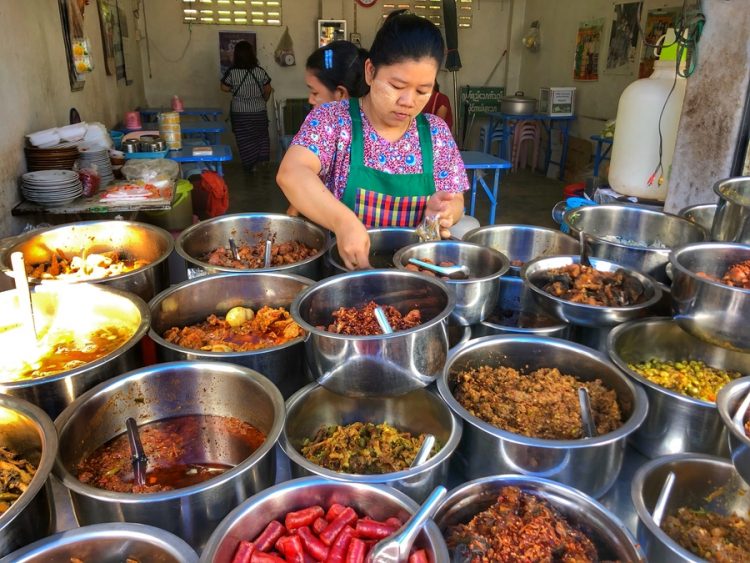 The region is lush which means the fruits and vegetables are plentiful; agriculture is still the primary economic driver in Myanmar. The country is one of the poorest in Southeast Asia (we're talking a GDP per capita of about $1300) so I asked our guide about food security. As it turns out, while there's not a lot of money to go around, food isn't really in short supply due to the ever-present farming. The market gives a glimpse of that: overflowing with fresh options that cost relatively little. Obviously, if you're on this tour, it's a sightseeing mission, not a food endeavor so don't plan on eating at the market. Their stomachs may be used to it, but most of ours aren't equipped to handle street meat.
Following our market stroll, we headed into a temple during a day of festivities. The ancestral connection is strong in the region and many residents put a huge emphasis on honoring their ancestors by bringing in gifts on certain days of the month; days generally based on the lunar calendar. We happened to serendipitously be there during one of these windows. When we walked in, the floor of the temple was overflowing with gifts: flowers, food, oil, and other trinkets as a way of paying homage to family members who had passed. Inside, a few small groups sat cross-legged on the ground eating and talking. The warmth of the community there was immediate: a trio of ladies waved at me, asking if I wanted to join them for food as they chatted in Burmese. There's a strong tradition of inviting people in to share, which is something I always find so inspiring when we visit areas that would be considered economically poor by our standards. Even for those that have relatively little, the innate desire to share what they do have, plus the strong sense of community, seem to keep it all afloat.
Outside and in a neighboring building, the community had gathered together for a communal lunch, with big vats of soup cooking up in a common space. We popped our head in to see everyone sitting cross-legged at low-lying tables, with a group of monks eating in the far corner of the building. As we began walking away, a man ran out after us, again to invite us in if we were hungry. Truly, is there anything more heartwarming than a moment like that?! Just thinking about it makes me grateful, and makes me wonder why we don't more often just take a moment to invite someone in.
We extended our sincerest gratitude and waved goodbye as we walked past the temple.
We had two more stops on our radar: the Shwedagon Pagoda, designed to look like the one in Yangon, plus a quick stroll through a market as we worked our way across the border.
The famed Shwedagon Pagoda, built in the 14th century, sits in Yangon. The one in Tachileik that we visited is a replica but offers a peaceful space to walk around. Around the pagoda, visitors will find statues that are attributed to your birth day (e.g. Monday, Tuesday, Thursday). Once you've found your day, which includes a statue of your animal sign, you perform a short ritual before sending your thoughts and wishes to the sky. Visitors are invited to participate as well and for those that want to opt-out, the elevation offers views over Myanmar and Thailand to wow you instead.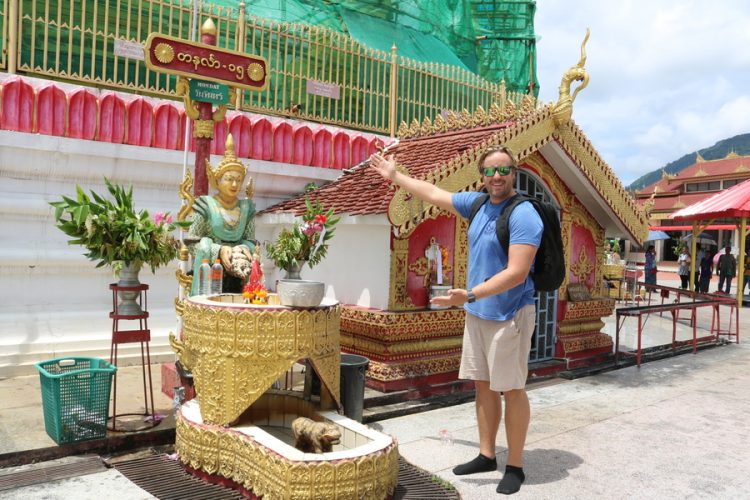 The final market we walked through was a 'tourist market', basically a market with clothing and knock-off goods. You'll see knock offs of luxury brands everywhere, plus a range of miscellaneous goods. Who shops here, I wondered? There was virtually no one in sight except for us, a handful of others, and the shopkeepers. As it turns out, much of Myanmar's market is from Thailand, where people pop across the border to buy goods at a better rate. Unfortunately, as the economy has changed and Thai people have had less disposable income, that's trickled down to Myanmar where shops are full and shoppers are rare, a change from years past where the shops allegedly were busy with buyers.
After about 3 – 4 hours there, we were back to cross the border once again, where we got stamped back into Thailand and received our passports back – no issue there! Our brush was brief but interesting. Culturally, Myanmar is different from Thailand and from other neighboring countries we visited in Southeast Asia, so it was an interesting glimpse. For anyone that's really been to Myanmar, I'd love your take on an itinerary that you'd suggest and places worth visiting! You can leave comments in the comment section below. ?? 
Since Anantara considers every detail – honestly, this day was perfectly orchestrated – our lunches were pre-packed for the day with an order we had placed the day prior. We settled into a park in Thailand where we had a picnic table to ourselves to enjoy our packed lunches. What is it about a little picnic lunch or al fresco dining that's so wonderful?
Chiang Saen, Thailand
We spent our afternoon in the border town of Chiang Saen, which was once the center of the Lanna Kingdom. If you're like me, your Thai history may be a bit rough (to put it lightly; I mean, mine was next to non-existent) but you'll be amazed at how much you'll learn exploring Northern Thailand with a guide. Once upon a time, modern-day Thailand was fragmented and consisted of a number of kingdoms before it became unified so there are different histories that co-exist and merge over time. Our first stop was the temple ruins of Wat Pa Sak. 
We visited Thailand before Cambodia so we hadn't had our brush with the Angkor Temples. We'd seen temples in Thailand but they were different; colorful, vibrant, with splashes of gold and silver and nagas lining the grand entryways. We hadn't seen temple ruins that had more ancient and varied influences. This was the closest in style to the Angkor temples that we saw during our time in Thailand, and the best part? We were the only ones there.
We finished our time in town at Wat Chedi Luang, the oldest temple in the area, dating back to the late 13th century. To be honest, temples do begin to run together — I talked about temple fatigue a bit in my post about our three days in Chiang Mai, and I think it's definitely a thing. Had it been the first temple we'd seen in the region, I would have definitely been wowed. For those wanting to go inside, they offer modesty coverings at the entrance so you can go inside. For me, it was a nice peaceful end to the day; a place to learn a bit more about Buddhism, the images, and aspects of religion on Thailand that, to be honest, I just really didn't know much about.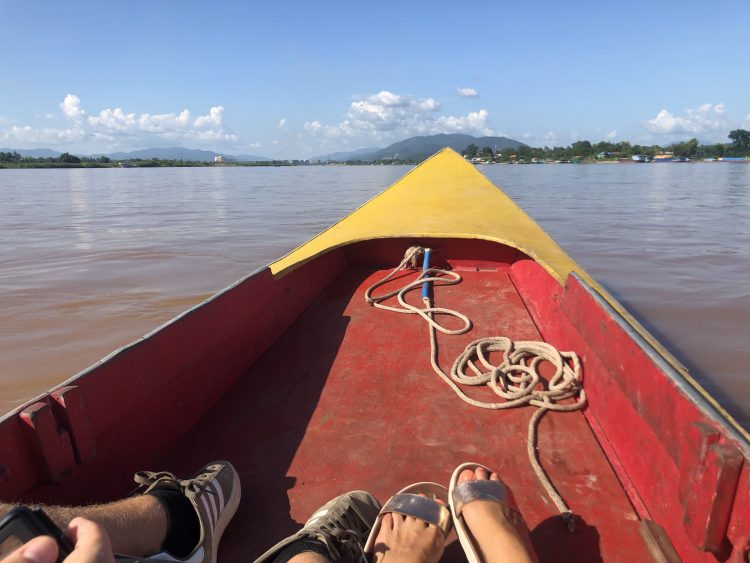 After a morning in Myanmar, and an early afternoon in Thailand, our day was coming to an end. We finished at a market on the river where we could board our boat for the journey home. The team at Anantara get an A+ for planning and timing for the day. Everything was perfectly paced; long enough to enjoy but not drug out, and it never felt like we were in the car for too long. The grand finale, getting to take a boat back to Anantara's pier was the perfect way to end: sun shining, zipping down the Mekong.
We had debated heavily whether to spend two or three nights in the Golden Triangle. The luxurious accommodations in the region are a bit of a splurge but once we arrived, we knew that we'd made the right choice. In a perfect world, I would have had even longer; maybe 4 – 5 nights to experience everything on offer, plus have a bit of downtime to just enjoy the beauty of the area. Experiences like this one – doing a day trip to Myanmar and exploring a part of Thailand I would have normally missed – just added to the overall memory and gave me an even deeper appreciation for the region. At the end of the day, this is why we travel; to make memories, to see new places, to understand other ways of life, and to experience new things. I would have been bummed to have missed out on any of our moments because of time constraints. In addition to a rundown on the different offerings at Anantara and picking the best excursions for you, I'll be sharing our itinerary in the Golden Triangle; a perfect three days for the on-the-go traveler.
Have you guys been to the Golden Triangle or to Myanmar specifically? I'd love to hear anyone's personal takes on Myanmar, itineraries, and your personal takes on visiting!