Right after my sister got engaged during our recent trip to Greece, the wedding talk started. I can't help myself! I'm a planner by nature and the thought of planning (*cough, cough* I mean, helping plan) my sister's wedding is pretty much the best thing I can imagine. Scott and I tied the knot in Anguilla in our own semi-destination wedding (we were living here at the time, but all guests were international), and since then the concept of destination wedding escapes has continued to grow in popularity year over year. When we started brainstorming my sister's impending nuptials, we immediately thought of a destination wedding in Europe. They wanted something intimate and something that celebrated nature and the outdoors, while bringing a dose of whimsy in a destination that would make all of their guests happy. Any guesses on where that thought track led?
Italy, of course, though Greece was a contender considering the romantic and personal connection for them there. Tuscany in particular has long been a dream destination for a family escape (neither they nor my parents have been), and it led us to conversations about what could be done in the Tuscan countryside though they were open to other locales in Italy. So, being my Type A self (I attribute this to Birth Order theory), I started scouring the interwebs to find places that would be suitable for an Italian escape that fit their needs… Naturally that research led to lots of daydreaming and inspiration. It's worth mentioning that while the idea of a grand Italian destination wedding seems like it may be out of reach, it can actually be a fairly affordable prospect with the right number of guests, the right location, and the desire to support local.
If you're looking for a wedding that's between 25 and 50 people, finding boutique hotels and castle properties is the perfect set up. We deal with destination weddings in Anguilla regularly, and having experienced both sides of the process, I think it's always worth remembering that local knowledge is invaluable. For an extra intimate affair, you'll have a bit more flexibility on the DIY component and it's likely worth looking at villas to rent in Italy, where you can find some gorgeous options throughout the country that suit the ambiance you're trying to create. That was where our conversation originally started – with villas – before it grew to investigating boutique hotels, which eventually led to a converted castle property that fit the bill. With a larger ceremony there are many moving parts and sourcing vendors and handling contracts from afar is a challenge if you don't have a local team to assist. My biggest takeaway from wedding planning (something I try to explain to my sister as she goes through this!) is that it's important to dig deep when you're provided with figures. Many hotels gave us numbers that initially seemed to her like they'd be out of budget yet when you factor in the fact that a final figure may mean not needing to rent tables, chairs, cutlery, and all of the other small things, there's often great value to be had. We've been pleasantly surprised in this process to find that many dreamy properties are actually within reach. Below, 5 stunning regions for an Italian destination wedding, plus what's captivated me most about each:
Tuscany, Italy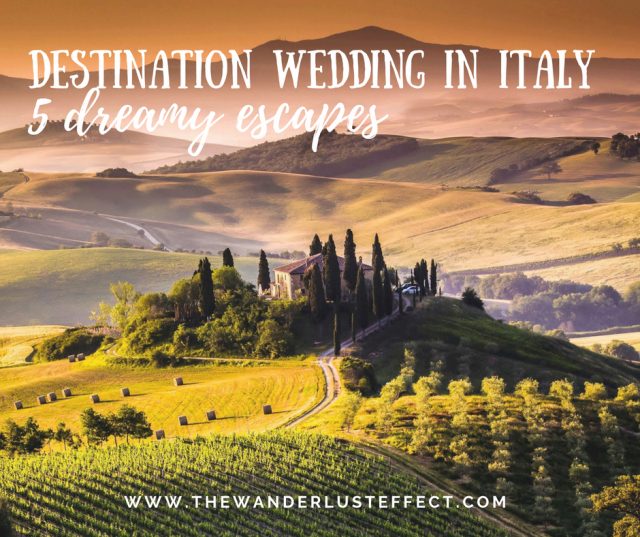 For many, a mental snapshot of a destination wedding in Italy involves stunning vineyards, carafes of wine, and perfectly rustic farmhouses dotting a large swath of green. I'd wager that the Tuscan countryside takes the #1 spot for sheer quantity of destination weddings in Italy, and from our discussions with planners in the area, they know how to curate the perfect Italian wedding scene. Tuscany may not be off-the-beaten-path when you're investigating locations but as someone who's helping plan from abroad, I view that as a plus, not a minus. There's a very well-established wedding product in Tuscany; vendors know how to craft events, and there are plenty of packages available that suit a variety of budgets and needs. Unless you're someone who has the time and desire to be involved in the minutiae when it comes to wedding planning (choosing every single flower detail, runner color, sourcing specialty wines, etc.), having local teams that do this day in and day out for months on end makes it an easier prospect.
Perhaps one of the biggest pluses that I find here is that guests won't be disappointed or be faced with a lack of activities nearby. In practice, destination weddings are more than a day; they're really a series of events that create a special wedding week, usually with a rehearsal dinner, welcome cocktail party, and maybe a farewell brunch in addition to the wedding. In Tuscany, guests have options for wine tasting, cooking classes, day trips to Siena or Florence, and days exploring quaint countryside towns.
Two castle hotels to check out: Castello di Montalto ($$) and Castello della Serre ($$$).
Umbria, Italy
Umbria was my initial instinct when we started planning my sister's destination wedding in Italy. Dubbed 'the green heart of Italy', it ticks all of the boxes when it comes to verdant rolling hills straight out of a magazine and fits with that Tuscan countryside dream with some more affordable options. Less touristed than neighboring Tuscany, there's something captivating about choosing a charming hilltop town that can virtually be yours for a wedding week escape. Perugia is the de facto capital of the region, but the towns of Orvieto, Assisi and Spoleto (amongst many others) bring a small to mid-size town feel. I was most intrigued with the western part of Umbria that borders Tuscany purely because I felt more familiar with activities on offer (wine tasting in Montepulciano or Montalcino, day trips to famous Tuscan towns, etc.) but opportunities for destinations abound throughout the region. Our biggest hold up with the prospect of hosting a wedding in a charming hilltop town was the mobility component. For those that don't have the added concern of bringing in people with mobility limitations, Umbria brings some gorgeous areas for a destination wedding, plus some lovely churches if you're looking to bring in a religious component to your ceremony.
Puglia, Italy
When I started looking for converted castle properties in Italy, I stumbled into a place in Puglia that piqued my interest and made me dig a bit deeper into the region. There's a pretty well-trafficked tourist route, especially for Americans, which generally consists of Florence/Tuscany, Rome, Venice, a seaside hot spot like the Amalfi Coast or Cinque Terre, and a bit of the lake region with Como stealing the spotlight in that space. Generally, you don't see first-timers visiting Puglia, Italy's 'boot', though the region has begun gaining in popularity in the past few years. There's beautiful Baroque towns, lovely chapels, and a beach scene for those wanting to make it a seaside focus. Temps sizzle in the summer months though, so it's worth bearing that in mind with planning and timing out a wedding ceremony to keep guests from melting in the summer sun.
For those intrigued by this region, check out Don Totu, a cool boutique property, paired with Tenuto Tresca, a gorgeous event space that celebrates the gorgeous Italian landscape.
Lakes Region, Northern Italy
We spent a bit of time in the Lakes Region in Northern Italy during an unexpected trip from Venice to Milan. Lake Como has become the go-to for the jetset elite but Lake Garda and Lake Iseo both have their own cheerleaders, too, each with their own vibes. Near Lake Iseo, there are the vineyards of Franciacorta, Italy's sparkling wine region, and easy trips to places like Verona and Bergamo. In Lake Garda, there's Garda Island and the village of Sirmione for a lakeside ceremony. In Como, there are the sparkling 5-star hotels alongside of more rustic options for a traditional lake feel. Milan is the hub for arriving in the region, with the benefit of having great international connections. For those that want to add-on the ever-romantic city of Venice, you can consider doing a multi-city journey that involves flying into Venice, renting a car, driving to the Lakes Region and then finally departing from Milan.
Sicily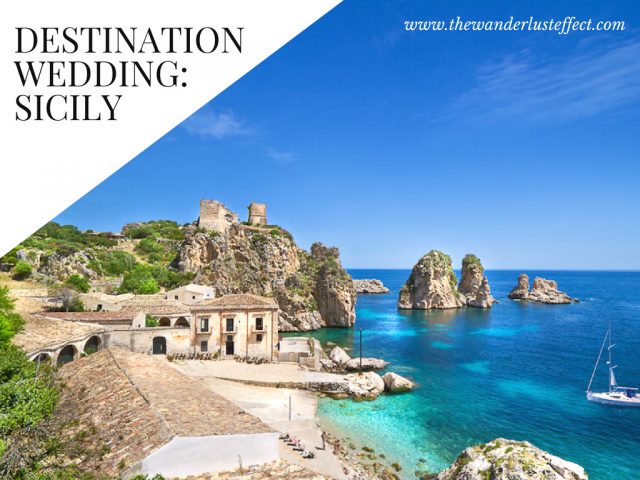 When it comes to Italian islands, I've been high on Sardinia for years as one of my bucket list escapes. For some reason I had discounted Sicily for the longest time… WHY?! More than ever we've chatted with fellow travelers who insist that Sicily is the hottest destination in Italy (figuratively and literally!) and that it still retains a culture uniquely its own. Add in the fact that cuisine is superb, weather is deliciously warm for many months in the year (read: longer season for a destination wedding in Italy), and there are a huge range of options from the uber-luxe Belmond properties to the rustic houses that bring major authentic Sicilian vibes. We've been leaning towards Tuscany for my sister's big day, but Sicily has been crawling up the list for me with fabulous options for history, beach + boat time, plus opportunities for guests to extend their trip and road trip the island during a longer stay!
---
Of course there are other fan favorites: the Amalfi Coast, Venice, Cinque Terre, etc., but when we started drilling down we found issues with logistics, budget, or the mere concept of finding a 'home base' with options for guest overflow if the situation required it. A destination wedding in Italy can take many forms, from intimate rustic escape to glitzy five-star affair. One thing's for sure: you know you'll have happy and satisfied guests (I mean, has anyone ever in the history of humanity complained about having to go to Italy for a wedding?). Second bonus of tying the knot in Italy? You'll have the perfect excuse to continue the adventure with a European honeymoon. ??
Where would you tie the knot if you were to have a destination wedding?