Italy is calling and you're gearing up for an Italian escape and planning a trip that will include some wine tasting in Tuscany. Wonderful! Now, if it's your first time to the region, what exactly does it mean when we talk about 'visiting Tuscany'? Tuscany is one of twenty regions in Italy; and while the de facto capital of Tuscany, Florence, is a fan favorite that makes most first-timers' itineraries, visiting the countryside often gets built-in as well. For most travelers, the idea of a Tuscan farmhouse experience and enjoying Italy's small-town vibe is just as much of a must-have moment as delving into the cityscapes and museums. That said, Tuscany is expansive and a visit to the region can take many forms from seaside escapes in posh locales like Forte dei Marmi to town-based experiences in charming enclaves like San Gimignano or countryside moments in the vineyards of Montepulciano. We've spent a good majority of the past year exploring the region, from the south in San Casciano dei Bagni, over to the Umbrian border in Montepulciano and Cortona, up to Florence and Chianti Classico, and further on to the Ligurian border on the coast. Here's what we can be sure of: Tuscany's vastness means a variety of experiences, plus it also means that distances are larger than you may expect. Let's dig in a bit to make some sense of the region, particularly when it comes to wine tasting in Tuscany and what to understand about where to base yourself.
Dissecting Tuscan Wine Regions
While wine lovers will find opportunities to delve into the local wine scene in all of Italy's regions, Tuscany and Piedmont are arguably the two biggest draws regionally for wine enthusiasts. Piedmont offers an easier proposition, with Barolo and Barbaresco sitting within about 30 minutes of each other, but Tuscany is a more convoluted prospect. Where should you go if you're focused on wine tasting in Tuscany? Well, you'll find wine throughout the region to be sure (even in coastal areas like Bolgheri where many wines are produced), but I'd argue that you have three main areas for wine tourism in Tuscany that are worth considering for a focus: Montepulciano, Montalcino, and Chianti Classico.
Most people think of 'Chianti' and Tuscany almost interchangeably, but Chianti is an area within Tuscany, and it's quite a bit further north than Montalcino and Montepulciano. Chianti is easily combined with Florence, and could even be a day trip (though I'd absolutely suggest longer) from the city if you're short on time. Even Chianti becomes difficult to dissect, but major towns within this region to consider on the wine front are Radda, Greve, and Gaiole (we stayed in Gaiole) which are all in Chianti Classico. Also, FYI, 'Chianti' and 'Chianti Classico' are not interchangeable making this even more complex. Chianti Classico is its own DOCG and is generally a more prestigious denomination that Chianti (more here). Even Chianti is quite vast and one thing to note is that the landscape here is hugely diverse. Vineyards make up just a fraction of what you'll see and you're more likely to be driving through forested terrain that vineyard plots.
By contrast, Montepulciano and Montalcino (separated by the town of Pienza) offer a different vista. Situated in the Val d'Orcia, I find these regions to be more picturesque with classic vineyard views and gorgeous expanses. The Val d'Orcia is a postcard; it's what you envision when you think of Tuscany which has led to its protection under UNESCO. If what you have in mind is rolling hills with cypress trees and picturesque little hilltop towns, this is the region for you. Montepulciano and Montalcino are a bit more central within Tuscany and they're close to one another which means you can pair these two areas very easily, either on a 'sampler' day of trying both or on two separate dedicated days to better understand each region. If you're really focused on wine tasting, I'd suggest at least 3 – 4 nights to enjoy this stretch (you can also incorporate wine tastings near Cortona where they focus more on Syrah production), though a week would better serve you for exploring if time permits.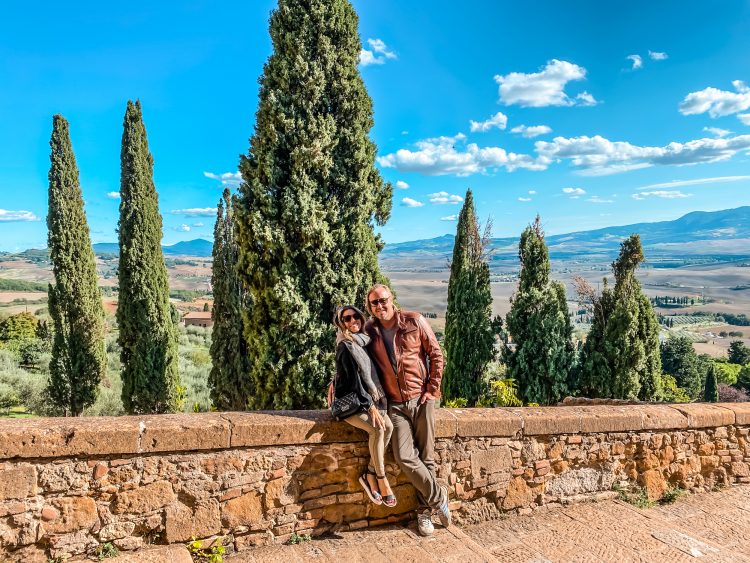 The towns of Montepulciano, Montalcino, Pienza, and Cortona are worth time in and of themselves (cute shops, great restaurants, etc.), but you'll also want at least a day to dedicate to both Vino Nobile and to Brunello. If you're a super wino and already know your focus for wine tasting, this post is probably a bit irrelevant. If you're someone who's learning about wine and keen to better understand the differences in the wines of Tuscany, I'd suggest giving yourself some time to learn about Vino Nobile di Montepulciano (the oldest DOCG in Italy), plus another day to learn about Brunello di Montalcino, one of Italy's flagship exports. Scott and I are finishing up our WSET Level 3 course right now and spending time in Tuscany taught us more about Italian wines (everything from soils to grapes and winemaking styles) than I could have learned with months of theory.
Now, all of that is just a brief primer to say this: take some time to really consider what experiences you're looking for because sitting in the car for 1 – 2 hours each day gets old very quickly. If you're interested in wine tasting in Montalcino and Montepulciano, either town could be a good home base for you. Montepulciano puts you closer to the Umbrian border which means better opportunities for incorporating other town visits like Cortona, Orvieto, Castiglione del Lago, and Assisi.
If you know that you're focused solely on learning about Brunellos, stay in Montalcino and/or surrounding vineyards to avoid drive times. What you should avoid doing is searching for 'hotels in Tuscany', thinking you can explore the region as a whole from one home base. For example, I had someone who booked in Lucca, thinking they'd be visiting places in the Val d'Orcia. The drive is nearly two hours each way – not ideal! Dig in enough and ask the questions that will help dictate which areas are the best fit for you. You may also consider basing yourself in the charming town of Pienza, which sits between Montalcino and Montepulciano for easy access to both areas plus close proximity to many tiny towns with loads of charm.
The Best Ways to Wine Taste in Tuscany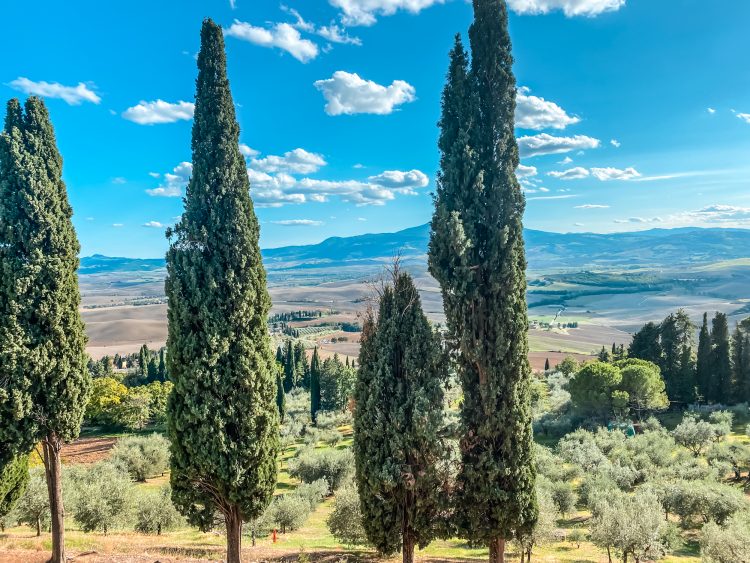 Now you've sorted out the region that's best for you, perhaps based on your wine preferences, your affinity for particular scenery, or maybe even a predilection for a particular hotel (more on that below). Now, what's the best way to wine-tasting in the area? You have a few options available:
Self-Drive: If you have a DD in your group that's okay with being an observer, this is always an option! I always recommend renting a car in Tuscany as the countryside really is about exploring, which can be tough to do fully if you're reliant on drivers to get from Point A to Point B. One thing to note is that tastings are generally by appointment only. Some wineries offer tours and tastings, while some are more tasting-focused, but very few offer tasting rooms that are just open for drop-in-type experiences.
Driver/Guide: Arguably the most popular option is arranging a private driver/guide for the day to explore 2 – 3 wineries with a light lunch without having to worry about who has to drive. The cost of a driver/guide can vary but generally expect something in the range of €600 – 800/day for up to 4 people including 6- 8 hours of driving plus a couple of tastings. Generally, I wouldn't choose places that are much further than an hour from your starting point to avoid too much time in the car. Start at your furthest point and work your way back to avoid the dreaded hour-long drive post-tasting!
E-Bike Tours: For those that want to be more active whilst tasting, e-bike tours are becoming more popular. The key is staying at a hotel that is well located enough to explore by bike as you'll naturally be sticking closer to home and covering shorter distances than you would by car. For example, a popular route at Borgo San Vincenzo is a 30km route that departs directly from the property and includes a private guide plus two wineries and a light lunch over the course of 4 – 5 hours. You'll avoid getting lost this way (much more enjoyable!) plus have wineries pre-booked to maximize your flow.
Cooking Class with Wine Pairing Lunch/Dinner: If wine tasting is more of a secondary focus for you then there are options that focus on other elements but also include local wines to sample. Cooking classes are one of the most popular draws in the region with travelers learning how to make local pastas, maims and sweet treats with a chef. After enjoy your meal (lunch or dinner) paired with wines produced locally (usually produced by the agriturismo). This is less of a true tasting experience but does allow you to try a hyper-local small batch wine in the context of a true Tuscan experience.
Truffle Hunting with Wine Pairing Lunch: Similar to the cooking class, many truffle hunting experiences follow up the hunt with a truffle-laden lunch (usually four courses all filled with truffle!) that's paired with wines. This is a great option for active travelers who are perhaps more focused on food but also want to try local vino.
Hotels for Wine Tasting in Tuscany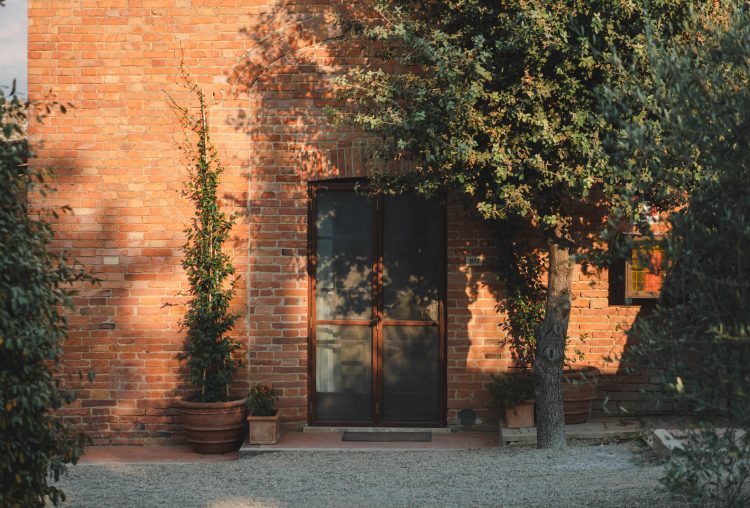 Ready to book your getaway? Of course, I'm always available to help with customizing itineraries and booking your trip via Compass & Vine (this is particularly helpful if you want to incorporate some other new-to-you regions) but I'm sharing some great Tuscan properties to consider below:
Borgo San Vincenzo, Montepulciano: I obviously have to include our hotel as our focus when building it was to develop a wine-driven luxury boutique hotel in the region! Located in the vineyards of Montepulciano, you're in close proximity to some of the best Vino Nobile vineyards making tastings a breeze! Plus a dedicated Experiences Director is available to help craft the rest of your itinerary from truffle hunting to town visits and dinners.
La Bandita Townhouse, Pienza: Located in the town of Pienza, La Bandita is a beautifully restored boutique hotel in the center of one of Tuscany's most beloved towns. This is less vineyard focused but the proximity to both Montalcino and Montepulciano make Pienza a great home base for exploring! La Bandita is part of the Design Hotels collection which now falls under Marriott for anyone that's a Bonvoy devotee!
Castello Banfi Il Borgo, Montalcino: For my Brunello lovers set on being in the Montalcino area, consider Castello Banfi, a Relais & Chateaux property with just 14 rooms and suites.  You'll be able to try some of their wonderful production from on-site or visit some of the world-class vineyards that have become synonymous with Montalcino. Castello Banfi is a Virtuoso property so anyone looking to book can use the link here or reach out to me for added perks (F&B credit, daily breakfast, etc.)
Borgo Pignano, Volterra: A bit less wine-driven, Borgo Pignano sits near Volterra and San Gimignano for a different part of Tuscany. San Gimignano is home to their famous Vernaccia which is an outlier as a premium white in the region (by contrast, most areas are famous for their reds). Like Banfi, Borgo Pignano is a Virtuoso property so anyone looking to book can use the link or reach out to me for added perks (F&B credit, daily breakfast, etc.)
Borgo San Felice, Chianti Area: Located closer to the Chianti Classico area, Borgo San Felice is a luxury boutique hotel that also sits in the Relais & Chateau portfolio. Also a Virtuoso property, the link accesses amenities or you can reach out to me for added perks (F&B credit, daily breakfast, etc.)
---
For my Tuscany lovers, which part of the region is your favorite for a wine-focused escape?