Despite COVID looming in 2021, my first year of Compass & Vine brought so many amazing planning experiences, from Greek island escapes to booking exclusive Caribbean enclaves and incredible African safaris (my favorite!). Throughout all of this, perhaps my biggest lesson has been around travel insurance. I'll chalk it up to COVID because let's be honest, did any of us really think of travel insurance as a real necessity when traveling before? Now, I offer it to all clients not just as a formality but as a real point of discussion to make sure everyone feels comfortable before they hit the road.
If you're like us, and like many of the clients I've been working with this season, you're vaccinated – perhaps even boosted! – and less worried about being fatally ill and more worried about testing positive trying to return to the US and getting stuck somewhere. This is the conversation I've had more and more with people jetting internationally. What happens if you test positive upon arrival to a foreign country (if required by the destination) or if you're heading home and test positive on the required test to return back to your home country? It's not an unfounded concern. As a hotelier, I've seen it more and more: people arriving to the island and testing positive upon arrival or getting a positive test when testing for departure, and wondering… well, what next? It's no surprise that a positive test means you cannot board a commercial plane. That doesn't necessarily mean a 14-day quarantine but it does mean that you need to stay in place (likely in your room only) until you test negative. That might be three days, it may be two weeks or more; the amount of time varies based on your viral load during your positive test. The crux is this: most of us don't want to get stuck somewhere. Not only do we need to return to responsibilities at home but the cost of staying somewhere while waiting to test out can mean hundreds or thousands of extra dollars in expenses.
Get Airlifted Home without the Need for Hospitalization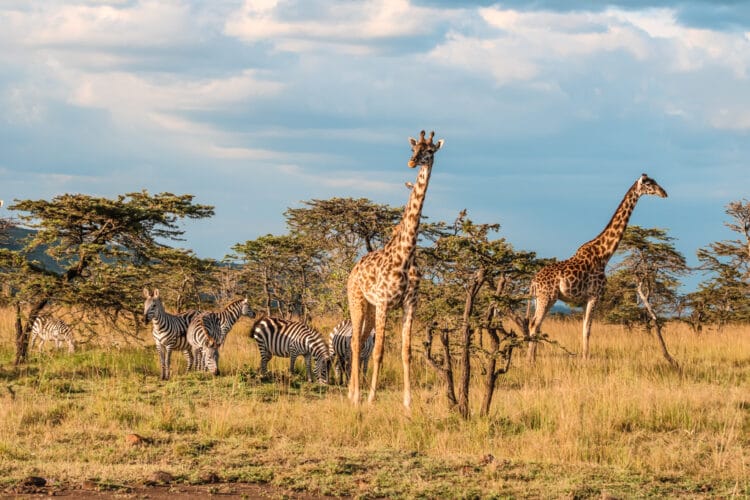 Enter COVAC, the number one insurance I share with customers because it's exactly what most people need and want, even if they don't realize it. Many medivac-style insurances require that you are hospitalized to be airlifted to your home country to your local hospital for care. No doubt this is a big concern for some, and if this is the primary concern, traditional medivac insurance may work. For most of us, hospitalization isn't really the risk. Most of us want to be airlifted home so we can be in our home countries and not stuck abroad. With COVAC, "should you be diagnosed with COVID-19 while traveling more than 300 miles from home, COVAC Global will arrange for medical transport back to your home country of record at no expense." This means you must 1) test positive on an RT-PCR test and 2) have at least one self-declared COVID-19 symptom.
Before I go into the nitty-gritty of how it works, if this interests you and you want to learn more and want help booking this insurance, please reach out to me at Compass & Vine. If you want to book it on your own using the COVAC link, I'm going to share the process below and would just ask that you mention my name, Shannon Kircher, when it asks for your agent name. This allows me to be informed when you purchase and to help with any questions or potential needs going forward.
What's Required
To qualify for this, you must book this insurance at least 14 days prior to your scheduled travel date. The exception is doing it within 7 days prior with proof of a negative COVID test to allow them to issue insurance. This cannot be done the day before travel or while you're traveling for obvious reasons.
How to Book
The easiest way: email me! I'll get it all done for you just by gathering some basic details from you.
If you prefer to do this on your own, here's the process:
Navigate to the COVAC site.
Scroll down until you see this screen. You'll want the Covid 19 Membership. Select the appropriate trip length. For most people, this will be 15 days, but for some, it will be 30 (lucky you!). There's also an option for an annual membership if you're a frequent traveler. I have some clients on this package and this helps cover your trips throughout the year!
For additional security upgrade, I select No Additional Security Upgrade. This is geared towards unstable countries and other security concerns and is less relevant for the COVID coverage most people need. For membership type, you can select Individual Membership if you're a single person, or Family Membership if you're a legal family unit (married couple with children, for example) Cohabitaing does not qualify even if you've been together for a million years. Friends traveling together on the same trip also do not qualify (in this case, it would require multiple memberships so each person can put in their relevant details).
For the example above, an individual wanting coverage for 15 days, you should see a total of $675 for coverage.  There are discounts for family units that provide cost breaks. For a couple (2 people) coverage would be $1282.50. For 3 people, $1923.75. For 4 people, $2565 and so on. Hit 'Next' when done.
You'll now be prompted to put in your details. Fill out your traveler name(s) with your home address (used for repatriation) along with an emergency contact.  Under Agent Name, you'd enter Shannon Kircher so I can stay apprised.
You'll then be prompted for billing details (the usual) and will have a chance to review your order: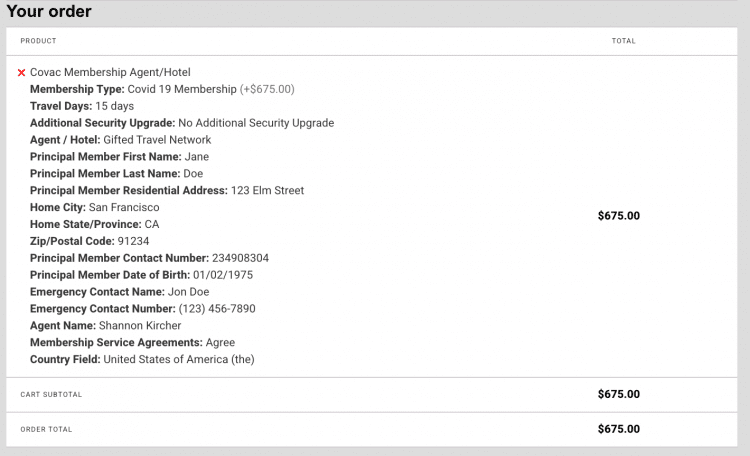 You will then place your order and be given your membership number with all relevant details. The next step is registering the trip. At this point, you have insurance, but the company doesn't know where and when you want to apply this coverage.
Register a Trip
You likely already have your travel dates scheduled so register your trip immediately using the 'Register a Trip' option. This is where you'll have the opportunity to share your travel insurance in terms of location and dates and have this information tied to your membership.
You're done! You should receive email correspondence that references your coverage, travel dates, etc.
Also, I get this would normally be the world's most boring post – is she really writing a post about insurance?! – but it is so relevant and I've now seen many people who wish they would have purchased this in advance. I know it's not a cheap add-on but for many travelers, the peace of mind makes travel more enjoyable again and takes away those anxieties the final days of a trip.
Compass & Vine is a Virtuoso affiliate as is COVAC so I have a great relationship with my representative there for any questions you may have. Please reach out for any guidance, assistance, or questions. And if you're ready to book, I'm happy to do this for you to make sure you're registered properly for your upcoming travel.
Insurance for Quarantine-Related Expenses (vs. of Airlifting)
Following the publishing of this post, a friend reached out about a different angle with COVID-related expenses: what if we don't want to be airlifted but instead just want to be covered for the cost of quarantine if we were to test positive? That's another way to approach it and that's absolutely an option. With traditional travel insurance, a bed rest option can be added which can cover up to $4000 per person for accommodations and meals should a doctor require bed rest or quarantine, which may help with providing a more cost-effective solution if COVAC is out of reach. If this option interests you, again reach out so I can provide some more details and get you sorted out. I've found that peace of mind is a game-changer for enjoying your holiday without those lingering concerns. ✨