Stay fit in Tahoe without a gym
Guest post by Lizz Riggs
Editor, Tahoesbest.com
Working out on vacation? No thanks! While many people want to spend their trips relaxing, having fun and eating great new foods, it's also important to burn some of those calories so that you look good in all your vacation wear (and in the pictures that you're going to treasure forever.) The most fun way to keep the pound off on vacation is to get out and do something active, and there are so many fun things to do in Lake Tahoe that burn those calories right off and you hardly even notice you're doing it! No matter what season you're in the area, you'll find ways to get out on the lake or in the mountains to enjoy great views and an unforgettable adventure.
Skiing in the Winter
1Lake Tahoe holds 18 world-class ski resorts in its midst, and all of them have trails for every level, breathtaking views and tons of entertainment and things to do off the slopes too. If this is your first ski trip ever, or you just want to learn some new skills, take a lesson with one of the professionals at the ski resort you decide to spend your days at. Check out the Tahoe ski reports to get a good idea of the current snowfall and conditions of the ski resort you want to check out while you're here. If you think you got this handled on your own, hit the slopes for a day, you usually burn around 400 calories an hour on a pair of skis! Afterwards, head to the ski resort's nightclub to work it out more on the dance floor.
Hike the Trails
2Once things warm up a bit, check out all the great hiking trails in these parts. There are plenty of trails for beginners or those who just want a nice walk with great views. When you're ready to turn up the intensity level and go all out though, check out some of the more challenging trails. Some of the most popular hikes in the area include Rubicon Trail, Eagle Falls, Mount Tallac, Horsetail Falls, Tunnel Creek and the Glacier Meadow Loop.
Water Sports Galore
3Lake Tahoe is the largest freshwater alpine lake in North America, so there's plenty of room to get out and do what you like. Of course you can sit on a boat and reel is a big one, or you can tie use that boat for more adventurous things. Water skiing and wake surfing are one of the top activities in these parts, and many of the boat rental places can hook you up with all the equipment you'll need, plus it's a full body workout! If this isn't the kind of boat you had in mind, get a kayak and take to the waters, or for an even more intense but totally fun workout, rent a stand-up paddle board – your abs may hate you for a few days afterwards, but they'll get over it. Lake Tahoe is not the only water to hang out in though. There are tons of surrounding lakes, rivers and streams, and you can head to one for some whitewater rafting if you're up for it! Don't worry, they have options for every class.
Mountain Biking Adventures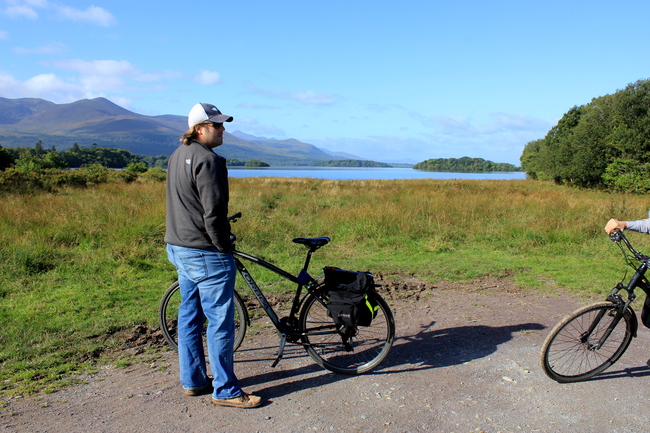 4Just as there are hiking and skiing trails for every level, there are biking trails for just about everyone as well. If you're on a family vacation, get the gang together for a nice outing on one of the beautiful trails through the parks. If you're traveling with a couple daredevils, there are trails for you too. There's something for every biker, and whether you're riding through a scenic trail or racing to the top of a mountain, you'll definitely enjoy the scenery when you're biking in Lake Tahoe.
Lake Tahoe is a year-round destination, and whether it's warm and sunny or you arrived just in time for snow, you can get outdoors and have a blast. There are tons of great restaurants in Lake Tahoe that serve delicious seafood, steaks and every other cuisine that you can imagine, and you're going to want to visit all the best ones on vacation. Don't question whether you should order dessert when you know you want to just because you don't want to go to the gym on vacation, because there are so many fun ways that you can work off those delicious meals throughout the day!
---
Lizz Riggs is the editor of TahoesBest.com.