Europe is an incredible and vibrant continent that inspires all kinds of wanderlust for newbie travelers and veterans alike. Not only is there a diverse offering of culture and history to enjoy, there's a varied choice of food, nightlife, scenery, architecture, languages and music to experience, too. And, best of all, the continent offers some of the best low cost holidays around. But with 50 countries to choose from on the continent, how do you decide where to go?
If you need some inpso to get started, why not look to some of your favorite films as you begin brainstorming your next getaway?
Here are four well-loved movies that will make you want to travel to Europe. So, pack your suitcase, dig out your passport, and head to the airport. You have plenty of destinations awaiting your arrival!
Eat Pray Love 〰️ Italy
1If the movie adaptation of Elizabeth Gilbert's novel 'Eat, Pray, Love' doesn't give you an appetite for Italy, we don't know what will. The film follows Elizabeth's soul searching through various countries, but it's her time in Rome that gives us a serious case of wanderlust. There's the architecture of course, and the beautiful apartments and the romantic, expressive language – but it's the mountains of pasta, wine and gelato we're desperate to try!
Mama Mia 〰️ Greece
2If azure blue seas, whitewashed houses and warm sunshine sounds like your kind of holiday destination, you need to grab a seat and watch Mama Mia. This blockbuster was filmed on the Greek islands of Skiathos and Skopelos, and the islands themselves are every inch as beautiful as they appear on screen. Despite being popular tourist destinations since the film was released, the islands remain unspoiled by all the extra attention, so watch the movie and see how quickly you end up googling flight prices to a country with as much to brag about as this one.
The Sound of Music 〰️ Austria
3The film version of the Sound of Music is more than 50 years old, but it's still well-loved today. In fact, thousands of fans around the world continue to make a pilgrimage to the picturesque location (Salzburg, home of Mozart), and it's estimated that 70% of tourists visiting Salzburg choose to come because of the movie.
Expect to see medieval streets and beautiful old buildings, but you won't have to travel far if you fancy twirling around the same meadow where Julie Andrews sang that, "the hills are alive with the sound of music." The meadow is less than 15 miles away from the south of Salzburg if you want to hire a car to see it for yourself.
Editor's Note: For real, though, I've watched the Sound of Music multiple times during our planning for our upcoming trip to Central Europe this fall. We'll be in Austria, and a stop in Salzburg is a must for anyone that's been inspired by the landscapes made famous by the Von Trapp family. 
Chocolat 〰️ France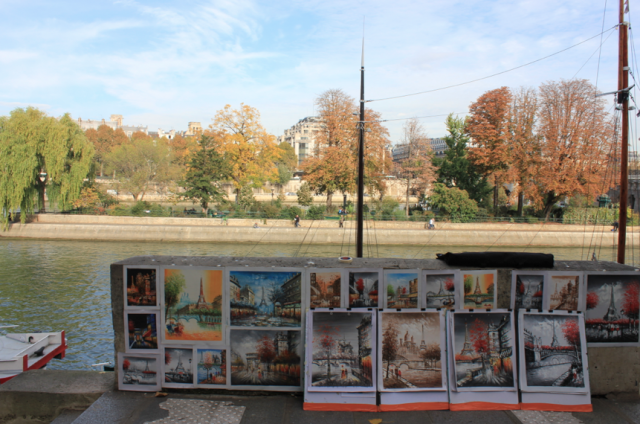 4Finally, there are few people who'd turn down a film that includes Juliette Binoche, Johnny Depp, Dame Judy Dench and chocolate, which is perhaps why one sleepy little village in France (Flavigny-sur-Ozerain to be precise) has garnered so much attention since the film Chocolat was released. The location is simply charming, with slow village life, tranquillity and cobbled streets exuding the very same whimsy we enjoyed in the movie. Curl up to watch this film with your favourite box of chocolates and practice your best French accent – you'll need the practice for when you visit the village in person.
Inspired yet? Which of these four destinations will you be checking out first? Italy, Greece, Austria, France, or somewhere else altogether?