There are some places and some experiences that just spark something in you, and often times you just can't quite describe what makes it so special. You know what I mean? It's just a feeling you get; a warmth, a sense of being a part of something. That's a sensation that we hope to feel on every trip we go on, and it generally involves something experiential that leaves you with a better sense of place, culture, and people. One of our overall highlights in terms of experiential moments on our trip was truffle hunting in Istria with Karlić Tartufi.
Nothing went according to our original plan, and that was part of what made it utterly perfect. Truffles – tartufi, as they're locally known – are the lifeblood of Istria and have changed the economy since their discovery decades ago. The Karlić family was one of the first families to be involved in truffle hunting, and they continue the family tradition with an intense passion for the industry.
We arrived on a rainy Sunday, driving to their shop in Paladini near the main town of Buzet, less than a half hour drive from our home base at Villa Borgo in Motovun (check out my post on Istria's hilltop towns for more). I'm no truffle hunting expert, but we assumed that heavy rain and truffle hunting didn't necessarily go hand in hand. We were prepared for our expedition to be a no-go but hoped that our visit wouldn't be entirely fruitless.
The Meal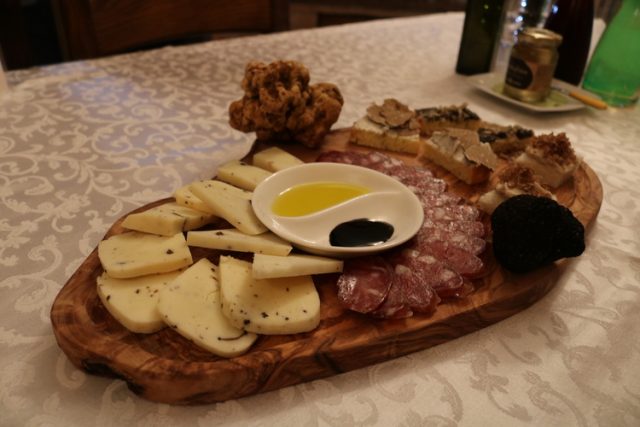 Running in out of the rain, Ivan Karlić greeted us. He confirmed that truffle hunting was called off (we figured as much), but he graciously put us on another truffle hunting expedition for the following day. But here we were, in Paladini in the middle of the day, ready for a truffle-laden lunch on a day when there hardly seemed like anything better than sitting inside with a hearty meal. Yet we were the only tourists there, and I didn't want to interrupt what seemed to be a bit of a family day.
'No, no! You are welcome! Please, join us in our kitchen!'
Radmila, the Queen Bee and head of the Karlić truffle empire, invited us in to a warm kitchen space where we settled into the wooden table, just the two of us. The family was all smiles, warm and welcoming, the ultimate ambassadors for Istria and true purveyors of Croatian hospitality.
Glass quarts of red and white table wine appeared – Malvasia and Teran, of course – along with table settings, bread, and oil. We had the full family welcome: Ivan Karlić, Radmila Karlić, and a newbie to the Karlić team, Lidija. Ivan brought in a tub of black truffles followed by a tub of white, all freshly churned up from the soil, many still covered with a dusting of dirt from the earth. He showed us the biggest one of the bunch – they refer to these oversized truffles as 'jokers' – and they're a true treasure, worth hundreds of euros, if not thousands in some cases. The white are the most rare (and most expensive, of course), and we happened to be visiting during white truffle season, which takes place from mid-September through the end of the year.
Once upon a time, when the Karlić family began their truffle hunting in Istria, there were just 25 or so truffle hunters involved in the business. Now, there are more than 2000 licensed truffle operators. The business is a booming one, and it changed the face of the economy in Istria, which is now one of the wealthiest parts of Croatia. It was Radmila, this woman standing before us preparing a home-cooked truffle meal, that really pushed the family business forward into something more global. The family sells truffles and truffle products to shops and restaurants throughout Croatia, but they also ship internationally to France, the UK, the US, Hong Kong, Singapore, and many other destinations with luxury dining offerings.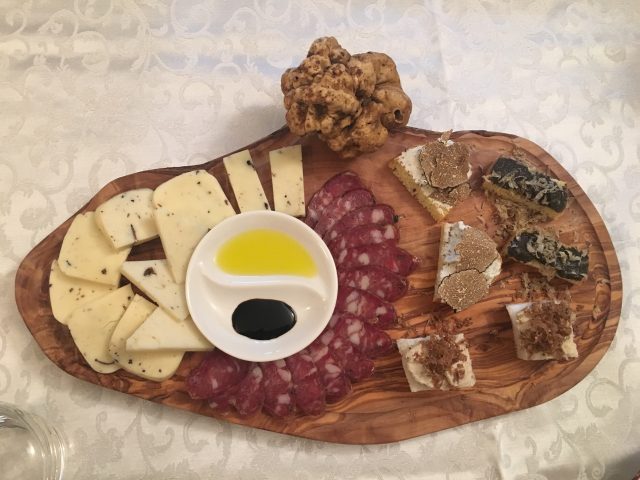 A cheese and charcuterie plate was brought out – truffle cheese, truffle salami, crostinis with truffle patés and spreads, accompanied by bread, oils and honey. The spreads blew us away – we couldn't help but buy a heap of them for family. Some things are just too good to not share, you know? Then there was the intermezzo, young porcini mushrooms that had been sliced delicately into a carpaccio.
Radmila entered once again, hauling eggs and inputs to prepare a truffle scramble for us for lunch. She invited us in to watch the process as she freshly grated truffles into the butter – 'truffles like the fat,' Lidija explained – and slowly poured in eggs and other spices.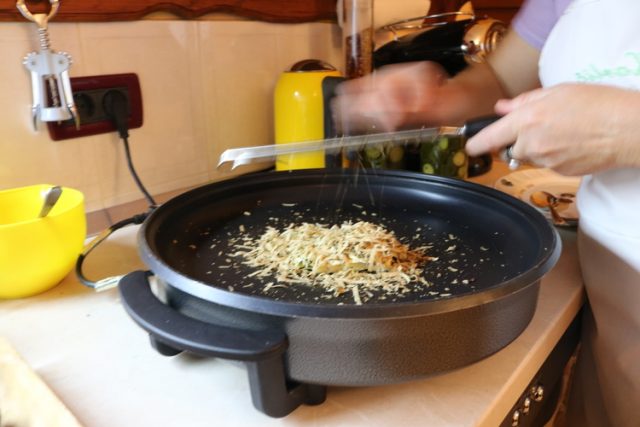 I had to ask what I'm sure others wonder: 'Do you get tired of truffles?'
The answer was no. Ivan and Radmila both admitted that they eat meals with truffles at least five days a week. The way Ivan described it made sense. Growing up surrounded by truffles, it's treated more like a spice and less like a delicacy. In the same way that we add salt, pepper, or garlic every day, they add truffles.  Fair enough.
Eggs came to the table, topped with a fresh shaving of black truffles. I've come to accept that I will never have eggs that good again in my life, and I'm okay with that.
Then came the proposition of dessert. Truffle dessert? For me, truffles are a savory flavor so the thought of truffles infused into dessert was a bit of a mind game, but I'm not one to turn down dessert.
Once again, Radmila entered the kitchen, with a bowl full of dough and a pan ready for frying. She was cooking up one of Croatia's dessert specialities. The unsophisticated description is that they're baby donuts. They look like donut holes, and each scoop is hand dropped into oil where they quickly fry up to a golden brown. When they're hot, they're cut in half and covered with either white chocolate (with truffles) or a Nutella-type concoction (also with truffles, naturally), two products that the Karlić family has packaged. Each half is then sprinkled with truffles for good measure. When she presented us with the plate, I asked if we could share. I mean, surely we couldn't finish all of these baby donuts… right? RIGHT? Note to self: don't underestimate the size of your dessert stomach. It holds a shocking amount of baby donuts and truffles.
Our experience ended up being a unique one since we weren't part of a larger group, but I have no doubt that a group setting would be equally special. There are fewer things that felt more authentic and personal during our trip, and the Karlić family extends the family feel to their guests. We left that day and promised to return the following day to experience the hunt. Traditionally, an experience like this would involve a few hours with the Karlić team: a brunch or lunch with truffles followed by the truffle hunt itself. Ours was spread over two days purely because of weather and circumstance, and truthfully, we were excited to go back the next day. We felt like we were saying hello to old friends.
The Hunt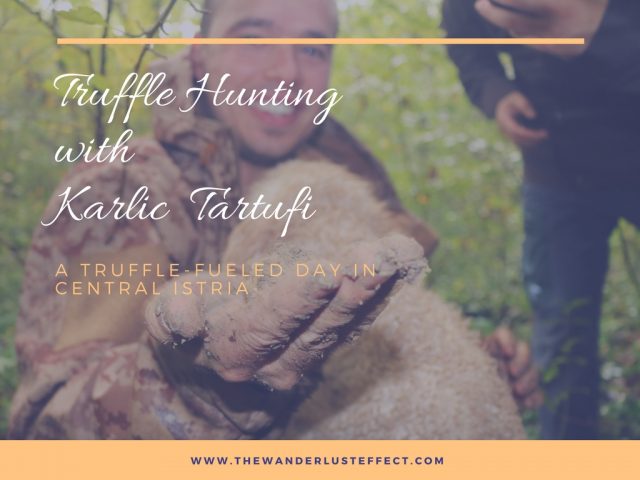 The next day we arrived as planned to embark on the truffle hunt. The sun was working to beat out the clouds and the weather was much more favorable for an hour or two of trekking into the forest.
First off, let me talk about attire. This is a hunt, guys and gals. Wear athletic shoes, clothes that you don't mind getting a bit muddy, and wear a long-sleeved top or a jacket to protect your arms from the branches in the forest. Radmila reassured us that the hunts that their guests experience are genuine. Heading into the hunt, we may find nothing, something small, or – if we were lucky – we'd stumble upon a joker, but as with their every day hunts, nothing was guaranteed.
We followed our guide by car and headed to the edge of the forest where we began our hike. He opened the back of his truck and out popped three Italian hunting dogs: Istra, Candy and Betty, all eager to run around and find truffles. Truffle hunting was once the domain of pigs, but dogs are the de facto hunting tool now since they can be better trained and steered clear of eating the profits.
We trekked into the forest as our guide led the way. The hunting dogs stayed close for a while until they each began chasing down scents with some promise. All of the dogs are trained by the Karlić family, and while all of the dogs that joined us looked the same (a breed of Italian hunting dog), any dog with a solid sense of small can be trained in the art of hunting.
Soon enough, they were onto a scent, and all three dogs worked together to point out the target. Our guide went in with a pick and dug alongside the dogs to be able to pull the truffle from the earth.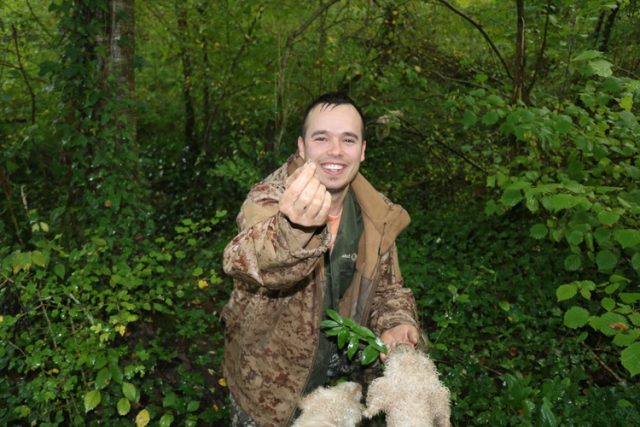 From the ground came the tiniest little nugget. In some ways, I was impressed that our guide could even differentiate the little truffle from a pebble, but he showed us the miniature gem and then diligently put it in his pocket where the treasures would be stored throughout our day. Onto the next – the dogs found another, and then another, mostly small, though their excitement had us gearing up to find something enormous.
Then they stumbled upon the day's jackpots, back-to-back sizeable truffle that had everyone snapping pictures. During our first day with the Karlić family, Ivan had told us that folks long ago used to be perplexed by what they thought were bizarre-looking (and smelling) potatoes. Seeing them come out of the ground, you can tell how there would be a mix up, but the white truffles – even covered in dirt, fresh from the earth – have a strong truffle scent that's now unmistakable.
Our truffle lunch was decadent; warm and homey, but definitely felt luxurious in that we were being spoiled with truffle dishes that would normally cost a small fortune at home. Being part of the truffle hunt helps shape the experience a bit and provide a different perspective on a luxury product. The process of delivering truffles from the forest to our plate isn't a glamorous one. It's a down and dirty process that involves a lot of work by those that are involved. In hindsight, that one truffle that Radmila shaved over our eggs at lunch was the product of what we experienced during this hunt. It's a team out there, scouring the forest for these nuggets, never knowing when they're going to find them, and hoping for some edible treasures.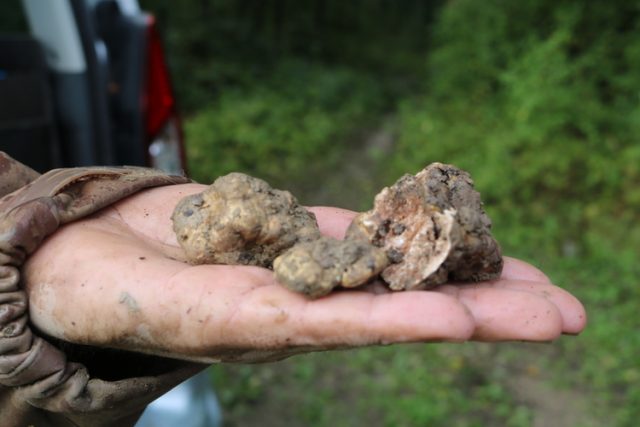 For anyone heading to Northern Croatia, truffle hunting in Istria is an absolute must for your to do list! Understanding the process from start to finish will give you a whole new appreciation for truffles… plus, who can pass up a homemade truffle lunch in the coziness of the Karlić kitchen?
Check out this quick video from our time truffle hunting in Istria:
Anyone else experienced a truffle hunt before? What were your thoughts on the process?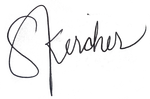 A big thank you to the Karlic Family for making this truffle hunting experience possible and for opening their home to us for lunch. As always, all thoughts and photos – and video! – are my own and are genuine.