In the sea of travel-focused apps available for your mobile device, which apps do you prioritize? Which are actually useful to you as a traveler? A couple of years back, I created a list of 9 travel apps that I love while traveling; they're varied and for use in different capacities (e.g. booking, capturing, and sharing). Some are still my go-tos, but with the ever-changing landscape of tech, it's in need of a facelift. I was recently introduced to the Flying app, and was intrigued enough to download it prior to our West Coast adventure.
The app serves a few different functions, though it's primary use is to track your flights, with information being available to you even when you're offline. I found this particularly useful as we set off in wifi-less zones and while up in the air. When's our next flight? How long is that flight? When are we due to land? All of that information is stored in the app once you've put in a few bits of information about your flight path.
It provides interesting visualizations of the data to make the tracking component a bit more interactive, and has a social piece that allows you to connect with friends, see their flight paths and total miles flown. They integrate gamification by giving users 'stamps' for certain achievements in flying. As we all have learned by now, gamification works in a big way. Remember when FourSquare came out and we were all rushing to be mayor of every establishment that we loved? I'm always a bit wary about connecting with friends on platforms like this (it crosses into the oversharing category for me a little bit), but I can see it being an enticing component. It's not that we really care where our friends are going for the most part; rather, it's that the competitor inside of us wants to see that we've somehow 'won' in travel time, length, most interesting routes, etc.
When my first flight from St. Maarten to Miami landed, I was able to pull up this information while still on the plane waiting to disembark. I could see when my flight was scheduled to take off, the gate from which it would depart (including the updated info), along with the flight number.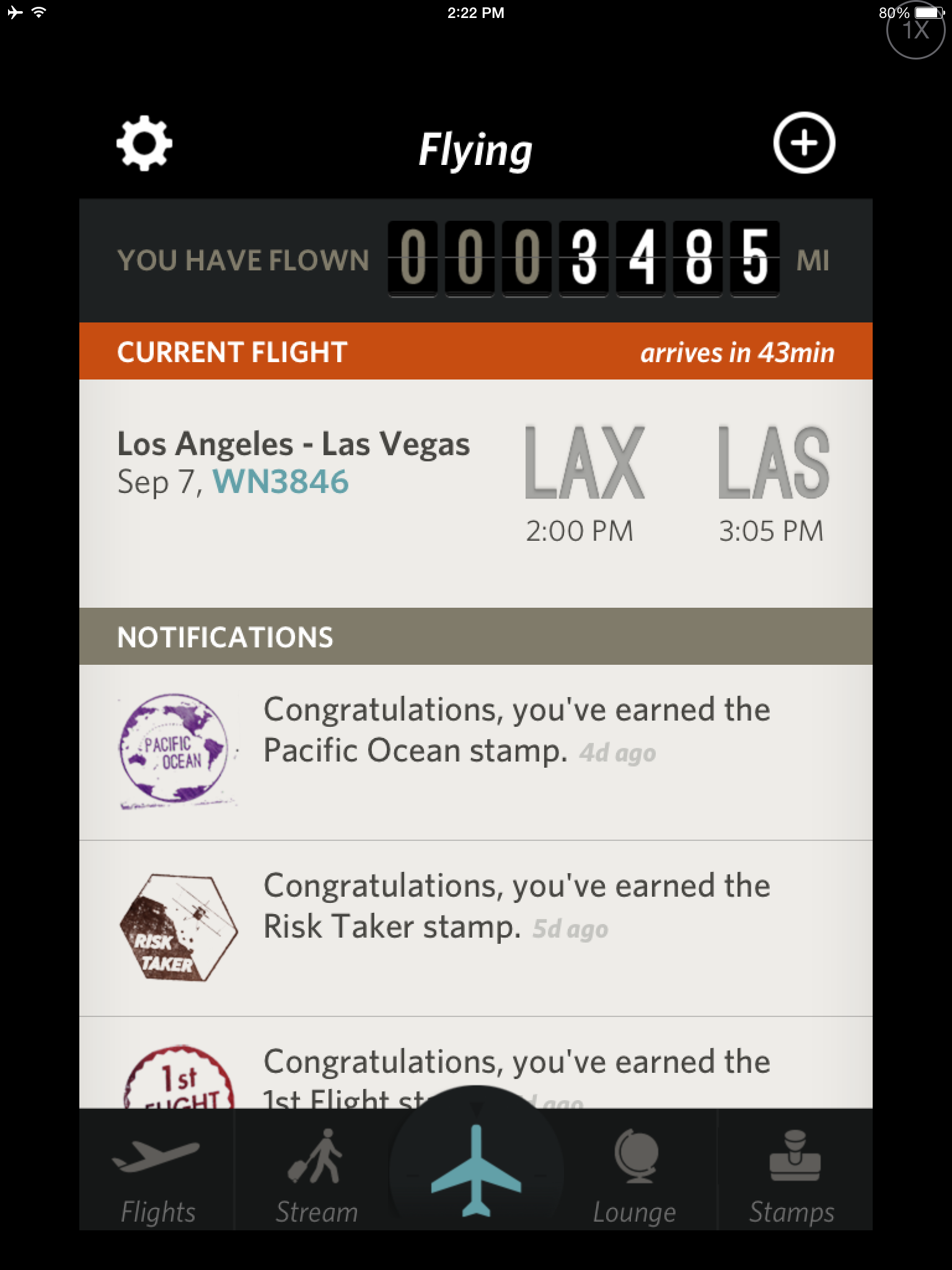 Whether or not you use the social piece of the app, the functionality is certainly still there. Just having a list of flights, flight numbers, times, gates, etc. at my fingertips was incredibly useful. Yes, you do have the take a moment while connected to input the relevant info, but that's a relatively small task. All in all, I'm a fan, and I appreciate the constantly evolving travel tech industry. Keep it up, techies!
Has anyone else tried this app yet? What's your go-to travel app? Why are you a fan?
xo from somewhere in the air,