Where + Wear: Day-to-Night in Dublin
As a woman traveler, I constantly find myself searching for the same information prior to a trip: what do I wear? The crux is this: what's the appropriate travel style for the destination that I'm about to explore that will allow me to look decent in photos without being inappropriately dressed for the landscape and situation? There are cultural customs to keep in mind, climate, landscape and topography, general dressiness of a locale and practicality. Check out this guide – and other guides in this series – for packing inspiration.
Join me in sharing your thoughts and tips for packing and travel fashion with a series of destinations around the globe. Download this quickie cheat sheet of travel style inspiration for Dublin, including some tips on where to stay, where to dine, and what to do. Pin this guide for a quick reference before your European escape!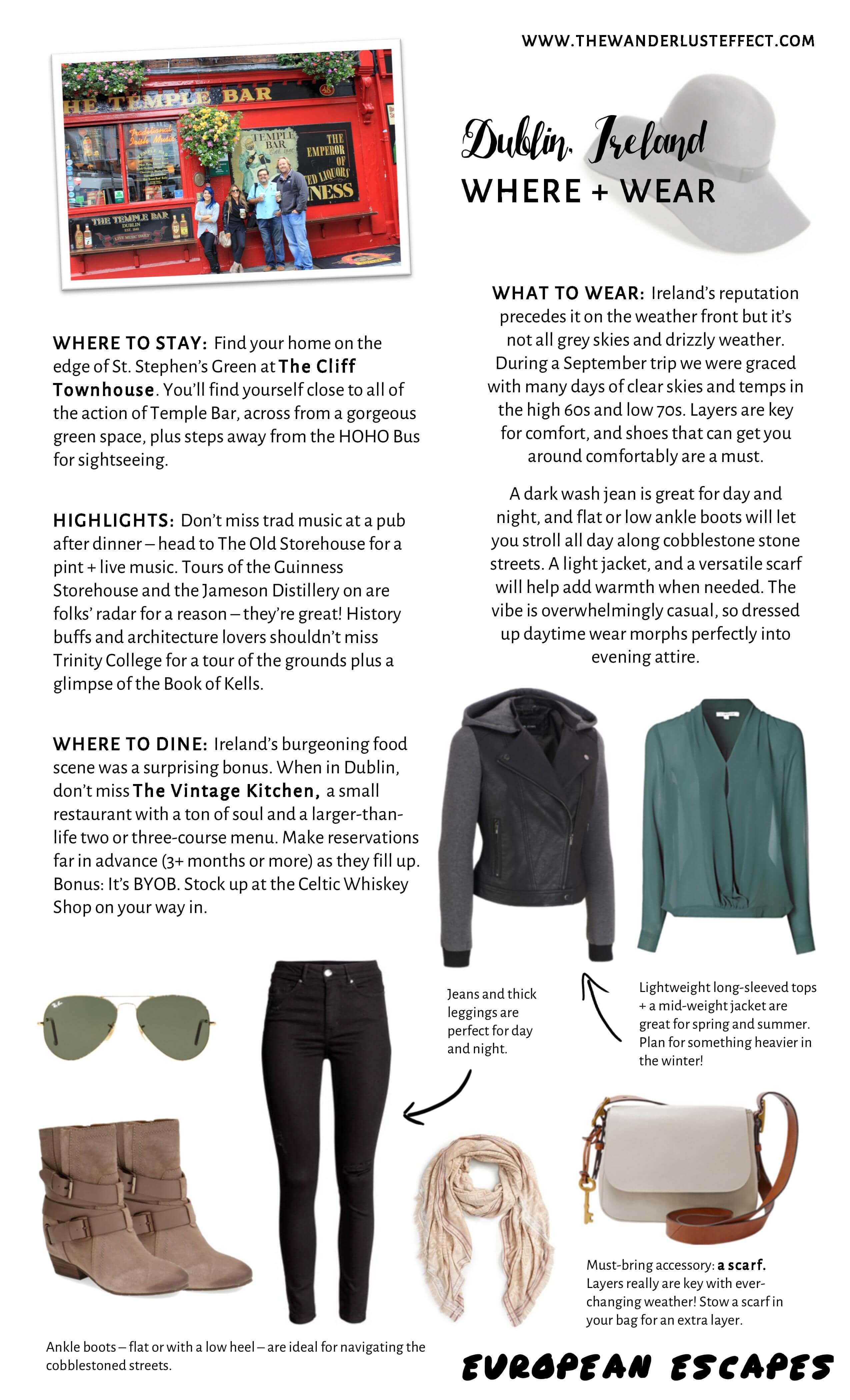 Download the Dublin Travel Style Guide | The Wanderlust Effect  for easy reading on iPad.
Vibe + Packing Tips
Irish weather is a fickle thing – any time of year you're likely to experience all of the seasons throughout the course of mere hours.
Layers are absolutely key for comfortable sightseeing in a city that's seen beautifully on foot.
For women, the casual vibe of the city means that day time and night-time wear can be fairly similar, which will help narrow down packing despite the need for layers. Jeans and leggings are a great base, and dark or black denim can easily be dressed up for a night out. Long sleeved tops and lightweight sweaters are perfect to wear alone or with a jacket over the top. Scarves are great accessories for an added layer of warmth when it cools down. For shoes, opt for close-toed ankle boots or a comfortable close-toed flat (like Toms or Saludos) to carry you through days of sightseeing on charming uneven roads. A neutral crossbody bag with enough room will prove practical so you can stay hands-free with space for your must-have items. As with most destinations, a pair of sunglasses will help (though that may sound optimistic), when the sun does come out to play.
If you have room, bring an umbrella that can fit comfortably in your bag. If you don't have room, you can find an easy-to-tote umbrella on any corner.
Men will enjoy the same easy to morph day to nighttime looks. Khakis or jeans are great for sightseeing by day and are perfect for nights out. Long sleeved collared shirts are a perfect base, with a warm vest and/or jacket to layer over. Close-toed shoes with a bit of support will carry you through the day.
Shop The Look
Destination Inspiration
Have you been to Dublin? What are your recommendations when packing for Dublin?
xo,