Anguilla-based airline makes island hopping feasible
Being from the US' West Coast, Caribbean traveling wasn't part of our normal holiday getaway cycle growing up. In fact, my first time (ever!) to the Caribbean was with Scott in 2011 when we visited Anguilla for 10 days. Now that we're living here, my traveling mission is a justifiable one: visit as many Caribbean islands as possible during our tenure. If you've been keeping up with our adventures, you'll remember that we booked a trip to Saba in December and have a Spring getaway to Dominica in the works. Now, here's our biggest problem with simple getaways: Anguilla's airport is little and people typically use St. Maarten's Princess Juliana Airport (SXM) for getting in and out of the region. We did just that with our flights to Saba. While that's simple enough, there's the added step (and cost) of getting over to St. Maarten to catch your flight. Plus, you have to deal with SXM airport.
Quite honestly, we've never spent much time looking at flights from Anguilla. Before we moved, I had taken a cursory glance at flight schedules from AXA and ascertained that there were approximately zero options that made sense in terms of destinations and costs. Upon moving here, we assumed that flights were limited (besides the private charter options), and any flights we would find would be too expensive to make the convenience worth it. Enter Trans Anguilla Airways. I first learned about TAA when trying to book a trip to St. Barths for a guest. When I phoned them, the Operations Manager was extremely helpful with explaining their scheduled flights, including details on new destinations that they were planning to include in their regular schedule. And the prices? Not bank busting.
Last week, I sat down with TAA's Operations Manager to get the full scoop on their flight offerings. I left so giddily excited that I knew it would be morally wrong to keep the information to myself. St. Barths is one of their most popular services, but Statia, a newer scheduled offering, is also gaining in popularity for day trips. After he gave me the run down on his most popular routes, I pried a bit more to find out what other lesser known offerings TAA had in its back pocket. The verdict? A LOT. Check it out:
St. Barths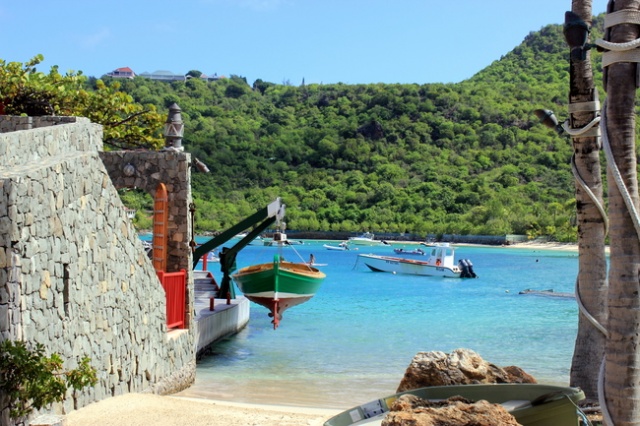 From Tuesday – Friday, TAA runs their scheduled service to St. Barths, Anguilla's glitzy French neighbor to the south. Departing Anguilla at around 10AM, you arrive in St. Barths (SBH) about 12 minutes later. The return flight departs SBH at around 4PM, allowing for a full afternoon of exploring. If you've seen videos on the world's most dangerous airports, you've likely seen the landing in St. Barths: exhilarating by most accounts, treacherous by some.
My question: can you go on a Tuesday morning and come back on a Wednesday afternoon? Answer: YES. Provided there's room on a scheduled charter, you can work out your own schedule within those parameters.
Cost: $105 each way + $35 SBH tax
Statia
You'll remember that Scott and I were debating as to whether we wanted to go to Saba or Statia. We decided to go to Saba for our quickie getaway and after finding out about Trans Anguilla's day trip offering to Statia, I'm ecstatic with that decision! Trans Anguilla is offering service to Statia on Mondays, Wednesdays, Fridays and Saturdays. Flights depart Anguilla around 9AM on Wednesdays, Fridays and Saturdays (arriving 22 minutes later) and head out a bit earlier (around 7:30AM) on Mondays. The return flight heads back from Statia at around 4PM, allowing for a solid day of exploring the little island. Wondering what to do in Statia? Get inspired here.
Cost: $96 each way
St. Kitts
Photo courtesy of Airbg via Creative Commons
The Statia trip mentioned above is actually part of a larger trip: a trip from Anguilla to St. Kitts. The plane heads out in a triangle, leaving from Anguilla, stopping in Statia and heading to St. Kitts as its final airport before making its way back to Anguilla. The schedule is the same as the schedule for Statia, but drop off and pick up times will naturally be slightly later in St. Kitts.
Keep in mind, while these make sense as a day trip of sorts (taking the morning flight out and heading back in the afternoon), you could also jump on the afternoon flight to Statia or St. Kitts for an overnight stay.
Cost: $249 roundtrip inclusive of tax out of St. Kitts (exclusive of Anguilla's departure tax)
Nevis
Photo courtesy of morris811 via Creative Commons
I'm not gonna lie: I dug for this one. If you read my earlier post this week, you'll remember that Scott and I were debating about where to go for our spring getaway trip. Dominica? Nevis? St. Lucia? All intrigued us for different reasons. Nevis was honestly the top of my list until we began asking around. Many of our friends who have visited Nevis in the past mentioned that St. Kitts' little counterpart really didn't have enough to do to keep us busy for four full days. Most people agreed: 2 – 3 days was plenty. Naturally, I had to inquire: 'You fly to St. Kitts. Do you offer trips to Nevis?' When his answer was yes, I smiled the biggest smile yet.
Their service to Nevis is limited but is perfect for a weekend getaway. The flight from Anguilla departs on Friday afternoon around 2:30 or 3PM. A flight from Nevis to Anguilla happens on Sunday afternoon at around the same time allowing for two full days; a good amount of time to get a taste of Nevisian culture.
Cost: $125 each way
Private Charters

I know what you're thinking: a private charter is way outside of your budget. Surprisingly, charters aren't as expensive as you'd think (read my previous post about private charters). In addition to the scheduled services they offer, Trans Anguilla has traditionally been a charter service, offering private charters to groups of up to nine people (fewer if there's a lot of luggage in tow). Here's a quick rundown of private charter services:
St. Maarten: Fly direct from SXM to AXA or vice versa for $425. It's a quickie seven minute flight in lieu of a twenty minute ferry and makes for a great option if you're not a fan of the ferry option (especially when seas are a bit rougher). To put that into perspective, a shared private ferry costs between $55 and $85 per person. For a family of 5 taking this private charter with Trans Anguilla, it ends up being about $85 per person. Plus, you're on your own time frame. And it's your own plane. Pretty awesome.
St. Barths: If the scheduled service isn't your thing, you can charter a plane to St. Barths with your group for $800 each way. If you have 6 – 8 people, you're looking at $100 – $135 each (+$35 SBH tax), not much more than it would be for a scheduled service. Besides the obvious awesome factor of chartering a plane for a trip to St. Barths, you also get the benefit of picking the time that works for you. If 10AM isn't your thing, nab a flight in the afternoon (anytime before sun sets).
Nevis: Since the Nevis service is limited to Fridays and Sundays, a private charter is the perfect solution for groups looking for alternate days from Anguilla to Nevis. The private charter rate is $880 each way. Again, if you have 5 – 7 people, you'll end up paying the same amount (or slightly more) than the scheduled service price with the benefit of a flight time that fits into your travel schedule.
Virgin Gorda: $1275 each way (private charters only)
Tortola: $1300 each way (private charters only)
Antigua: $1500 each way (+ $37.50 tax if you're opting for a one-way and staying in Antigua for one-plus night; private charters only)
During our conversation, I asked to focus on the sub-$1500 charters as those would likely be the biggest draw for visitors (and for us). When traveling beyond our immediate neighboring islands, there are a few regional airlines that fly to further Caribbean destinations at a reasonable price. I can't vouch for reliability there (many grumbles about island time with these airlines), but in terms of cost, long-distance private charters don't make a great deal of sense. If money's not a big concern when you're planning Caribbean travel, do know that Trans Anguilla does fly as far south as St. Lucia with private charters (roughly $4000 for that distance).
One of the added benefits of flying on these little island hoppers? You're never flying over 3500 feet and many times you're even closer to the ground than that (1500 – 2500 feet). So, that aerial tour of the islands that you wanted? Call this a twofer.
That's my overview of all of these services. Next up: experiencing them. As we embark on excursions to our neighboring islands, I'll be documenting our experiences, sharing pictures and thoughts on teensy planes and Caribbean destinations. Stay tuned!
Featured photo courtesy of spotter tim via Creative Commons