After an exceedingly luxurious couple of nights at La Samanna on Baie Longue, we ended up extending our St. Martin stay by a night due to some transportation issues. We would be leaving bright and early on Sunday morning to make it back to Anguilla for work, but we had another full day and night ahead of us, and thought we'd take the opportunity to explore an area of St. Martin that we've always enjoyed: Grand Case.
We work with Grand Gase-based Tijon as a stockist at our resort's boutique and as such have been to Grand Case on a number of occasions, but only for a quick pick-up or a long lunch at most. We'd never taken the time to properly explore the area which is overflowing with quaint boutiques, great dining options and a decidedly French feel. Many guests who stay with us at Frangipani in Anguilla choose to stay at a boutique resort in Grand Case as well if they're splitting their time between Anguilla and St. Martin. L'Esplanade, Le Petit Hotel and Grand Case Beach Club are the most common add-on, but LOVE Hotel has been mentioned by a few guests and constantly receives rave reviews by online publications. We wanted to investigate on our own so we headed to the LOVE Hotel, a relatively no-frills hotel right in the heart of Grand Case.  We paid for a room for the night on the spot (115 euros during high season for a no view room), dropped off our bags and walked down from the bar to the beach.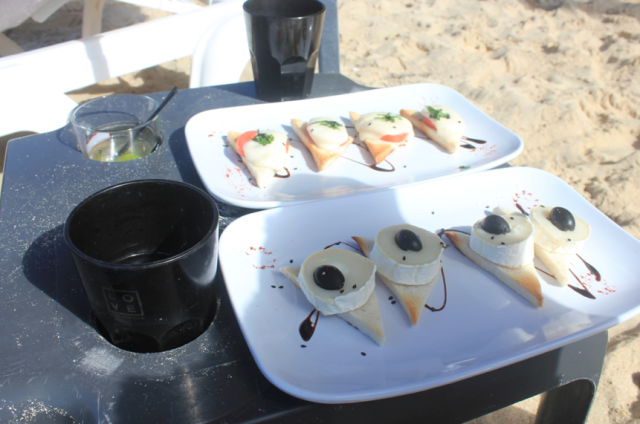 I will say that the beach at La Samanna is more visually stunning than this, but we found the beach at LOVE itself – the powdery sand and shallow waters – a bit more inviting for a quick dip or a nice float. As you may expect, the feel is entirely different than that of La Samanna, too – much more laid back, and a mostly younger crowd frequents the resort. We traded in our $18 cocktails at our previous resort for a $20 liter of white sangria which was a great complement to a sunny afternoon. Accompanied by a couple of orders of tapas, we were perfectly positioned to marinate for a few hours. We met a few St. Martin transplants during our afternoon and ended up joining them on their boat for a champagne cruise out to Creole Rock. Floating for a couple of hours, we watched the sun set over the Caribbean and the lights ignite in Grand Case and on Anguilla, which we could see shiningly brightly from across the sea. It was an incredibly generous invitation from them, and an awesome way to cap off our final evening in St. Martin before our last supper at Grand Case's Ocean 82 (divine).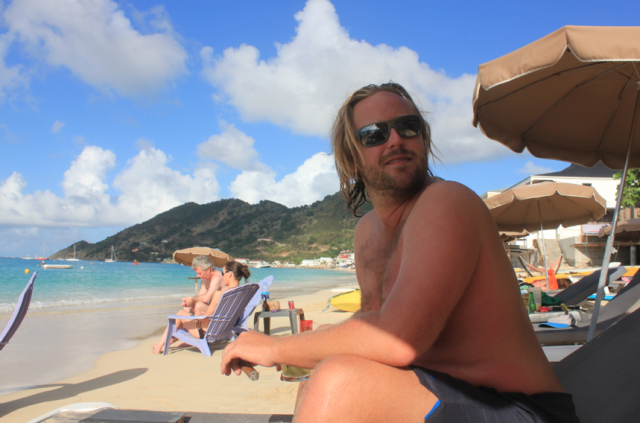 So, which did we prefer? Luxuriating at La Samanna or basking at LOVE Hotel on Grand Case? Honestly, it's a tough comparison. If you're all about luxury, La Samanna is the answer (isn't Belmond always the answer?), but if you want something a bit more approachable (read: a bit more 'fun' and a slightly younger demographic), then I would vote for some of the smaller properties in Grand Case. The rooms we experienced at the LOVE Hotel were definitely more on the no frills side, but they were totally fine for what we needed, and we benefited from the beachfront locale and the beach service for food and drinks. A spot like L'Esplanade, Le Petit Hotel or Grand Case Beach Club would probably provide a bit more on the amenity side without sacrificing the Grand Case location. Major thumbs up to Grand Case for great food options, fun shopping and perfect beach bars (toes in the sand without being too bare bones). Thanks to everyone for the food recommendations, too – Ocean 82 was wonderful and there were a handful of others that looked equally delicious within walking distance!
What are your favorite spots in Grand Case?