Celebrating the US in the USVI
We woke up on July 4th and made coffee in our cottage to sip outside on our balcony. The sounds of the day were ringing up from Cruz Bay to the area we were staying, overlooking town. While the walk to our place was brutal (majorly steep), the views were the world's attempt at making up for trek.
We took some time during our first morning to exchange anniversary cards and gifts, and map out our upcoming adventures. For the record, Scott knocked it out of the park with my anniversary gift! I know girls say this, but I really didn't expect anything. I mean, maybe a card, but that was the extent of it. What was really thoughtful was that I'd pointed out this very necklace during a trip to St. Maarten over a year ago. We were just engaged at the time and were going to a jewelry store to find my wedding band. I thought everything about the necklace was perfect and I stared into the glass case for long enough for the sales rep to notice me salivating. He commented on it, but I obviously wasn't going to buy it – we were already buying a wedding band which had us reaching our jewelry budget for oh, you know, life. Then, over a year and a half later, Scott obviously remembered that moment and totally surprised the heck out of me in St. John.
Also, I have to share this (last bit of sappiness, I promise) – I found this card produced by the Arijah Foundation in Anguilla to gift to Scott. The church shown on the cover is the exact church that we were in when we got hitched! Check out pics & info from our wedding here.
Alright, enough about that. As I mentioned, we were in St. John for Carnival and I wanted to get a taste of how it compared to what we'd experienced on our home island. Like Anguilla, it's an extended celebration with one major day of parades and J'ouvert at day break. In truth, I'm not entirely sure what Cruz Bay is like without the festivities taking place. While were there there, the main street in town was lined with vendors: folks cooking up BBQ, people selling snacks, and vendors doling out locally made hot sauces and jams. It wasn't nearly as big and crazy as Anguilla's version, but it certainly created a totally different atmosphere in Cruz Bay. Instead of spending the entire day in town, we decided to catch the latter part of the parade and spend the day enjoying a bit of sun and sand while everyone congregated in Cruz Bay. We boarded a taxi ($6 each) and made our way to famous Trunk Bay.
Trunk Bay is probably the most famous beach in St. John. It's the hot spot that cruise ships send cruisers to lounge, and a $4 entrance fee is charged for all patrons. In exchange, guests have access to fresh water showers, chair rentals, concessions and a little gift shop. Plus, the fee goes to National Park system so it seemed like a fair trade off for enjoying the beach. I actually wasn't super keen on making Trunk Bay our first stop as it is the most famous (which typically means the most touristed), but as we were taking a cab we didn't have much choice (for more on the cab system in St. John, see my previous post and tips). Trunk Bay is an undeniably stunning beach. The water is crystal clear, the sand is beautifully white and dotted with roots and stems from trees that line the beach. The landscape is much more dramatic than what we're used to seeing in Anguilla; rock formations in the water give the sea depth and the trees and flowers provide pretty pops of color in contrast with the sea and sand.
You can't really tell from these photos, but the biggest con to visiting Trunk Bay was that it was a bit crowded – at least by our standards. We found a comfy slice of sand, but we were marinating in the water alongside lots of snorkelers and the beach continued to fill up while we were there. After a dip in the sea and a fair dose of Vitamin D, we headed off for lunch. Being in a new destination, we try to pick our dining somewhat strategically. We knew we wanted to get over to Caneel Bay to explore so we decided to lunch at Caneel Beach Bar & Grill, where we'd get to explore the property and see some of the beaches and ruins.
Caneel Bay
I had looked into staying at Caneel Bay knowing that it would provide a nice luxe, relaxing getaway but couldn't justify the expense considering it was a surprise. (I didn't need the bill to give Scott a heart attack.) After a delicious lunch (the Caribbean-spiced hummus is drool-worthy), we popped into their gift shop and explored the grounds. Caneel Bay is a big property (160+ rooms), but it's set on a huge amount of land (170 acres). There are a number of stunning beaches that are part of the property, along with ruins of an old sugar plantation. The beaches here were perhaps the prettiest that we glimpsed on the entirety of St. John.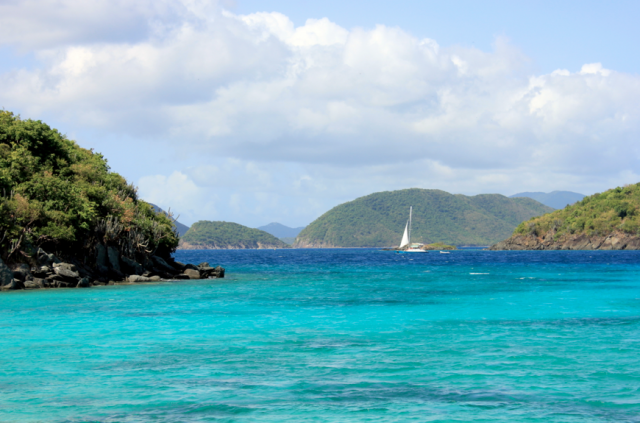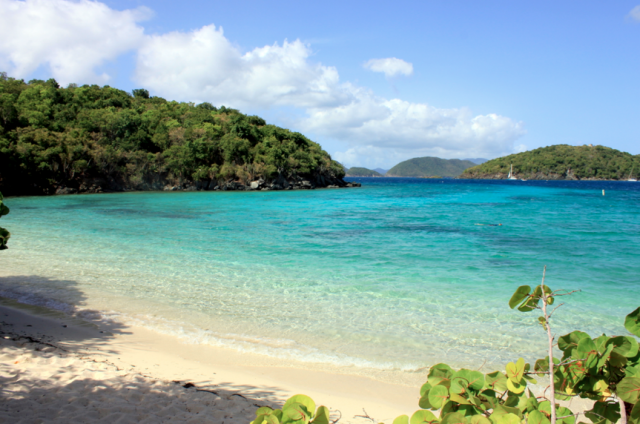 Those are all real pictures that I captured while we were exploring, and that water's not photoshopped. It's that blue and turquoise. Unreal, right? There were people on the beaches, but they didn't seem as crowded as many of the other beaches that we visited. After a quiet stroll through the property, we headed back to Cruz Bay to glimpse the Carnival parade.
Celebrating the 4th in St. John
We arrived in Cruz Bay to catch a few moments of the parade, listen to the music and people watch for a bit. Carnival is a fun celebration but as we are about to engage in our own version in just a few weeks time, we decided to cut out a bit early, clean up and head back to town a bit later to begin our progressive dinner (more on that in an upcoming dining post). It was the 4th of July and we were technically in the US for this celebration, so we were excited to catch some fireworks and celebrate the US with other Americans. We ended up in a place that couldn't have been more American: the Barefoot Cowboy Lounge. It was rather by accident that we stumbled upon this place; the deck and vantage point drew us in, but we had no idea that we were entering the ultimate Texan bar. Owned by Texas-bred Wayne Campbell, this place serves up BBQ and PBRs like it's going out of style.
We watched the fireworks from the balcony and chatted with Wayne and his partner, Brenda before calling it a night. Though it wasn't our traditional all-American 4th of July in Lake Tahoe, it was certainly more American than celebrating in Anguilla, and it was fun being around other folks from the US dressed in their red, white and blues.
Stay tuned for our second full day in the Virgin Islands as we set sail to Jost Van Dyke!
How did you celebrate the 4th this year?
xo from the islands,