Packing list for a weekend getaway to Saba
I'm a chronic over-packer. I'm genuinely well-intentioned when I'm piecing together items for a trip, but somehow my weekend trip to San Diego will involve 50 pounds of stuff. I bring typical musts but then stash additional pairs of shoes, old dresses that I've never actually worn (with the hopes that maybe — just maybe — I'll wear it on this trip), accessories for any occasion, plus every single hair product that I own that I never actually use. It's one of those 'I'd rather be safe' mentalities that translates very poorly in the packing world. With our trip to Saba coming up on a teensy tiny plane, I'll be working on packing a carry-on like a pro.
A friend of mine in Anguilla, a frequent international traveler, has mastered the art of traveling with solely a carry-on. A true talent, in my book. This is a woman who travels for meetings (i.e. needs to bring corporate wear), is a social butterfly (i.e. needs to pack versatile clothing for going out at night), and travels on multiple occasions to cold weather locales (i.e. coats and scarves are helpful). She gave me a quick run down on how she's mastered this Black Magic and I've seen the error in my ways: 1) I don't have the best carry-on luggage, 2) I haven't planned properly (something I've known but been hesitant to actually fix).
The Luggage
Perhaps it's because I always bring a checked bag that I've never given much credence to my carry-on, but finding the proper luggage is half the battle. The key is making it easy to organize and find pieces when you need them. Naturally, a compartmentalized bag with see-through fabric is ideal. For me, a rolling carry-on is the way to go — the back-breaking weight of carry-ons takes it toll on you while you're running through the airport. Mind you, I'm not one to preach on this since I've been a huge offender. I typically tote a large beach bag with a few essentials or this oversized non-rollable bag that I picked up in Istanbul.
The Essentials
We're going away for 4 days/3 nights so this is the perfect opportunity to hone my skills packing for a long weekend trip without sartorial pressure. We're going to Saba after all, not Paris, so bathing suits, coverups and casual garb will get me by. We'll be diving one day, hiking one day and exploring Saba's neighborhoods for the remainder of the time. Saba's weather reports say that it'll be 82 – 85 degrees while we're there, mostly sunny.
Electronics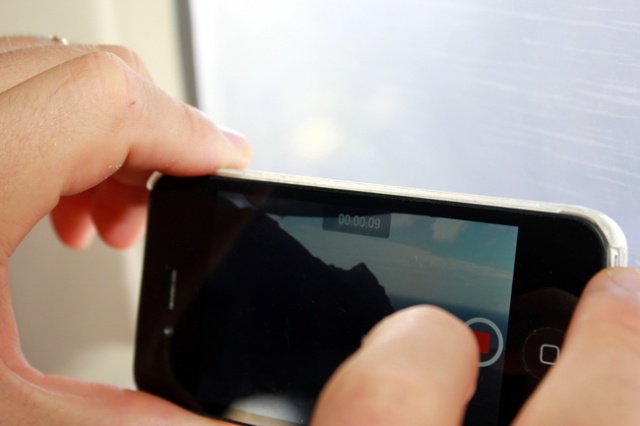 So here's the thing about traveling: For me, electronics are non-negotiable. I get that some people view their vacations as an electronic detox; a time to getaway and disconnect. I applaud them for that while I pack the items below. I won't travel without my camera, my iPhone (which ends up doubling as a camera sometimes) or my laptop. While some people prefer to reflect on their trips after they've returned home, I prefer to log the trip — at least in part — while it's fresh in my mind. I did this when we were in Peru and I find the thoughts and emotions reflected in those blog posts a bit more accurate than when I've recapped my thoughts after the fact. And the GoPro? On an action-packed trip, it's a must.
Laptop
iPhone
Canon Rebel T2i DSLR
GoPro HERO 3
Clothing + Extras
The fortunate thing about warm weather destinations is that the clothing is light-weight and rolls up into nothing. Bathing suits, shorts and shirts take up very little space. Shoes end up being the biggest space hog, but I'll be wearing my heaviest weight items on the plane to reserve space. The rolling method is the way to go (versus folding) for space saving and to prevent wrinkles.
2 bathing suits
Tennis shoes
Flip flops
Wedges (come on, a girl needs her indulgences)
3 pairs of shorts
2 t-shirts
2 blouses
1 cover up
1 summer dress
Gym pants, sports bra, workout tank
Make up bag
MacGyver bag*
MacGyver Bag
This 'MacGyver Bag' is the ready-for-anything bag that my girlfriend has prepped in advance. Once you have this bag prepped, its just a matter of replenishing it's stock before a given trip. What goes in this never-ending bag of musts? Well, that's really for you to decide (it's your bag), but below are a few things that are going in mine. It sounds like a lot, but these things are tiny so they fit easily in a well organized bag.
Band-Aids
Mini DIY sewing kit (needle, thread, button)
Double-stick tape
Eye drops
Mini nail file
Tweezers
Safety pins
Mini Excedrin packs
Throat lozenges
Neosporin To Go
Tide pen
Thumb drive
Extra SD card
I'm convinced that all of these things will easily fit into a smallish carry-on, with the addition of my beach bag-sized purse. There's something quite liberating about being able to fit everything into a carry-on without the worry of lost luggage and without the hassle of toting an oversized bag around an airport. Now I'm looking forward to Saba!
Do you typically travel carry-on only or are you an over packer like me?