As you can imagine, passing through three Caribbean islands in the span of an hour and a half has the potential to be stressful. We departed Anguilla at 8:45AM on a  private ferry (which was on island time, of course), arrived at St. Maarten's Princess Juliana Airport at 9:15AM, left SXM at 9:55AM and landed in Saba at around 10:10AM. Needless to say, we didn't lose much time where transportation was concerned. While the landing is purported to be an adventuresome feat, the pilot made it seem like a cinch. We quickly descended amidst a background of dramatic, lush mountains and disembarked.
I walked around the airport examining our surroundings. Topographically, Saba is the opposite of Anguilla. Where Anguilla is a long, skinny and flat island, Saba is dramatically steep. It's merely a volcano, with a number of homes, roads and buildings built into its green landscape. There aren't any beaches, but the bright blue sea crashing into the jade green mountains was a welcomed sight. We had flown a mere 12 minutes but we felt worlds away.
After we collected our bags and headed through the airport, we were greeted by a cab driver who met us and another couple to take us to our hotel. Together we jumped in the cab and made our way up, up, up, past Windwardside to Shearwater Resort, the place we would call home for the next few evenings. After we arrived and settled in, it was about 11AM. We toasted with a celebratory glass of champagne and then headed off to explore the main town, Windwardside, on foot. While the walk from the resort is a steep one, it's not overly far and it provides stunning views of the red-roofed homes below. The island was notably quiet from where we were; no cars, no people, only the sound of one man and his weed wacker in the town below.
Saba: The Island Tour
After lunch, we called a cab to pick us up from the restaurant. Instead of heading back to the resort, Scott proposed doing an  island tour of Saba with a taxi driver to show us the ins and outs of the island. Renting a car was discouraged due to the treacherous roads and the expert driving conditions. The roads are extremely narrow – built for one car, yet accommodating two – and the turns are jaw-droppingly sharp. In retrospect, renting a car would have been a waste anyway; most things are accessible on foot and cabs are available if you don't have it in you to walk up the steep hills.
George, who became our sage Saban guide for the day, picked us up at our lunch spot. For $50, we were about to embark on a tour of the island with a man whose personality and island pride could easily earn him a spot on Saba's tourism board. As we drove around, he narrated our journey, highlighting points of interest for any tourist. In all honesty, we had no idea what to expect when we arrived in Saba. We knew a few things: it's not a beach destination, there's great hiking and great diving, it's Dutch, and the last census put the population at around 1300 people. That was truly about the extent of our knowledge of the island so we were happy to hear a local's insight and be able to ask some candid questions to someone who was clearly a warm ambassador for the island.
We started by heading to Zion's Hill, also known as Hell's Gate. Saba is a totally vertical island and seeing the roads etched into the side of this volcano is pretty awe-inspiring. Someone had the wherewithal to actually carve out a network of roads to connect the island's main towns. From the Hell's Gate part of the island, there's a clear overlook with views straight down onto Saba's infamous runway, the shortest commercial runway in the world.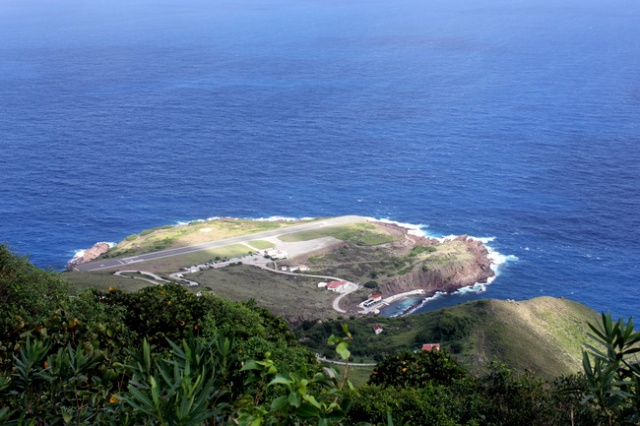 From the top of the island, the sweeping views of the red-roofed homes below is pretty spectacular. As far as the eye can see, the homes are white with red roofs and green trimmings around the windows. While we were driving through a residential area, we saw a man on his roof painting the tin the perfect shade of burnt red.
George explained to us that paint colors weren't mandated but people chose to keep their homes painted uniformly. As he told us, 'We're proud of our island and we have to live here. We want it to be nice. We're quite a prosperous island. Once you've come to Saba, you'll want to come back.' True. We'd been in Saba for a mere 6 hours at the time and were already impressed. Everything was shockingly perfect. Scott and I even commented on how the entire island was this sort of anomalous utopia. Houses were painted perfectly — all matching — and kept up. There were no half built homes and no eye sores. The streets were perfectly clean and lined with uniform rock walls. The people were beyond friendly. As we drove around the island, George would do the staccato double-honk to say hello to a passerby, "Hey Barb!" "Hey George!" We even picked up a med school student who was graduating that night to take him to The Bottom where the med school compound is housed. George knew the kid by name and asked him about his family and where he as going after leaving Saba. People were genuine and perhaps the friendliest people we've ever run across.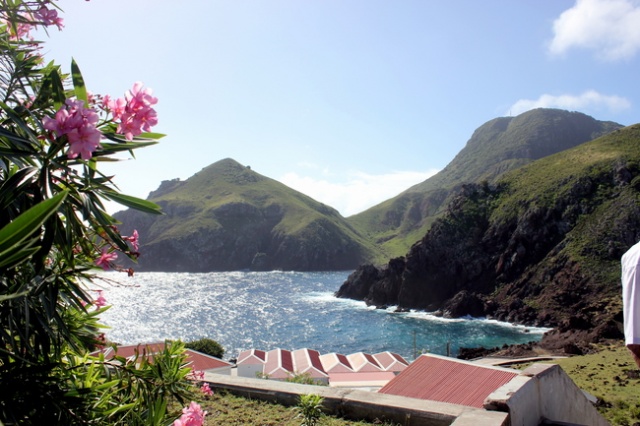 The population in Saba is actually closer to 2000 than the estimated 1300 we'd seen the last census, with 400 of those 2000 being medical school students. We were stunned — over 20% of the island's population were students attending school on the island, undoubtedly keeping a number of restaurants and bars alive with their foreign funds. Unlike Anguilla, where the students are a very small percentage of the island's population, in Saba they have a huge impact on the island's economy.
With our med school student friend/hitchhiker in tow, we headed past the residential area of St. John to the capital, The Bottom. Near the medical school, we passed the island's comprehensive school. In Saba, there's one centralized school area for all kids, pre-school through 6th form/12th grade. Sabans take great pride in having a good education system and there isn't a private school on the island. All kids go to school together, and there's even a comprehensive special education system in place for kids with special needs (social, medical, educational, etc.). Due to their relationship with the Netherlands (read: Holland helps fund public services on the island), the local population has access to an impressive array of social services. From The Bottom, we headed to the industrial part of Saba (where the one gas station exists) before making our way back to Shearwater Resort.
For $50, we had seen the island — glimpsed all of the areas at least — and got to hear about the island from a local perspective which was really interesting. The whole island continued to impress us; the cleanliness, the friendliness, the sort of idyllic quality that the island possesses. Due to its small size, it's truly this unique blissful society. Our cab driver explained that as a Dutch territory, Saba is a 'white island', yet no one really thinks about it. People are sort of color blind on the island, which is refreshing. Even in a single day, we could see that being true. Much like Anguilla, there's no racial animosity.  As George said to us (quoting MLK), 'We don't care about the color of your skin, we care about the content of your character.' Perfection indeed.
Stay tuned for our hike to Mt. Scenery on Day 2 in Saba.