So, here's the deal: I didn't do a ton of traveling while I was growing up. Our idea of a big family vacation was a trip to Disneyland every four years. We weren't (and still aren't) the family that vacations annually in Hawaii or does an extended trip to Southeast Asia.
I began traveling — like, really traveling — when I began graduate school in 2009. Most of my excursions thus far have been about the experience of the cities that I've visited and the culture of those very places. Nice hotels, first-class traveling and amenities never played into my trips. I've happily stayed in hostels and budget hotels with other young travelers who were often in the same boat. I often lumped the idea of chartering a boat or plane into the same category as staying at a Mandarin Oriental: a luxe, tempting thought that was far out of reach.
Well, folks, while dreaming about forthcoming Caribbean excursions, I have discovered something amazing. While the hotels are still out of reach (something I'm still okay with), plane charters apparently aren't as ridiculous an expense as one might think. While talking with an Anguillan, he brought up the idea of chartering a private plane to St. Barths if we wanted to jet over for the day. I laughed in my head, assuming this guy had me mixed up with a rich kid from California with a trust fund at my disposal. I waited for him to continue while he broached the topic of expense.
'Yeah, I think it's around $800 or $900, and you get the plane for most of the day. The plane holds 8 or 9 people.'
Wait, come again? I can charter a plane to go to St. Barths for the day and pay $900 in total?! If we had just four other people join us, the breakdown on that is more than affordable. In fact, it's cheaper and more efficient than taking the ferry.
Naturally, I investigated further, and here's the scoop I've come away with:
From Anguilla (and I'm sure other islands have something similar if you look), you can fly with Trans Anguilla Airways to a number of locations around the Caribbean. If you're looking for a day trip to St. Barths, you can book that for $192 round trip per person as part of one of their standard packages. If you want to actually charter the plane to visit other islands, here's the information that their website provides: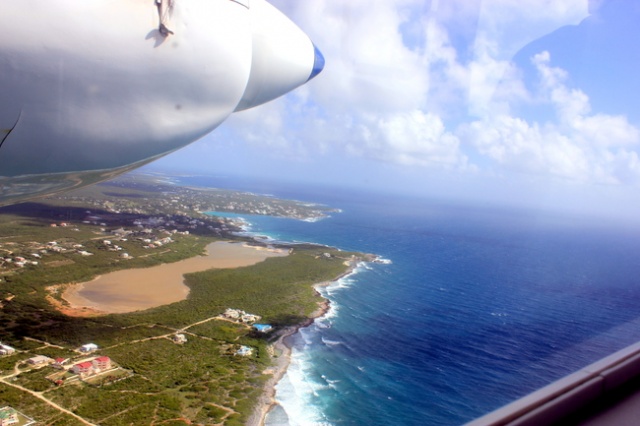 Now, this information is from 2010, but from what I understand, their pricing has stayed mostly the same. The rates listed are without taxes (and some other fees, I'm sure) but still… I'm impressed. We've been talking about trips to Nevis ($825), St Barths ($825) and Virgin Gorda ($1250) and this makes them look feasible if we can find 6 other people to go with us. Needless to say, I've started brainstorming upcoming trips and Caribbean islands that I want to explore during our tenure here. Cheers to affordable travel options!
Have you ever chartered a plane before? What was your experience like?
Happy travels,