I make a conscious effort to not talk about Frangipani specifically on my blog. Perhaps that's the reason that my posts on Anguilla are somewhat limited despite the fact that we live here full-time. Our lives revolve around the resort, and they have since day one. Every day that we're on island, we're at work. It's the nature of what we do, and it's our passion. Just yesterday I sat down with one of our younger guests, about 8 years old, who said, "are you guys here every day?", to which I responded, "Yeah, we're here pretty much every day." He looked at me wide-eyed. "You're here Monday, Tuesday, Wednesday, Thursday, Friday, Saturday and Sunday?", he followed up. To which I responded, "Yes, when we're in Anguilla, we're here all those days."
Long pause. "Well, what days to you get off then?", he probed. "September," I responded, half jokingly. In normal circumstances, that's really the case. We basically mash all of our weekends together and take our month in September, along with long weekends here and there, plus a weeklong escape with my family, which is something that I will always prioritize. No one forces us to come in to work every day; it's something we do because it means that much to us. It always has and I don't see that changing in the future. It's no coincidence that we were one of the first properties on Anguilla to open following Hurricane Irma. We weren't going to allow anything to beat us down and prevent us from opening for our Festive Season. We owed it to ourselves, to our guests and to our staff for their livelihoods. Our guests shared so much love in helping us come back from that storm (we raised $125K for employees in our Employee Relief Fund – I mean, how overwhelming!), and it was important to us to restore as quickly as our little hands could work to reopen. And now we're grateful to be on this side of everything, with the ability to look back on how far we've come and what we were able to achieve in such a short timeframe.
When Scott and I moved to Anguilla 5 1/2 years ago, we sat down and really discussed our thoughts and ideas about where Frangipani could go. The previous managers, Scott's aunt and uncle, had taken the helm and helped elevate the property into a fan favorite on the island, and we felt like it was our role to not only continue moving the property forward, but really trying to take it to the next level with the right focus and investments.
It's no secret that we love to travel and love creating experiences around the world, and we figured we really weren't that unique in that desire. For us, the ability to work in a boutique hotel environment meant that we were able to get to know guests personally and help craft itineraries and experiences that would make their getaways incredibly memorable. Our goal was to make Frangipani Beach Resort the go-to for boutique hotel lovers wanting experiential luxury in Anguilla. In the past five years, that's been our focus, and the byproduct of that is that we've attracted some incredible guests who've become lifelong friends in the process. Changing perceptions is a challenge though, and it's a big undertaking, so we set out our goals and then worked each day to reach them. Our mission was to include Frangipani in the conversation about luxury boutique hotels in the Caribbean and to position ourselves as something unique in the Anguillian landscape – intimate, personalized, experiential and luxurious without being pretentious.
Ralph Waldo Emerson discussed the Law of Laws – the Law of Compensation or Cause and Effect – essentially the fundamental tenet that you get out of something what you put into it. I think it's fair to say that we've put our whole hearts and souls into developing Frangipani; not just our family, but our entire team. Each year, we've felt that coming to fruition. Our enhancements and investments are guest-focused, and our guests in turn left each year grateful and excited for coming visits. We've built an incredible repeat guest base that has us feeling so insanely thankful each and every day. At the moment that I write this, we're #1 on TripAdvisor for Anguilla and we were voted Best Boutique Hotel in the Caribbean by Caribbean Journal. When T+L announced their voting for the Top 25 Hotels in the Caribbean, we hoped to be on that list.
You guys, we're a family owned property. This is our life, this is our passion, and as much as we strive day in and day out to provide the best service we can, we also recognize our shortcomings (to be fair, I think that's what keeps us continually striving to make improvements every single year). So, while we believe so, so strongly in what we have and what we provide, we only hope that everyone who leaves feels that, too when they stay with us.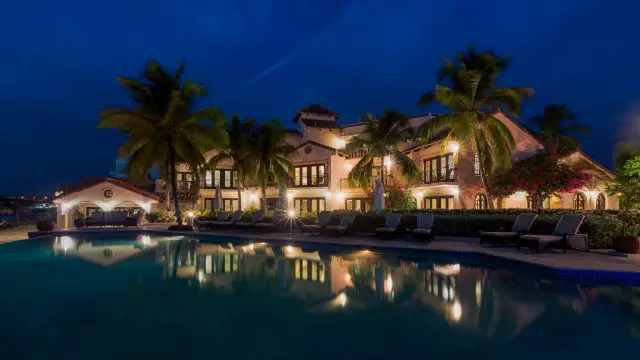 We were sitting in Greece when Scott got the email from Travel + Leisure. It was an email not only that we've made this list, but that we were ranked the #1 Hotel in the Caribbean, Bermuda and the Bahamas in the T+L's World's Best Awards for 2018. NUMBER ONE. It wasn't until weeks later that we'd discover that we were ranked the #3 Hotel in the World on that list.
It was a moment of laughing and crying in a mix of gratitude and disbelief. The Law of Laws was proving true. All of the work and love we've put in to the resort in so many ways came back to us in a major way. The reality sunk in and our conversation turned a bit to the negativity that we'll inevitably be faced with, too. There will be plenty of people out there who disagree with this – many who likely haven't stayed with us in recent years, if ever, and many who believe we're not glitzy enough or shiny enough to earn such an accolade. The reality is that anyone who earns any accolade will be faced with backlash from people who either don't understand, don't agree, or generally slant towards the negative over positive. I'm glad this came during our 6th season here and not during our 2nd because I don't think I would be able to deal with any negativity in the same way. I'm confident in what we do and in who we are, and I know unequivocally how much love we put into the Frangipani and how this petite property has turned into something truly special. As a family we don't own any other hotels, and the way I describe it is this: we believe in hospitality in its truest sense. It's not just a business for us, it's a lifestyle. Our goal is to help guests make incredible memories. The fact that our guests cared enough to vote and share their thoughts really affirms for us that in some small way, we've worked our way into the fabric of their lives.
So, to everyone who shared their feedback and took the time to vote, THANK YOU. Words can't even express the gratitude we feel. We're absolutely humbled by this award and as always, motivated to continue making Frangipani the best version of itself. See you soon! ☀