Finland is ranked in the top 10 for friendliest and happiest people on the planet, best place to raise children, best place to be a woman, etc. Essentially, all things considered, it's one of the best places to be alive according to the polls. The majority of the locals we encountered were exceptionally friendly and helpful – we found that true during our brief three-day stint in Helsinki – and that's perhaps one of the largest draws for people who are visiting. As far as sightseeing is concerned, Helsinki isn't overflowing with historic sights or must-see places. The country itself as we know it is fairly young, just having celebrated its 100th anniversary. You can tick off many of the city's main sights in a day, maybe two. People who adore Helsinki tout intangibles though: the experience of a leisurely, cozy hour chatting at a café, good quality of life, a bike ride and outdoor experience during the sun-drenched months of summer, and the general vibe of the city. So, all of that being said, how do you experience a perfect day in Helsinki if you're faced with just 24 or 48 hours in Finland's capital? As far as sights are concerned, it's very doable.
I should also note that we visited in early spring so we were a bit limited on what we could do and see during our visit. We were armed with a Helsinki Card to maximize our stay which was useful, and it would have been an even bigger plus in the spring and summer months when the City Sightseeing Hop On Hop Off Bus Tour is running (normally €30, included with your Helsinki Card). When limited on time, we generally opt for a private or small group tour for a half day or a Hop On Hop Off bus to help us maximize our sightseeing in a city. Both of those options are available in Helsinki for someone who prefers a bit more guidance and history during their stay, though the Hop On Hop Off Bus is available during May – September only.  Only have one day in Helsinki? Here's some inspiration for a few sights you can sneak in with just 24 hours to spare:
Vanha Kauppahalli ✧ Old Market Hall
Markets are a personal favorite of mine – food halls, craft markets, textiles – I prioritize markets more than most things when we travel. In Helsinki, a visit to Old Market Hall, Vanha Kauppahalli, is a must for a Finnish food fix. An indoor space, you'll be protected from the elements in winter so you can comfortably stroll through the stalls figuring out your next morsel. We opted to try a series of Finnish open-faced sandwiches: roe, smoked salmon, and shrimp (€5 each), along with the ever-present salmon soup (you will see this on practically every menu). If I can emphasize a single thing here, remember this: the salmon in Finland is next-level. It's unbelievable. I probably had salmon in some form 10 out of 16 days of our trip. No regrets there, it's so much better than anything you'll find at home.
Right outside there's also an outdoor market, which thrives with stalls in the summer months. During the winter and early spring, it's a bit more bare bones though you can still get a feel for it. During the colder months, Old Market Hall is a great go-to to warm up with a bite indoors.
Suomenlinna Sea Fortress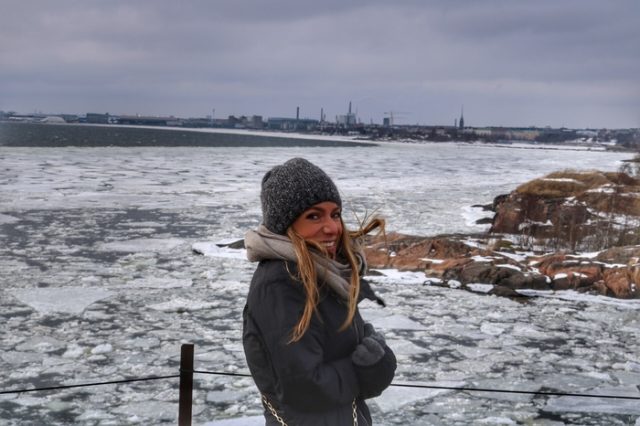 As far as true sights are concerned, I think Suomenlinna takes the cake. Suomenlinna is an inhabited sea fortress and UNESCO World Heritage Site set a couple of miles from Helsinki. The fortress is spread over six islands and is easily accessible by a ferry which is available at regular intervals throughout the day. If you're not getting your history fix in Helsinki with a tour guide or by doing a Hop On Hop Off bus, no worries. A tour at Suomenlinna will help provide insight into Finland's history with a focus on Suomenlinna as a strategic fortress in the Swedish, Russian and now Finnish eras. One of our biggest surprises was the community essence of Suomenlinna. People live here. Not many, but there are around 800 people who call Suomenlinna home. There's a school, a market, a prison, and cafés, and the museum provides a bit of insight into the inhabitants of the island.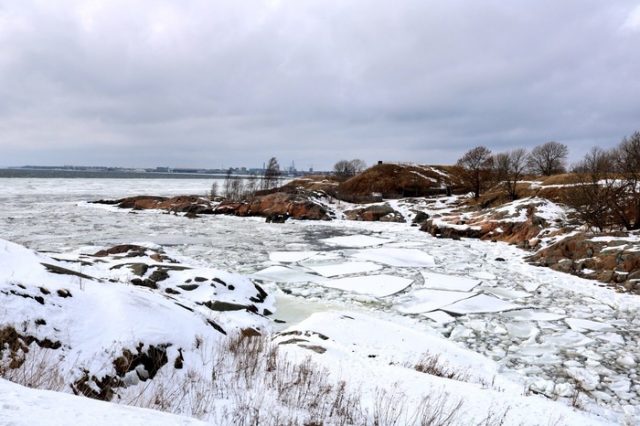 On Saturdays and Sundays in the winter months, an English tour is available at 1:30PM so time your visit accordingly (there's a ferry that goes out there at 1PM). You'll have free entry to the museum with your Helsinki Card and a free walking tour included as well. In the summer, English-speaking tours are available daily at 11AM, 1PM and 2:30PM so you'll have more flexibility for your visit. The museum will echo quite a bit of what the tour guide will share with you as you walk the island, but it's still worth a look if time permits.
SkyWheel Helsinki
If you're looking for views of Helsinki, SkyWheel will provide panoramic views of the city from their iconic ferris wheel. It's not the world's largest ferris wheel by any means, but you'll do three or so repetitions (about 10 – 15 minutes) to score panoramic views of the city. Admittedly, it's a bit overpriced (€12 normally, €10 with your Helsinki Card), but it's a nice way to get your bearings and see the coastline and some of the key sights that dot the capital city. The one downside? The carts' windows are blue so if you're looking to capture photos from the top, expect a blue sheen a la Avatar in your pics.
Senate Square
Senate Square is one of the city's most iconic spots, and represents the oldest part of central Helsinki. The Helsinki Cathedral is the anchor point, and makes it identifiable from a distance as you enter the space. Currently, the square is home to exhibitions throughout the year and is one of the city's top tourist attractions. We were there on a crisp day, and were two of maybe 10 people in the entire square vying for a photograph. This seemed somewhat representative of Helsinki in general though. Nothing feels chaotic here, and I think that very element makes up both its selling point for some, and its downside for others. Helsinki is a very nice city. It's clean. It's organized. It seems to run as it should, and people are generally happy with living there. That being said, from what we experienced in the city as visitors with a limited amount of time to explore, the city doesn't have a ton of character. The organization and perfection of it all means that there's not really the layers that give some cities the real depth that makes them captivating.
The Rock Church
Temppeliaukio Church, better known as The Rock Church, has become one of Helsinki's tourist draws. A Lutheran church designed by Finnish brothers/architects, it's built into solid rock which has earned the church its fame. It's a bit of nature meets futuristic space pod inside, with rugged walk walls supporting glass and a metal dome. The biggest issue when you're on a time crunch is that the Rock Church is situated fairly far (about a mile and a half) from the bulk of the other sites. We walked, which is comfortable on a nice day, but it does take a bit of time to get out there and back. Taxis are expensive (be aware that base fare is €9 on a Sunday), and we weren't able to find any Ubers in the neighborhood at all (Uber is on pause in Helsinki now so not available for use). I say all that to ultimately mention that I'd put this towards the bottom of the list purely from a logistics standpoint. If time permits and you're a particular lover of architecture (or churches) you may appreciate a look inside (€3, free with Helsinki Card). To give you some context, we spent a total of about 10 minutes inside, taking a few pictures and scoping out the architecture.
A Finnish Finale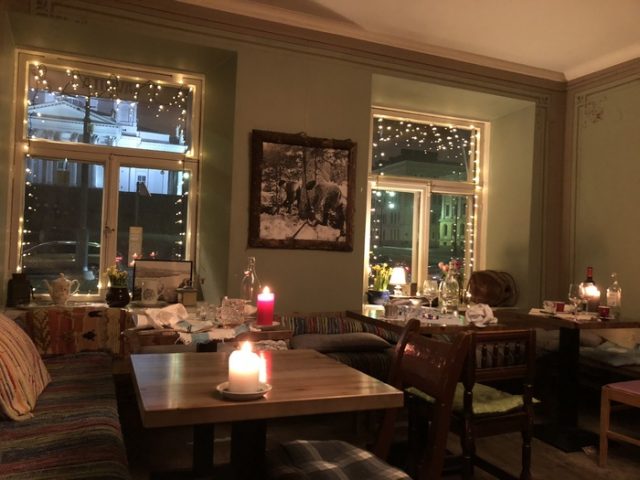 Finally, if you only have a day in Helsinki, you naturally need to end your day with a proper Finnish meal. For meat lovers, this will mean a wealth of game meats from elk and reindeer to bear. For pescetarians like myself, that'll mean the best salmon in all the land or fellow fish like herring and pike perch readily available. For vegetarians, you'll find mushroom patés, potatoes, and earthy vegetables on the menu. There are a number of restaurants with Finnish fare, but we opted for Savotta, which was recommended highly by a friend from Helsinki. It faces the Helsinki Cathedral in Senate Square so you'll benefit from a pretty nighttime view in the evening. Bonus: Helsinki Card holders get 20% off of the final bill.
More time to spare?
If you have more time to spare – even 48 or 72 hours – there's plenty more to see depending on your interests. For art and museum goers, check out the Ateneum Art Museum, the Helsinki Art Museum, the Museum of Contemporary Art Kiasma, the Design Museum, the Museum of Finnish Architecture or the Finnish Museum of Photography. If museums are less of your thing and you want to literally dip your toes into a local experience, experiencing Finnish sauna culture is practically a rite of passage. Recent statistics show that in a country of a little over 5 million people, there are 2 million saunas, which should give you some insight. In the Katajanokka area, near the SkyWheel and Old Market hall, is a public sauna to use if you feel so inclined. Follow the lead of those versed in the art of the sauna: heat up in the sauna and follow with a dip in pool, or the ice-cold Baltic Sea if you're up for it! I always think it would lead to a heart attack but Finns swear it's the key to longevity, and perhaps the key to the happiness of the world's happiest nation.
Have you been to Helsinki? What are your recs of must sees?