Through Iguassu Falls on a Macuco Safari
No trip to Iguassu Falls is complete without an experience on the water. The Macuco Safari is the most popular add-on experience on the Brazilian side of the falls and allows visitors a two-part journey: a drive through the jungle on an eco-friendly vehicle, plus the main event: a boat ride to the falls and through the falls.
Our tour guide, a bilingual Brazilian with a penchant for testing his American accents (actually really entertaining), led us through the jungle by car and explained the flora and fauna during a two-mile trek to the water. We visited the Peruvian Amazon a couple of years back so we were familiar with some of the plants and animals that surrounded us during the journey (more plants than animals); we were mostly looking forward to getting up close to the falls. After a final short 600 meter hike, we reached the departure point for the Macuco Safari. There was a shop selling ponchos (R$10 each, and a must if you don't want to be 100% saturated), plus a series of lockers (R$5 each) for people who wanted to lock up a dry set of clothing, valuables, etc.
On the day we visited it was actually really cold. At least for us Caribbean residents. Being the great planner and prepared traveler that I am, I was wearing shorts, a tank top and a bathing suit and knew that without a poncho I'd be violently convulsing from the cold of the falls. Honestly, that poncho was the best R$10 investment ever.
We geared up with life jackets, ponchos, and a dry bag that we'd brought to protect our cameras and phones from the water and hopped aboard the boat. Front seat, of course.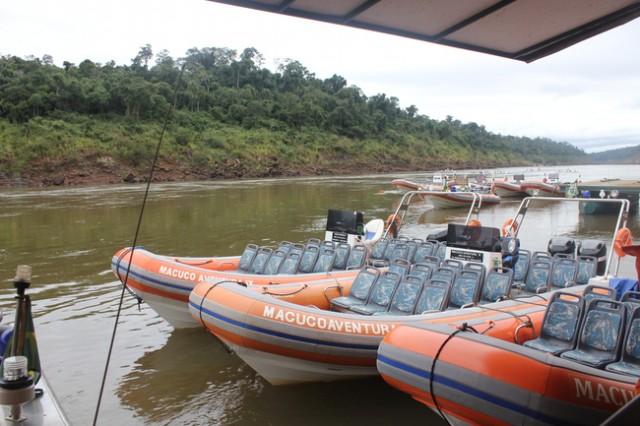 On a sunny day this would be utterly amazing and magical. I mean, can you imagine zipping underneath a rainbow and having the sun dry you off after a soak? On a cloudy day, it was still impressive and a must-have experience. I mean, can you really go to Iguassu Falls and not get thisclose to experience them? Zipping by them, we could see the enormity of the space. I've had friends mention that this doesn't really compare to Victoria Falls in Africa and I find myself unable to fathom that. If that's really the case, I'm glad I got to experience this first because I found it awe-inspiring. My only personal points of comparison are waterfalls in Dominica and the falls that I grew up experiencing in Yosemite National Park.

I remember thinking Nevada Falls in Yosemite was out-of-this-world stunning. Those falls are like one of the tiniest of this waterfall system. There's no comparison, not even in the slightest, so to say I was awe-struck might be an understatement. We took the drive to the falls and had a moment to just take it all in and snap a few misty photos before the captain jetted us underneath the falls for the full experience.
If you're embarking on this adventure, just a note: you will get saturated. If you're bringing an actual camera (I did), make sure you have a plastic bag or a dry bag to keep them safe, or cover them securely within your poncho before heading under the falls. One of the staff members on board has a GoPro and will snap photos of you in front of the falls and capture footage of the experience. You can buy individual pictures or the video at the end if you aren't able to capture pictures of your own!
If you're visiting the Brazilian side of the falls, this is a must-have experience. The actual hike to the falls and its viewing platform are fabulous but not overly comprehensive in nature (not as expansive as the Argentine side) so this is a great add-on to allow a really up close experience with the falls themselves. Seeing them from below adds a unique perspective and really allows you to appreciate the magnitude and power of the water.
Practical Information
Macuco Safaris leave every hour from 9AM – 5PM; you can buy tickets at the door or purchase online in advance for R$179 per person.
Wear lightweight clothing that can dry quickly or bring a change of clothes. Yes, I froze in my shorts and tank top but I dried instantaneously when we disembarked.  There were people in jeans and long-sleeved shirts that got 100% saturated and had to walk around in wet denim.
Wear flip-flops vs. tennis shoes. You'll get soaked and having to walk around in wet socks and shoes would not be fun!
Lockers are available for hire for around R$5 before you embark on the water-based portion of this journey. You'll be able to store your valuables or anything you want to prevent from getting soaked before taking off.
Bring a plastic bag or a dry bag to keep your electronics dry.
Ponchos (R$10) and souvenirs are available in the shop before embarking on the journey; if you don't want to get totally soaked, buy a poncho.
Have you done the Macuco Safari? What did you think?
xo from South America,