This week is a unique one for us here in Anguilla. While we typically close the resort the last day of August, we decided to host a special weeklong fete this year, inviting friends and family to the island for an event-laden week that would give them a solid taste of the island. Tropical Storms Danny and Erika jarred us a bit last week, but they've since passed us without notice (thankfully) and left us with a stunning week of sunshine and beautiful seas for our event this week.
A few of the attendees had been to the island before but the vast majority joined us to experience the island for the first time. Anguilla effectively 'closes' during September and October with the bulk of hotels and restaurants closing their doors for the off-season. Our biggest challenge? Crafting an itinerary and re-opening special places for our group. The result? Lots of private parties and private island experiences for our friends.
One of the places that was an absolute must for us was Scilly Cay. That's probably no surprise to you as I've talked about this teensy slice of land about a thousand times, but I really do find it that awe-inspiring. When it comes to off-island cays, I love Prickly Pear's stunning beach and I find Sandy Island's colorful touches astoundingly charming, but Scilly Cay is next-level to me.  The food, the people, the music; the overall experience is a must for everyone, and it was certainly a must as far as our guests were concerned.
Gorgeous, the owner, was kind enough to re-open the island for us on Tuesday and we helped in bringing music to the island for the day to add an extra layer to the island experience. The weather was as picture-perfect as it could be, and the food… well, it never ceases to amaze.
If there was ever a way to really kick off a special week, this was it. Everyone left loving the island as much as we do, duly excited for the rest of the week's festivities. Stay tuned for photos and video from our island hopping boat trip – it couldn't have been a more fun day! You can also follow our adventures on Instagram using #frangifest2015 for up to date photos and videos.
xo from Anguilla,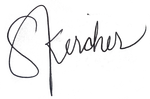 This week represents one of our first non-wedding buyout experiences at the resort. Email me if you want to replicate this with your own friends and/or family – we have the perfect itinerary mapped out after doing it ourselves!