5 items for your checklist in Extremadura
Guest post by Julianne Adamko
Trujillo Villas Espana
Each country has hidden gems; treasure troves of beautiful places to visit that are off the beaten path or far from the tourist hotspots. But finding these places can be hard – especially because the people that have found these places often want to keep them for themselves!
In Spain, the southwest region of Extremadura definitely falls into the category of being a hidden gem. The region has some famous exports (notably paprika and the conquistadors who conquered much of the New World) but the region is still not very well known in the travel industry. If you've never been, here are five amazing things to do in Extremadura, Spain.
Be amazed by the beautiful Santa Maria of Guadalupe Monastery
1Guadalupe is a province in the region that is famous for its food. There are many fantastic things you can do here for free. The parks are breathtaking, the mountains will be better than you imagined, and the streets are made with cobblestones. A must see is the Royal Monastery of Santa Maria of Guadalupe. It is simply breath-taking! Christopher Columbus was known to pray here after discovering America, and it was declared a World Heritage site in 1993.
Visit Ancient Roman sites in Spain
2Merida is the capital of the Extremadura region. The city is famed for its rich Roman history. Be sure to visit the Puente Romano which is the longest existing Roman bridge and is still used today. There are many ornate churches to visit, perfectly showcasing the region's architecture. This city is called the Roman Legacy due to its large influences from Italy, especially the amphitheater.
Step back in time in Trujillo

Photo by Trujillo Villas
3Trujillo is known for its monuments and rich history. It was the birthplace of the Francisco Pizarro who conquered Peru. The town is small but features many historic landmarks. At the top of the town is a castle that overlooks the Extremadura countryside – the views stretch out towards Portugual. The town is also famous for food, making it a perfect stop for food lovers.
Enter a medieval city through a stone arch
4Caceres has a lot of history. Founded in 34 BC, many rulers throughout millenia have had their hands on the city. One main attraction is the "El Arco de la Estrella," a gate that gives you access to the old city. Inside you will find palaces, gothic cathedrals, and the beautiful Plaza de Santa Maria. Make sure to try the lamb, goat stew and sweets from the San Pablo convent when you visit. They are said to be  "monastery specialty."

Feast of Spanish delicacies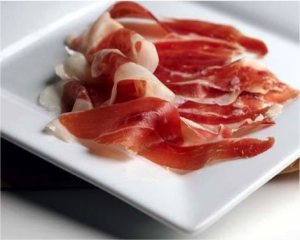 5The region of Extremadura is known for its local produce. There is Iberico ham, pimenton spice and many locally produced cheeses. Iberico ham is a cured ham made from the black Iberian pig. They are fed on acorns giving the meat a rich, sweet flavour. The pigs roam in the oak dehesa forests groves all through the year.  It is cured for up to 48 months and then ready to eat.
Pimenton spice, or Paprika, is a spice made from ground, dried fruits of Capsicum annuum, either bell pepper or chili pepper varieties or a mixture of all three. Flavour can be mild to hot. It's used copiously throughout the region and gives local food a delicious kick. Its been used as an ingredient in locally since since the 1500s.
Favourite cheeses from Extremadura include: Torta del Casar, Torta de la Serena and the goat's cheeses from Los Ibores. Torta del Casar has a rich and mildly salty taste. The cheese is aged for sixty days and has a creamy consistency in the center. This means it is usually ate by cutting off the top and scooping the insides out.
And after you do all that, you will no longer feel like a tourist, but someone who knows their way around one of the most up and coming regions in Spain. Now you know the ins and outs, so it is your turn to either a) go experience, or b) share them with everyone you know so they can enjoy a memorable trip.
Follow the route here:
—
Trujillo Villas España have a range of luxury villas to rent in Trujillo, Spain. There are six units, each with a distinct personality and feel. Each villa is in walking distance of Trujillo's many sights and are the perfect stop off point for any family on a driving holiday. Check off the list above while staying in your dream villa! Learn more. Featured photo by Martin Beek.