During our first day in Dominica – the same day that we visited Trafalgar Falls, the Emerald Pool and Mero Beach – we also made a pit stop at the Macoucherie Rum Factory, a destination that I thought would be a good way to balance the otherwise health and wellness-focused getaway. A lady that we spoke with at lunch prefaced our tour of the rum factory by gently letting us know that we shouldn't expect a distillery a la Martinique, but rather a local, old-fashioned production center. We were a quick five-minute drive away so we were up for a visit, regardless of the outcome.
Armed with the new knowledge that the distillery was non-descript, we spotted the small sign designating the entrance into the factory. We were the only car in sight and had apparently come after the standard tour times. Still, one gentleman – the wearer of all hats and jack-of-all-trades in the organization – kindly gave us a tour. If you're planning on doing the tour, don't let the less-than-friendly receptionist put you off from the get-go. The rest of the people that we came in contact with were welcoming and knowledgeable. For $3 each, we were on our way to learn about rum production in Dominica.
The plant was small, incredibly so; just a building with a few distinct processing rooms, plus an outdoor 18th century sugarcane mill powered by water. One thing that was quickly noticeable during our time in Dominica are the sustainability efforts being made throughout the island. Even this little factory that produces slightly more than enough rum for the island was utilizing a water-powered source for processing their sugar cane.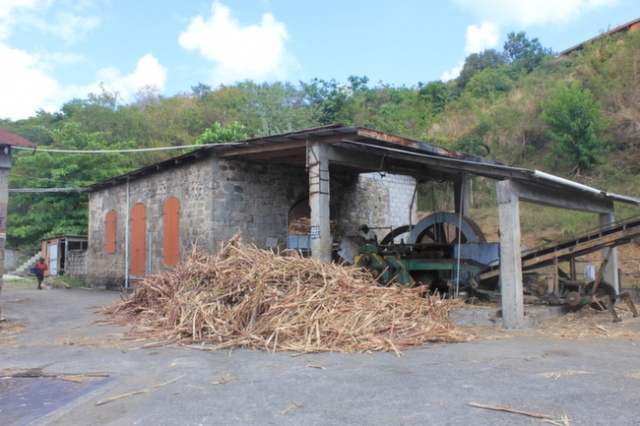 We learned that we had come at the right time. Dry season, roughly November through April, is the point during which the sugar cane is cultivated so it's not too water logged, and then processed to remove the juice. The process, our guide explained, was mostly manual from start to finish. The sugar cane, grown in nearby fields, was brought in by employees, hand hacked and weighed (laborers are paid by how much sugar cane they bring in, by weight). After being weighed, other staff members manually place the sugar cane into the machine, where the juice is extracted.
We were walked through the backside of the factory to see the new, automatic machine brought in to produce steam. From there, we walked by the vats in which the sugar cane juice was kept to ferment, and where yeast is added to facilitate the fermentation process which takes 4 – 6 days. He mentioned that while some factories on other islands use more yeast to speed up fermentation, the Macoucherie Factory uses less to maintain the standards of taste.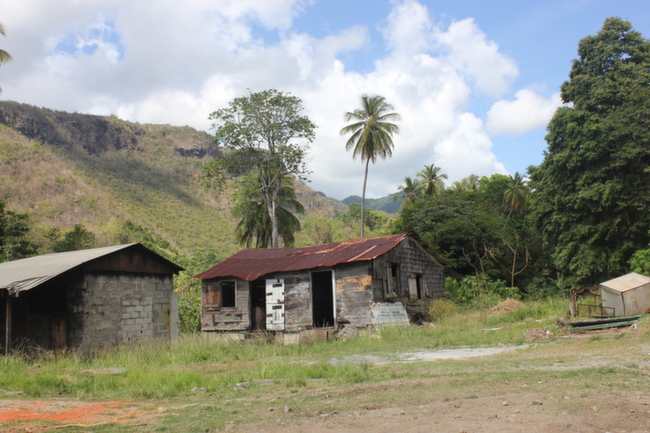 From there, another employee gave us the rundown on the distilling process which had us standing in a small, hot space where steam and sugars meet and are processed using antique machinery. The resulting rum is allowed to cool before bottling. Even the bottling and labeling process is manual; the man who gave us a portion of the tour hand labeled and sealed our bottles before handing them over to us.
The entire process was interesting, involving a huge amount of chemistry and an understanding of the nuanced process of distilling. The factory produces four types of rum, three made from sugar cane and one made from molasses imported from Trinidad. Additionally, they produce their standard 80 proof rum for bottling and another rum – 128 proof – that is sold wholesale or retail to interested parties. Yes, that's 64%… and yes, I opted out of tasting that one. The factory produces 20,000 – 25,000 liters annually. When I asked about distribution, they explained that most of their product is distributed within the island, with small quantities going to neighboring islands.
Was the tour worth it? It was worth it because we had already made the trek and were having lunch in nearby Mero. That is to say, if you're not going out of your way and you're not opting out of another experience to do this, then it's worth stopping in and supporting a local company. In reality, I wouldn't make the trip a priority when in Dominica. There are so many things to do and see on the island, and while learning about – and seeing – the process of distillation is intriguging, the factory has a long way to go before becoming a destination. In many ways we felt like we were intruding when we walked in. In reality, this place could have an incredible tour product if they upped their marketing and put a little work into their tour experience. I mean, who wouldn't buy a Macoucherie Rum shirt after doing a fun tour, right? When that happens, it'll be worth the trip.
Have any of you been to Dominica's rum factory? What did you think?
xo from the islands,