Visits back to California are generally few and far between for us, and when we booked a return to California for Scott's grandfather's memorial service in December, we added on a few days so we could create some more memories in our home state. One of my favorite seaside towns in California is Carmel, a picture perfect little enclave that's the perfect coastal retreat for a romantic escape, a family adventure, or a girls' getaway. We booked two days in Carmel to spend with my family for a couple of days of R&R in one of California's most stunning coastal towns.
Day 1 〰️ Explore Carmel-by-the-Sea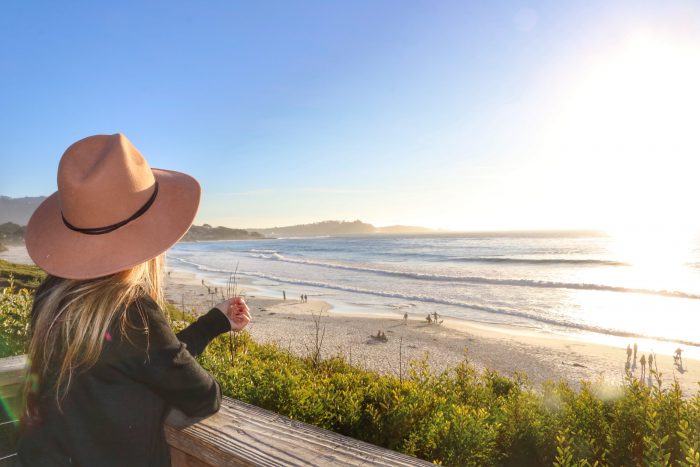 In a town where there are no physical addresses, a famous former mayor, no chain restaurants, and a permit required to wear high heels (legitimately!), you know you're going to be in for charm overload and Carmel doesn't fail to deliver. The experience of Carmel is multi-faceted and while it's on the water, I find the ocean itself to be a secondary draw (though some may disagree with that). To me, it's the town itself, dotted with independent boutiques and cute restaurants that keeps me coming back.
Brunch in Carmel
One of the things that surprises us a bit with Carmel is the lack of seaside dining. You'll find that places for breakfast, lunch and dinner are in town, not on a waterfront stretch with a view. I'm not sure if this has to do with building codes, but it feels like a major missed opportunity for that sunset/happy hour period when you could easily enjoy a glass of wine and some oysters overlooking the Pacific… anyone else with me?! That all said, there's plenty of lovely dining in town and a number of cute places — my favorites include The Cottage and Village Corner. This year we had breakfast at Carmel Belle, which we enjoyed too though it's a bit further from the seafront. Fuel up because you have a day of walking and shopping ahead!
Boutique Hopping

Carmel is a shoppers' haven, with quaint boutiques and upmarket shops lining the main thoroughfare from Junipero Street down the seafront. At Junipero and Ocean Avenue, you'll find Carmel Plaza with a slew of familiar shops, plus a few pleasant surprises like the Cheese Shop, which is absolutely heaven for cheese lovers (they also have wine if you're looking to grab a few things for a picnic). Ocean Avenue is the main artery of Carmel-by-the-Sea but the side streets also have fabulous shopping so be sure to wind your way through town!
Wine Tasting
While places like Napa Valley, Paso Robles and Temecula may come to mind when you think of wine tasting in California, quaint Carmel has a little scene of its own in the form of tasting rooms! Instead of visiting vineyards, you can incorporate wine tasting seamlessly into your two days in Carmel, whether you're looking to dedicate an entire day to it or just to weave it in to a broader itinerary. Carmel's Wine Walk by the Sea pinpoints tasting rooms in town – there are many! – so you can plan accordingly. If you're planning on making wine the focus of your two days in Carmel (or longer!), consider purchasing the Wine Walk's "Passport", which grants you a wine flight at 10 of the 13 tasting rooms.
Beach Glimpses
I mentioned this above, but Carmel is interesting to me because it's a town where beach happens to be part of the landscape. There are some cities where the beach is the reason for your getaway, but that's not really the case in Carmel. The seaside component is part of the draw but unless it's particularly sunny summer day, you probably won't find yourself laying out on the beach. That all said, it's a beautiful stretch of coastline and your stroll down Ocean Avenue will have you bumping run into the beachfront. There are perches for viewing or you can take a picnic and enjoy lunch with a view.
Dinner in Carmel-by-the-Sea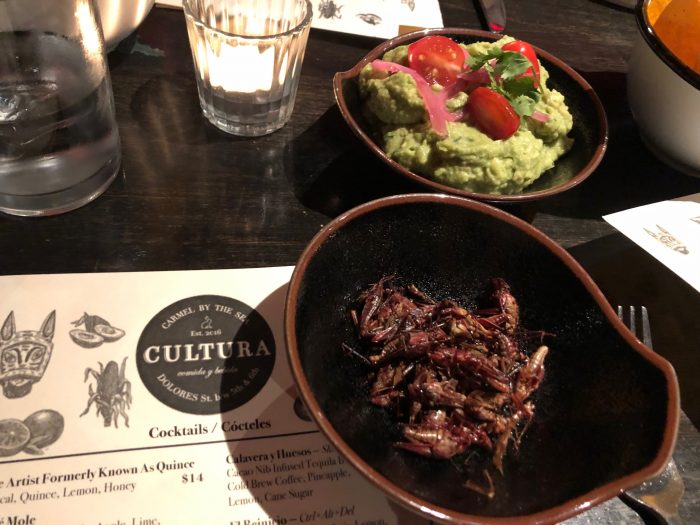 End your day with dinner in Carmel with your choice of a number of highly rated restaurants. If you want to venture a bit further afield, Carmel Valley (about 15 – 20 minutes away) has a number of options as well. In Carmel-by-the-Sea, we loved Cultura for a cool vibe, great regional Mexican cuisine, and fun tequila and mezcal-inspired cocktails. For a post-dinner drink (or pre-dinner!), head to Brophy's Tavern for a polished pub setting. For more inspiration, check out Time Out's Top 10 Dining in Carmel-by-the-Sea.
Day 2 〰️ Explore Monterey, Carmel + Spanish Bay
During the second of our two days in Carmel, we opted to spread the love and enjoy some of Carmel's photogenic neighbors as well. You could easily spend another day in Carmel doing the same as the first: shopping, wine tasting, lazing, and enjoying the town's beauty, and it would be an absolutely perfect day. If you're more into exploring and want to venture a bit, our day two covers some inspiration for the explorers out there.
Spend the Morning in Monterey
I'll be honest with you: in my memories, Carmel always far exceeded Monterey. I always preferred the polish of Carmel's facades and the upmarket feel of the town. I had mentally downplayed Monterey's charm for a long time. My grandmother, who joined us on this trip, had fond memories of long leisurely drives down to Monterey where she and my grandpa would enjoy a seaside lunch before heading back up north so we recreated that with a morning in Monterey, which is about a 15 – 20 minute drive from Carmel. We started the day exploring the shops at Cannery Row, popping in as some of the first visitors of the day while the town was coming alive. Monterey feels a bit more kitschy than Carmel so expect shops to generally slant a bit more touristy than chic (there are still some good ones in the bunch).
Here's one way that Carmel differs from Monterey: while you'll be hard pressed to find seaside dining in Carmel, it's everywhere in Monterey. I say that to say, enjoy lunch with a view! We did lunch at Schooners, which is enclosed (good for chillier days) but still offers a lovely view of the Pacific. I've been to Monterey many times in my life so have fortunately seen many of the 'must-sees' in town but if it's your first ever trip, you should also visit the Monterey Bay Aquarium. With a $50 entry fee, it's not an inexpensive endeavor so you'll want the time to allocate to fully enjoy it — it's truly one of the most impressive aquariums you'll see!
Afternoon in Carmel
If you're back from Carmel for the afternoon, you'll basically be recreating your first day! I could spend a few days exploring the shops and wine rooms in Carmel. There really are more shops than you'll be able to take in during a single day. You can read more about shopping in Carmel here. For luxury seekers with champagne taste and more of a prosecco budget, check out Foxy Couture on San Carlos & 7th Ave. for vintage luxury finds from clothing and shoes to handbags and accessories.
Drinks at Spanish Bay
It's hard not to think about the epic golfing on the Monterey Peninsula, and with the world-class courses come beautiful lodges, upscale spa experiences, and lovely restaurants for visitors to enjoy. We opted to take an Uber (about 15 – 20 minutes) instead of driving and headed to Spanish Bay to settle in for sunset to enjoy a cocktail while listening to the bagpiper on the greens. It gets chilly at night by the coast so even in summer, plan on bringing something to bundle up. The course provides blankets for visitors (thankfully) and the fire pits are the perfect place to thaw out once the sun has gone down.
Where to Stay in Carmel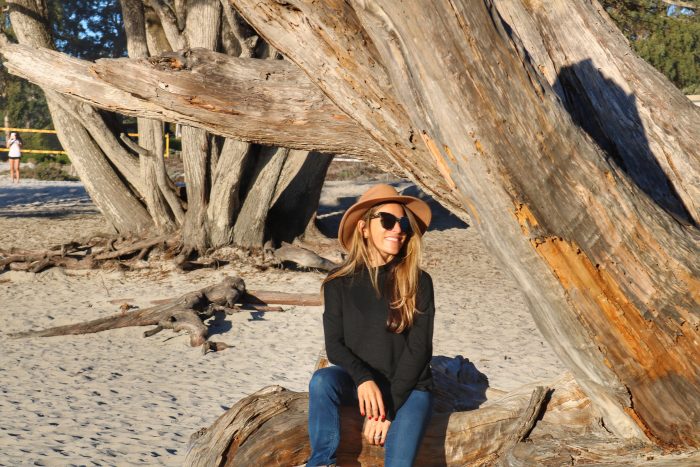 Lastly, let's talk where to stay in Carmel. To me, a boutique property is what you're looking for to enjoy Carmel's quaint quality, and location my absolute #1 criteria because Carmel is a place that's designed to see on foot. Staying too far outside of a comfortable walking radius will just have you wishing you'd picked something central. A few good options: Vagabond's House Bed and Breakfast Inn, Carmel Country Inn (pet friendly), Tradewinds Carmel, and L'Auberge Carmel, a Relais & Chateaux property.
If you're traveling with family or a small group, consider looking to Airbnb for great alternatives in the heart of town. We rented a three-bedroom home – Chateau by the Sea – on Ocean Avenue in Carmel, which we adored. It exceeded expectations in a major way, giving us the comforts we needed (plus a dose of luxury!) without having to worry about securing multiple hotel rooms. Get a $25 Airbnb credit for a future stay.
---
Carmel is one of those cities for me that really ticks all the boxes for a perfect long weekend away. For us, it was great as a family, but Carmel is also a go-to for romantic escapes (and a great add-on to a broader California itinerary if you're not local), and would be an ideal destination for a girls getaway/posh bachelorette party!
For those that have been and love this quaint seaside town as much as I do, how would you spend two days in Carmel?