Tradition Sailing's luxe private charter
Buying Christmas gifts for parents (or in-laws) is one of the most difficult tasks. After our first year together, Scott and I opted out of buying each other Christmas gifts and instead opted to pick a travel destination together as our gift to each other. We would both far rather collect memories than things, and we've extended that idea to birthdays, anniversaries and special holidays.
When it came time to figure out the perfect gift for his parents, we wanted it to be something great; an experience that the whole family could enjoy. Last year, we chartered a plane and headed to St. Barths for the day (a total blast!) and while we considered a reprise of 2013, we decided instead to try something different. His parents had mentioned their desire to try out Tradition Sailing Charters with hosts Deb and Laurie, and we thought this was the perfect occasion to give it a whirl. (You can read about our first time on Tradition here.)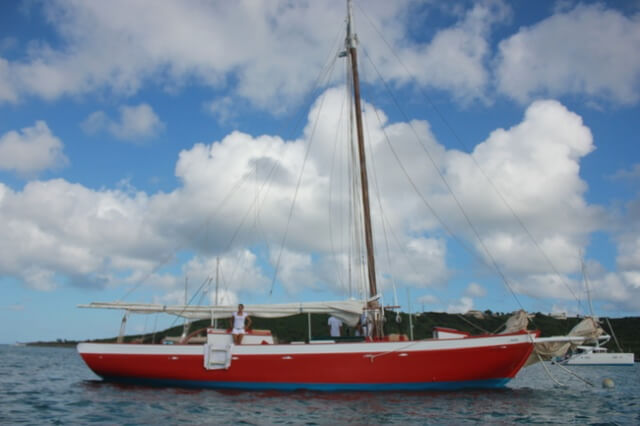 Tradition is a traditional West Indian sloop that was built on the island of Carriacou. During this trip, we were lucky enough to meet Norman, the man behind the boat. Decades ago, Norman and his father built the boat by hand, without equipment, hauling pieces of wood and slicing metal with a handsaw to get this vessel to come together. It's an incredible example of artistry and workmanship, and to see Norman masterfully working Tradition was an absolute highlight. Norman visits the Anguilla-based team to add his expertise on the maintenance front, and to see him taking the reigns is a pretty cool sight.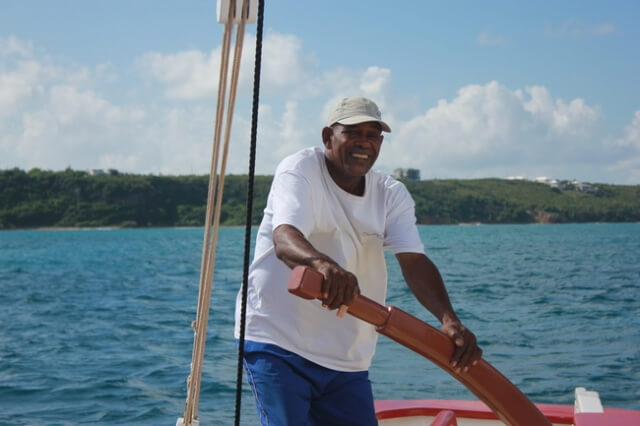 As usual, Deb and Laurie are consummate hosts: the morning started with flutes of mimosas, plus homemade crepes and berry muffins, and continued with beer, rosé, and nutmeg-garnished rum punch (really some of the best rum punch I've tasted). As the sun began to set later in the day, Scott brought out Cuban cigars to share, a perfect complement to festive cocktails.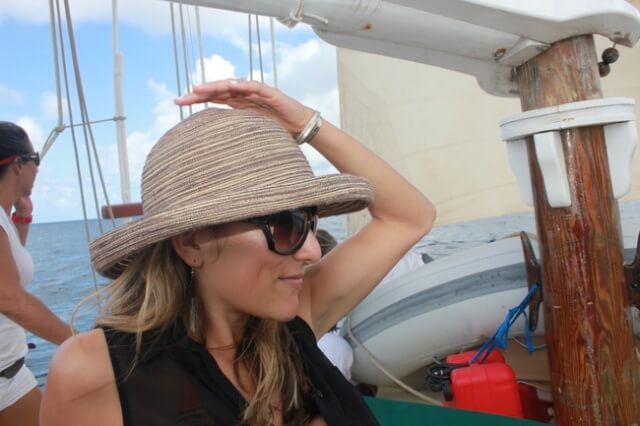 Sailing to Scrub Island
Tradition offers sunset tapas cruises (like the one we did last time) and a lobster lunch, both of which would have been a pretty magical experience. A private charter – like what we opted for – allowed us to have the boat to ourselves for the day, plus gave us the flexibility to choose our route (to the extent that it's possible and the waters + wind are working in your favor) and our menu. We opted for something out of the ordinary since Scott's family has explored many of the off-island cays during their previous trips to Anguilla. Instead of Prickly Pear, Sandy Island or Little Bay (which would be top choices if we hadn't been before), we asked if we could go to Scrub Island, a desert island off of Anguilla's eastern side.
We made it out there about three hours later (it's a long sail, and the wind was actually working with us) and discovered a totally untouched sliver of sand. Covered in brush and sprinkled with seashells, the island is a pretty little undiscovered islet, occupied by absolutely no one. Boats occasionally head out there but since there are no restaurants or beach bars, it's not as much of a draw as other off-island cays. The chances that you'll go out there and be the only people on this island? Fairly high. That was how we encountered Scrub when we swam ashore. Just us and the world.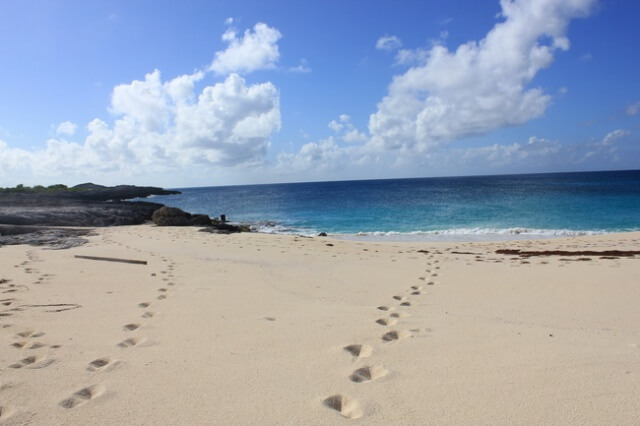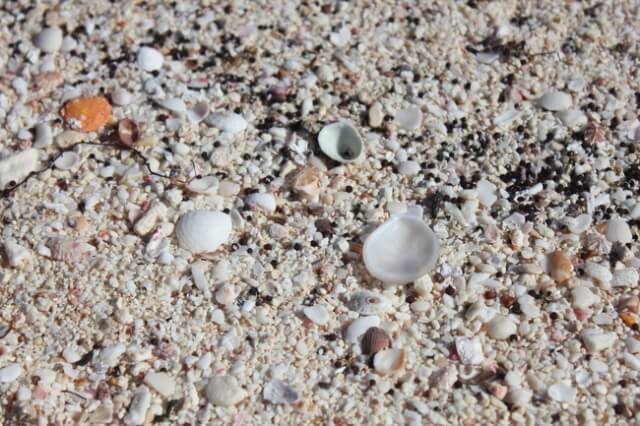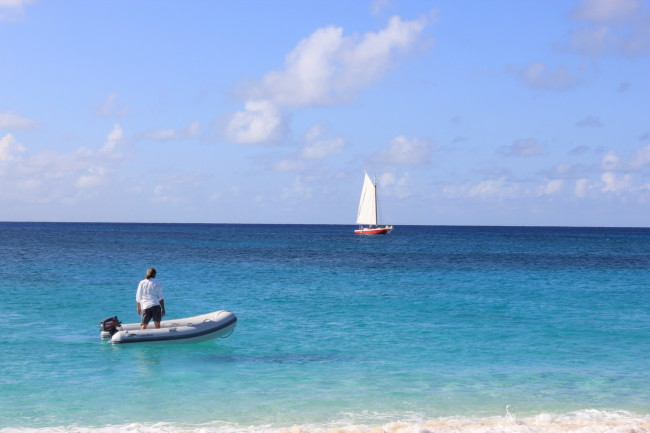 The snorkeling was actually really nice around the island – better than most snorkeling I've seen in Anguilla (besides the snorkeling near Prickly Pear which I found pretty good, too). There were lots of brightly colored fish and active sea life; my brother-in-law spotted a baby stingray, and a handful of starfish were glimpsed, too.
After a quick snorkel and a swim, we headed back on board Tradition for a highly anticipated lunch. Scott and I had picked out the menu before hand (based on a selection provided by Chef Marc Alvarez from Pumphouse) and were excited to try a few new bites.
Our spread featured seared tuna, curried cauliflower over forbidden rice, Thai beef salad and a super fresh and crunchy fattoush salad, and was finished off with fresh fruit and homemade lemon thumbprint cookies… a perfect day to indulge.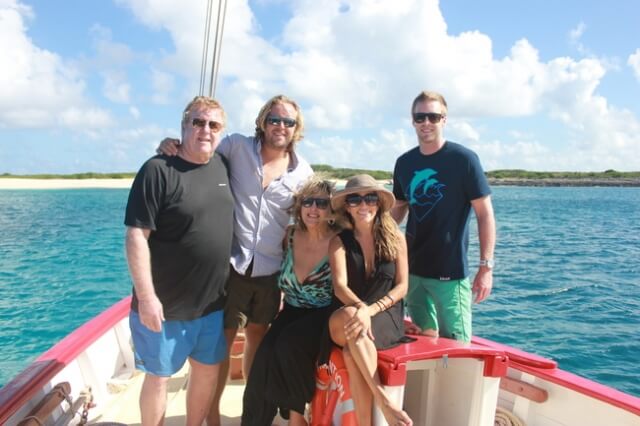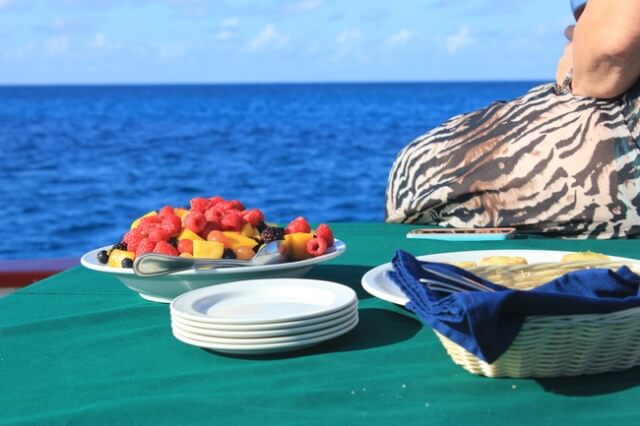 We headed back to Sandy Ground by mid-afternoon with a long, quiet sail ahead of us. The sun had set by the time we pulled back into Anguilla, a pretty night with loads of ships bobbing on the sea. Another fabulous Caribbean Christmas shared with my second family, and another day of proof that experiences are much more valuable than things.
Merry Christmas to all – wishing everyone an extra special holiday with loved ones!
xo,