Plus 5 things to do in a day in Brussels
I glossed over the excitement of visiting my 50th country earlier this year when we had a long layover in Brussels, Belgium's capital city. During the requisite game of planes, trains, and automobiles required to get to our final destination in Estonia, we were fortunate enough to have a full day taking in the key sites of Brussels in a day. Scott had spent three days in the city with his brother nearly a decade ago but I'd somehow never set foot in Belgium during my time living nearby in London. So, what did we get into in a mere day in the city? Here are five things that we managed to squeeze in to our eight city-dwelling hours and a few things you can enjoy, too. Thinking about staying longer? Further on in this post, I've teamed up with insiders to share the scoop on where to stay in Brussels' most exciting neighborhoods. Read on for their take on formulating your getaway.
Grand-Place du Bruxelles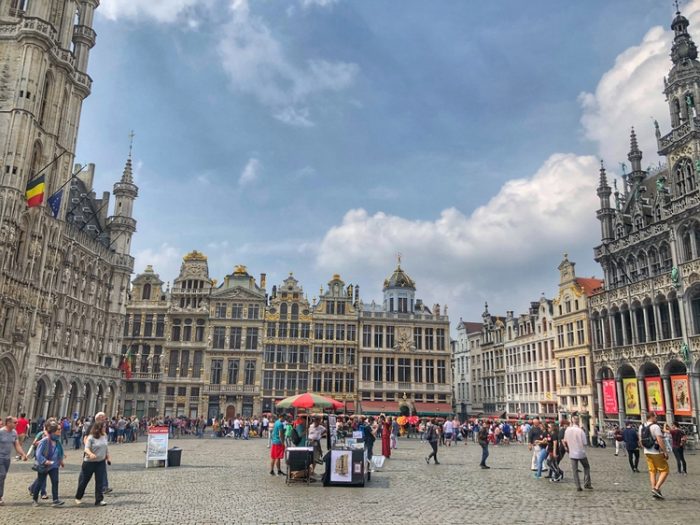 1Brussels is a fairly concentrated small city, which makes it a great place to explore in just a few days time (or for a single day like us!). The city's architecture brings beautiful European vibes but the central square in particular is jaw-dropping. Take some time to stroll the main square which, in my opinions, is one of the most grand in Europe.
Grab a Beer – or 2000
2With 2,004 beers available to test, the Delrium Café Bar in Brussels holds the world record for the most available brews on offer. Even for non-beer drinks like myself, you're bound to find something you'll love. By night, it may be too bustling to grab a seat at the downstairs bar but by day we had no issues moseying up to the counter and sharing our preferences with the bartender. They even offer gluten-free varieties for the celiacs in the bunch.
Nosh on a Round of Mussels in Brussels
3Y'all, you cannot be in Brussels without noshing on the de facto national dish! Plan on lunch with your dose of moules frites, accompanied by a beer in traditional Belgian fashion. There are plenty of choices for great dining options with local cuisine, but if you're in Brussels for a day and weather permits, opt for a place with a view to take it all in.
Take a Sweet Piece of Belgium Home
4Belgian chocolate is some of the world's most famous, so it's only right to grab a post-lunch sweet treat, or take a piece home with you. Chocolate shops abound, many with gorgeous exteriors and windows that can't help but draw you in.
Take a Tour
5Lastly, if you're the kind of traveler who gets a bit overwhelmed with lots to see and little time, you can opt for an organized tour instead. There are many, but the Beer and Chocolate Tour is absolutely the one we would have done if we were opting for a tour. I mean, is there a more fun way to quite literally get a taste of Brussels in a day?
---
Neighborhoods to Stay in Brussels
Thinking about staying longer in the city or calling it home, either temporarily or long-term? Brussels has been lauded as one of the most exciting multicultural cities in Europe. There is never a dull moment in this city no matter what your interests are.  If you are a culture buff then you will enjoy the city's numerous museums, movie theatres and concerts. If you love the pleasantries offered by the nightlife then this is the city for you. The city has a selection of over 800 local beers, so you know that there are always nightlife options in one of the many local bars and clubs dotted across Brussels. For foodies, there is also a large selection of local cuisine, whether you're looking to get a taste of their famous waffles, signature moules frites or world-renowned Belgian chocolate. It is no wonder why Brussels is such a favourite destination choice for so many expats and foreign students.
Another reason Brussels is a popular destination for settling in longer term? Transportation is a breeze, whether you are getting into Brussels or moving within the city. You can easily enter Brussels via air, rail and road. The city and surrounding areas are accessible through bus, metro, tram, cars, bicycles and even walking on foot.
The dynamic qualities above have contributed to the many options for renting accommodation in Brussels. Choosing a place for a longer term stay can be a challenge if you haven't yet had a chance to explore the city and find your favorite pocket to call home. Below you can get to know some of the most exciting and affordable neighborhoods in Brussels, perfect for a mini break or a longer-term stay in Belgium's capital city.
Ixelles/Elsene
This part of Brussels encloses areas such as Porte de Namur and Toison d'or, which have trendy and high-end cafes, bars and shopping malls. The neighborhood is considered the second city center of Brussels. Most of the houses in this area are townhouses and tend to be a bit pricy. It can be perfect for a family or international students sharing. The area has the perfect balance of culture and nightlife with amazing public transport.
Saint Gilles
This upcoming and lively neighborhood is perfect for the foodie. There are almost daily food markets at the famous Parvis St Gilles square where you can find fresh local fruits and vegetables. You can also sample and enjoy delicious local cuisine from food trucks. The area has great public transport and is very near the city center and the high-end Ixelles neighborhood. In summer this area boasts of great terraces and its buildings also have characteristic art-nouveau designs.
Saint-Josse-ten-Noode
This is the neighborhood of different cultures in Brussels. It is also the most densely populated area in the city. You will find many options for renting rooms in Brussels, such as townhouses and apartments that are affordable for every budget. The area is dotted with pocket friendly boutiques and a variety of cafés that are on almost every corner. The best part about this multicultural haven is that it is only a fifteen minute walk from downtown Brussels and a stone's throw away from the Brussels Nord train station.
Woluwe-Saint-Pierre & Woluwe-Saint-Lambert
If proximity to the city center is not your biggest concern and you are more into wide open spaces than these two areas would be perfect for you. The public transport in these areas is wonderful and will easily connect you to downtown Brussels or the European quarter in no time. For this reason it is a favourite of many EU workers. Town houses with gardens with lots of small shops are characteristic in these areas. The Parc de Woluwe is especially leafy with lots of grassy open spaces that are perfect for jogging and taking brisk walks.
---
Your turn: how would you spend a day in Brussels? For longer stays, which are your favorite areas to stay in?