Since we were all over the place last week, I didn't get a real chance to rave about Santa Barbara! As many of you already saw in a previous post, I headed to SB to celebrate my last few months with my maiden name. We had an absolute blast; a mix of low key pool time and nightlife.
Having just jetted back from Anguilla, I was hoping for something somewhat relaxing, which is why Santa Barbara topped my list. The drive down was a bit longer than I remembered (about 6 hours from San Francisco), but the weather and the views were enough to make the trip worth it. After weighing out a few options for accommodations (we looked at renting a house as well), we opted for a couple of rooms at Harbor View Inn facing the ocean. Our view was a stunning one. Despite the fact that I see the ocean daily, there's something about it that never gets old! After checking in, we were happy with our selection — great room, great service and wonderful location. After a little room glitch (miscommunication, perhaps), management was kind enough to send up a couple of bottles of champagne to help us celebrate.
Our first night, we opted for something more casual and headed to Carlito's on State Street. It had been recommended to us by fans of the establishment and we were not disappointed. Some guac, fish tacos and mango margs later, we made our way down to Blush to grab a couple of drinks before heading home and playing a round of bachelorette party-approved games. As much as I wanted to be able to stay up until the wee hours of the morning dancing my heart out, I was still so exhausted from travel. Staying up until 2:30 was a serious feat!
Saturday was our real day in Santa Barbara so we had a few things on our agenda: explore, shop, grab coffee (from Starbucks, Peet's or some other go-to coffee shop that I'll never find in Anguilla) and hit the pool. Naturally, we accomplished all of these things.
We headed out to State Street on foot, caffeinated and ready to shop. If this hasn't already become clear over the years, I am much more of a window shopper than a real shopper, but I did succumb to the pressures of H&M. Considering there's very little affordable shopping on Anguilla, I thought it would be the smartest move to stock up on summer-ready clothes while in the US.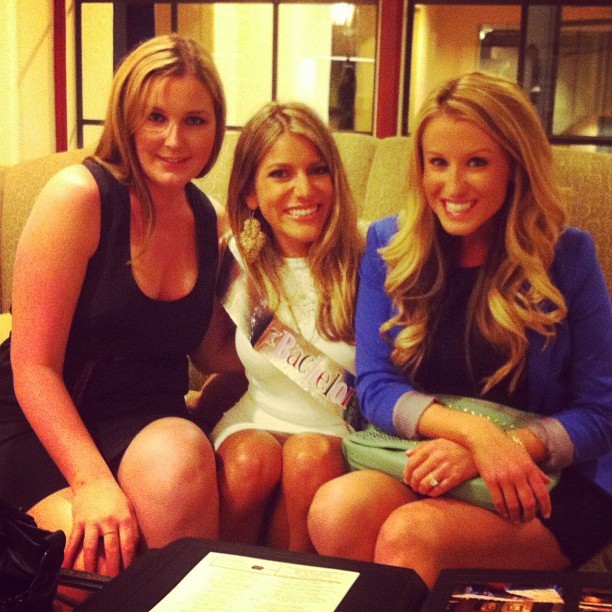 Daytime involved a lot of pool size relaxation and a number of frozen drinks before we got ready for the evening. We had planned on a nicer dinner on Saturday, where we could get a bit glammed up before heading out. After considering a few restaurants, we decided on Opal. The food was great and the prices were reasonable — how do you find a better mix than that?
After dinner we headed to Tonic for a rather impromptu evening of dancing and complimentary champagne. We called it a night somewhere around 2AM when Tonic began ushering people out and then headed home for a bit of girl time before dozing.
Sunday was a rather quiet day with a long drive back to San Francisco and then to Sacramento to see our families. I'm not really a Vegas bachelorette type so this was a rather perfect, manageable party. We had a blast being back in California!
xoxo,