During last year's poker run (the first that our group had ever participated in on Anguilla) I was in Lake Tahoe for a quickie weekend escape to surprise my family. I hadn't known what to make of the day; I'd never participated in a poker run before and didn't really understand the objective of it. After hearing everyone recount the day's many moments last season, I was certain that I'd be on island this year to participate in the festivities. As it turns out, it's one of my favorite days of Carnival week.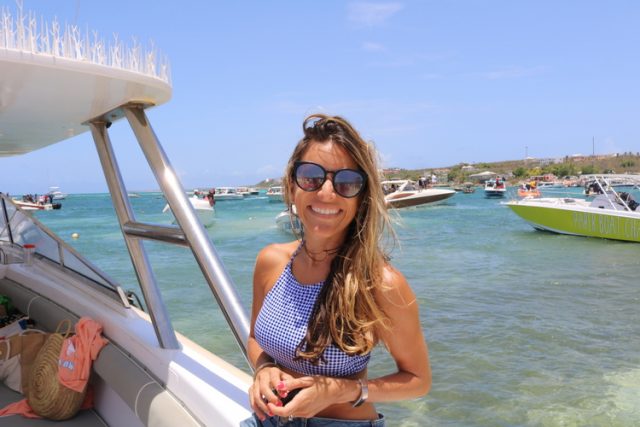 Sandy Ground
Sandy Ground was the starting point for the poker run, with all boats congregating in the harbor at 9AM (which actually means 10:15AM by Caribbean standards). So, what is a poker run? It can involve boats, like it does with the Anguilla poker run, but can also be done by car, ATV, snowmobile, horseback, on foot; virtually any form of transportation. In our case, it involved five integral stops where we drew a card at each. Our morning stop in Sandy Ground was just a meeting point where those signed up could check-in and get their welcome bag. Each boat can have as many hands as they want ($200 entry fee per hand), and in our case we had seven people or couples participating. It functions like poker: at the end of the day the person with the best hand wins. The grand prize was set to $5000, with second and third earning smaller amounts.
da 'Vida, Crocus Bay
Anguilla's poker run is a round-the-island tour in the way it's constructed, starting in Sandy Ground (the check-in point, shown above) and then moving east around the island. Our first stop and first card was at Crocus Bay, where Digicel had set up tents, and where poker run attendees could take a go at a slip 'n' slide set up on the beach. Each stop turns into a little beach party, with each designed differently. We had 30 – 60 minutes at most stops, enough time to walk the beach, stop in for a drink or food, and then continue on. By design, it's not a 'race' since every participant will get a card at each stop so all boats are welcome to join!
Island Harbour
After our stop at Crocus Bay, we continued on to Stop #2, Island Harbour. We stopped into Falcon's Nest, one of our favorite toes-in-the-sand spots for a little appetizer to stay fueled for the day. There was only one stop that we visited during the day (Sunshine Shack) where there seemed to be a lot of forethought about food to make it efficient for poker run attendees. We made sure to have breakfast before heading out knowing that this was the case. Drinks are available at stands on the beach but if you're drinking all day, bringing some snacks is a wise move to keep everyone steady.
Falcon's Nest's fish bits were a welcomed snack for many of us by the time we hit Island Harbour.
Scrub Island
After Island Harbour we zipped to Scrub Island which was a stop on our tour, thought not an 'active' stop. There were no cards to collect here; rather, it was just a way for people to continue the party at a stunning stretch of sand set away from the main body of the island. We watched boats zip in all around us, music blaring and people dancing the day away. We stayed for a few moments before continuing on (realizing that getting our boat out of the throng of people + boats might be a challenge). If you haven't been to Scrub Island before, it really is a beauty and it's a place that so many miss experiencing since it's not a traditional off-island cay stop for most visitors. There are no places for food or drinks there, but there are opportunities to hike and snorkel nearby. On any other day, you'll probably have the island all to yourself.
Rendezvous Bay
From there we continued on to Rendezvous Bay and it was a rough ride with water splashing into the boat relentlessly, drenching all of the guests seated in the back. It's a long journey from Scrub Island to Rendezvous Bay and the seas can be much less inviting on this side. We had a few struggling to fight off seasickness, and everyone was thrilled to finally pull into Rendezvous Bay, which felt like the biggest beach party of them all. Of all the places we visited, Garvey at the Sunshine Shack did the best job of having BBQ pre-packaged with a system to make it all as efficient as possible ($15 for a food ticket, which you used towards your choice of chicken, ribs or fish). Major score because by the time we reached this point in the day everyone was either very hungry or really in need of food after a day of sipping rum punch.
Meads Bay
The final stop in our day was the eastern end of Meads Bay where we slipped in for the 4th card of the day. By this point in the day, we had two serious contenders to win the poker run – one armed with four hearts, and one with 3 Aces – so we were in this for the long-haul. At this point in the race, some people filter out if there's no interest in going to Sandy Ground for the grand finale but we stuck with it! We returned to Sandy Ground, where the race starts and finishes, to find out that neither of our contenders placed, sadly. While we had a number of people participating, Scott and I were in it for the boat ride! You can easily make a day of this and not participate if you're not the gambling type. And if you are the gambling type, is there really any better way to play poker? ♣️
Was anyone else at the Anguilla poker run? Any recs for great poker runs around the world?