Faced with torrential rains and a passing tropical storm yesterday morning, we began answering the question that we often get when our normally sunshiny days are replaced with temporary downpours: what do you do on a rainy day in Anguilla? While the island feels like it's designed for sunshine with the beaches, boating, and al fresco dining being major draws, it turns out that a bit of rain may present an opportunity to delve into a few experiences that may otherwise sit on the back burner. Read on for some inspiration on 8 things to do on a rainy day in Anguilla.
Enjoy Some Spa Day R&R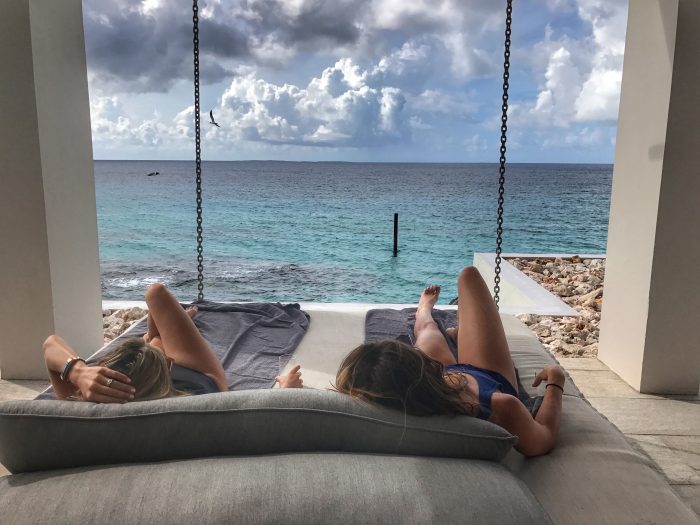 1When it comes to indoor activities on Anguilla, my mind immediately goes to the fabulous spas on the island that lend themselves perfectly to a luxurious spa day experience. You know those hours-long packages that you dreamily read about in the brochure? There's no better day to enjoy a massage, facial, mani, pedi, or all of the above in a spa setting. My personal fave for a full on spa day is Zemi Beach, with their Thai-inspired locale that feels decadent. With a hammam and a series of pre-treatment rituals available, you can spend hours being pampered. Close seconds for me are the spa at Four Seasons Anguilla and the spa at Cuisinart Resort, both of which have great service options in lovely settings.
Visit the Anguilla Heritage Collection Museum
2While Anguilla isn't an island known for its museums and cultural pursuits, the Heritage Collection Museum on the island's eastern end receives constant praise by those who visit. Curated and operated by local writer and historian, Colville Petty, the museum shares a timeline of Anguilla's history and evolution with Mr. Petty as your guide. Hours at the museum vary so call first to ensure that the museum is open during the time you're hoping to visit.
Get Painting with Anguilla Arts
3Whether you consider yourself an artist or not, AnguillArts' paint parties will bring out your inner painter. I've always been a fan of the arts but my husband was certain that his artwork would be a bit questionable upon completion. Fast forward a few hours and a few morning mimosas, and everyone had gorgeous paintings to take home… plus many laughs along the way. Karen Venditti, who owns and operates AnguillArts directs the class and helps provide some guidance. You can see her schedule here or can reach out for a private session!
Get Back to Basics
4Books, cards, board games — get back to basics with your entertainment options if the idea of watching a movie indoors isn't appealing. Whether you opt to stay inside or prefer to find a covered outdoor space to lounge, snatch up a good book or find some partners for a card or board game. If you're staying at a hotel on the island, ask about board games, books, or cards to see if there are any available for use.
Shop the Island's Boutiques
5While Anguilla isn't the shopping capital of the Caribbean by any means, there are still plenty of wonderful boutiques to spend a few hours exploring the island's offerings. If you've rented a car, embrace a rainy day in Anguilla by hitting the road to take in the range of options available:
Visit Petals Boutique at Frangipani Resort for some Anguilla-logoed favorites (like the jerseys shown above)
Go luxe at Four Seasons' Boutique with glam resort wear
Find perfect souvenirs from the island at Sea Spray Boutique (and grab a rum punch! See point #8 below.)
Visit Irie Life for some great Anguilla tees and beachwear
Head to Bijoux (Sandy Ground or their satellite location in Shoal Bay) for jewelry and French-inspired beachwear
Enjoy a Leisurely Lunch
6You'll often hear me talk about one thing I find particularly luxurious about vacay mode: a long, leisurely lunch. Such a thing is beloved on any day on the island but on a rainy day in Anguilla you can enjoy an extra long drawn-out lunch knowing that you're not missing out on time better spent bronzing on the beach. Head to a place that offers a covered space with a view. Some of the best with covered spaces and a view:
* As of the time of writing, keep in mind that Trattoria Tramonto and Jacala Restaurant have closed for the season (July 28, 2019 closures and will reopen in the fall). 
Take in the Art Scene
7If scoping out art is more up your alley than creating art (see #3 above), then take a rainy day in Anguilla as an opportunity to scope out some of the island's art galleries. There are a surprising amount of offerings on the island, with everything from oil painting to ceramics available. A few spots for inspiration for your tour are listed below:
Savannah Gallery: Located in Crocus Bay, find contemporary Caribbean and Central American art, Haitian works, Guatemalan textiles, Mexican pottery, and Haitian metal sculptures. Scott and I have one of the Haitian metal sculptures in our home! 
Devonish Art Gallery: Courtney Devonish is a sculptor and potter who originally hails from Barbados. Devonish Gallery, located on the western side of the island, houses a range from his collection including pots and vases locally crafted on the island.
Lynn Bernbaum: Lynn's paintings and prints are inspired by the island's natural beauty. You can see some of her art in establishments throughout the island or visit her gallery in Sandy Ground (typically opening from 4PM on during the weekdays). 
Pineapple Gallery: Located in Sandy Ground, Pineapple Gallery has a gorgeous selection of Caribbean art with a heavy focus on Haitian artists. It's worth stopping in to take a peek at the collection!
Phoenix Gallery: Located in South Hill, the brightly painted facade is your cue that you've arrived. Tanya Clark, who owns the gallery, is an artist, printmaker and framer. 
Adventure to Find the Island's Best Rum Punch
8Every visitor to Anguilla will know that a rum punch is the de facto national drink of the island, and the ever-present drink comes in many forms. Head out with a DD or hire a taxi to help you crawl your way across the island on an adventure to seek out the island's best rum punch. From west to east, here are some of my favorite places for a rum punch:
---
Anguilla lovers, your turn! What do you do on the island when it's raining in Anguilla? Any suggestions to add to the list above?