Seeing Iguassu Falls first-hand is a bucket list experience in and of itself. Honestly, we headed to the falls without much of a plan. We knew we wanted to enjoy a bit of slow travel and take in the famous falls from the Brazilian and Argentinian side, but beyond that we didn't totally know to expect or what experiences lay ahead. Being in the hotel industry ourselves and understanding the knowledge and power of a resort's concierge, we planned on deferring to them for guidance, and we weren't disappointed by the incredibly knowledgeable and well-equipped team at Belmond's Hotel das Cataratas.
Heading to Iguassu Falls? Here's a quick rundown of five must-have experiences:
Scope out the falls from the Brazilian and Argentinian sides
Everyone told us that seeing the falls from both sides provided an extra-special experience and we found that to be true. It didn't hurt that the sun was shining brightly on the day that we experienced the waterfalls – lots of gorgeous rainbows during our journey. Being based on the Brazilian side, it took us a half day to explore the Argentine side properly on the walking trails and tram.
Read about the Brazilian side here and the Argentine side here to understand their differences.
Take a helicopter ride over Iguassu Falls
I had never experienced a helicopter ride before my tour of Argentina, Brazil and Paraguay at Iguassu Falls. A helicopter ride adds a very interesting layer and perspective to the enormous waterfall system. I've also always wanted to learn to fly so I generally love being up the air – the helicopter was awesome!
Allot R$350 per person for a 10 minute experience with Helisul. Read about our helicopter experience here.
Scope out the park before opening hours
I can't emphasize this benefit enough! Explore the waterfalls before the park opens. If you stay at Belmond Hotel das Cataratas on the Brazilian side, you'll have the benefit of heading to the waterfall trail before the park even opens to the public. We went at 8:15AM one morning and were the only people in sight. There are stunning photos of us near the waterfalls without a single person in sight. The fact that we had some genuine moments to just drink in the experience without fighting for limited space was exceptional.
Ride through the falls on a Macuco Safari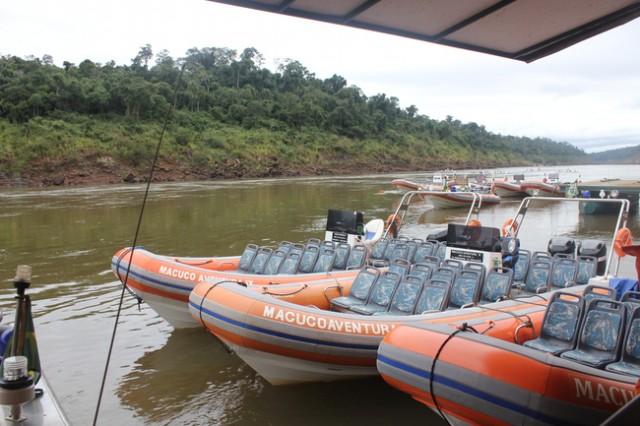 I mentioned this before but our goal during this trip was to see the falls from every angle. We helicoptered over them, we glimpsed them from Brazil and then spent a half day checking them out from Argentina. Going through the falls and experiencing them extra close was the final layer to the comprehensive Iguassu experience.
Allot R$179 per person for the safari add-on. Read about our Macuco Safari experience here.
Explore Parque das Aves
Parque das Aves sits right at the gates to the Iguacu National Park entrance on the Brazilian side. People had raved about how well done this place was so we made it our very first experience when we arrived to the area. We weren't disappointed. This special place works to save birds from trafficking and acts as a recovery and educational center. The Macaw Aviary was the highlight! Allot R$34 per person for entrance fees. You'll be excited to see your money clearly at work to make this place even greater.
Read about our time at Parque das Aves here.
---
Have you been to Iguassu Falls? What were your must-have experiences or highlights?
xo from Brazil,