Exploring the West Bank: Part II
Yesterday I detailed the beginning of our visit to the West Bank, an extremely jam-packed day that showed us the highlights of the area. We started with time in the Bethlehem at the Separation Wall and at the Church of the Nativity, and then visited the baptismal site at the Jordan River.
From the Jordan River, we made our way to Jericho, the oldest city in the world. I can recall reading about Jericho in the Bible but I could have told you very little about the town before we visited. Jericho is an astonishingly lush city; an oasis. I marveled at all of the palms, bright flowers and vibrant landscape on the way in. This landscape was very different to what we'd seen elsewhere (lots of dust and desert). Upon arriving in Jericho, we took the cable car up to the Mount of Temptation. Christians will know this place as the site where Jesus was tempted by Satan three times, and a Greek Orthodox Monastery now sits atop this mountain, housing stunning views of Jericho far below. We looked over the vast landscape of Jericho as our pod worked its way higher and higher to the top of the mountain. Below us was a water source, surrounded by seas of trees: dates and banana trees were noticeable, even from the sky. Banana trees? In the desert? Does the West Bank really seem like the right climate for banana trees? I'd always thought of bananas as being a tropical plant so I was stunned to see them flourishing below us. When we exited the cable car, we sat with our guide, admiring the view. I noticed that my rings were tighter; it was more humid here. Our guide explained that Jericho actually has a somewhat tropical climate unlike its surrounding areas, which is why plants like bananas and dates can grow and flourish. My assumption is that this is why Jericho is the oldest continuously inhabited city in the world – living in an environment with easy access to water and food is a much more livable situation than desert cities that surround it.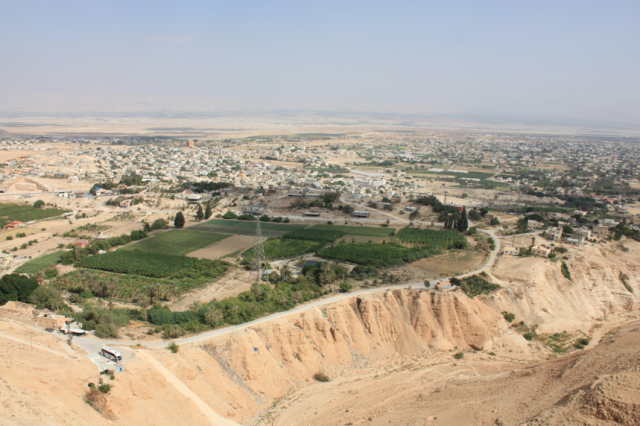 We had thirty minutes to explore the area before we were going to move on, and nearly everyone made the journey to the Greek Orthodox Monastery, a climb up a number of steps to reach the entrance (it's a hot proposition but a must if you're up there). The monastery is small inside, but beautiful and dimly lit, with candles lighting up the corners. A small staircase takes you to an overlook with a thin piece of wood as a barrier between you and the valley below.  Also, if you've noticed, between this reference, Mar Saba Monastery and St. George's Monastery (from our Judean Desert Tour), it seems as though the Greek Orthodox Church has chosen very remote locations for some of their monasteries. I keep marveling at the fact that any of these were built in the first place.
By the time we departed Jericho, it was around 2:30PM and we still hadn't eaten lunch. Most of us were getting hungry, having been fueled solely on water and excitement from the day thus far. Our final stop was Ramallah, and we were starting our time in the area with a traditional Palestinian lunch at Ce Tu Cafe. We eschewed the hummus and falafel lunch that's a requisite meal in the region and instead did something much more traditional, a family-style arrangement where huge pots housed a mix of chicken, rice, spices and vegetables and then were turned upside down on a plate for presentation. Spoonfuls were shared amongst a group of 6 or so people, splashed with a thick, tangy yogurt. The team was kind enough to honor my vegetarian diet and brought out a traditional veg-friendly offering instead. For 40 ILS each (about $12), we had a pretty incredible feast. Many people washed down the rice and chicken with a Taybeh beer, brewed right in the West Bank.
Following lunch, we had time to explore Ramallah, the West Bank's political capital.  Our first stop was a quick moment at Yasser Arafat's tomb, guarded by two soldiers. The walk from the gate to his tomb is 75 feet which is meant to represent his 75 years of age when he died. The room in which the tomb is housed is 11' x 11', representing the day that he died, November 11th.
From there, we entered the heart of Ramallah. What I had envisioned was something entirely different from reality. I incorrectly imagined a somewhat dismal city; dirt roads mixed with dilapidated infrastructure, and smog. What we stumbled into was a much more vibrant and cosmopolitan city than I could have imagined. We passed store after store selling shoes (loafers, platform heels, sparkling sandals) and mini dresses alongside of jewelry and scarves. Vendors dotted the roads selling fruit and corn (lots of corn), and the ones that we spoke with were kind and incredibly welcoming, excited to have us and to find out where we were from. Scott and I spoke with our guide, Tamer, individually in Ramallah and he asked our thoughts on the city. I explained, almost abashedly, that it was much more developed than I had envisioned. In some ways, I felt badly thinking and saying that – naïve, almost – that my conceptions of these cities were of a string of undeveloped villages. We had driven by sprawling mansions in Ramallah, dodged BMWs, and driven down perfectly paved roads through the desert. Yes, there was a fair amount of garbage and rubble on the roadsides, but the infrastructure broadly was much more developed that I had previously envisioned. He explained that Ramallah is actually a fairly progressive city and we were told by another source that a large number of secular Arabs reside in the region. There's a nightlife in Ramallah, and women are free to go out on their own in the evening, smoking hookah at bars with their friends without being questioned. By many standards across the Arab world, the West Bank is progressive in that thinking.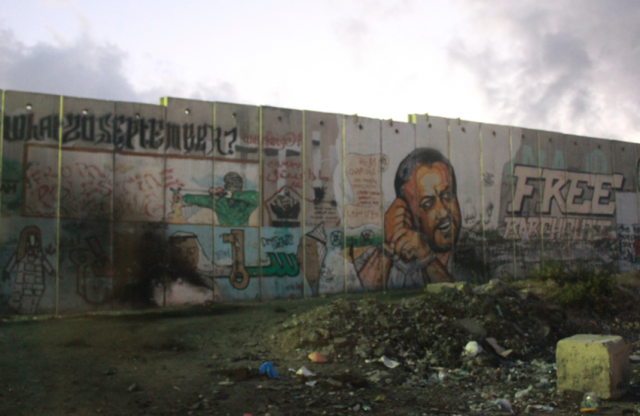 We departed Ramallah around 6PM and made our way west, back to Jerusalem. The day, jam-packed from start to finish, was an eye-opening experience and definitely helped broaden my view of the region.
Thoughts from the Tour
The West Bank struck me as being a paradoxical area. For example, we took a mental snapshot as we walked by a gas station adjacent to the Separation Wall. A sparkling silver Mercedes was being filled in front of a backdrop illustrating the struggle. There were a number of Mercedes, BMWs, and Audis making their way through Palestinian roads, something that we found striking. We've since learned that cars purchased in the West Bank are double-taxed, once by Israel and once by the Palestinian Authority, making the presence of luxury vehicles even more incredible. There were areas brimming with rubble and trash but the main roads were rather remarkable. I'd envisioned a bumpy, rough ride to get from one point to the next but in reality, the primary arteries were perfectly paved, cutting through the desert. Bethlehem, brings highs and lows. We traveled from the Separation Wall and somewhat rundown area nearby to a stunning little section of the Holy Land near the Church of the Nativity. When Tamer jokingly introduced the tour welcoming us to 'terrorist country', he was gently mocking the mentality of many who consider the West Bank an unsafe zone and who lump all Palestinians together as extremists. The people we met were utterly welcoming, warm, spirited. I wasn't concerned about safety and I began to wonder why I was ever concerned (even slightly) in the first place. What exactly was I expecting?
On a separate note, I found the experience of easily and freely crossing through Israel and all parts of the West Bank actually rather disconcerting in some ways – a guilt, almost – that I, as an American, can easily go from Point A to Point B (to Points C, D, E, etc.) without issue while residents of this land – on both sides – are restricted. While I understand the issues politically, on a human level it's still tough to grapple with. I try to imagine myself in this situation; living in a confined space and having my movement so heavily restricted. In that vein, I had always wondered about Palestinians in the West Bank wishing to visit Gaza. Both are Palestinian Territories, yet they're separated by Israel. Tamer explained that residents of the West Bank must drive to Amman, catch a flight to Egypt and then drive into Gaza. Quite the feat, and no doubt an expensive endeavour. While I find that my time here has helped me better understand both sides of the issue (these tours have truly been invaluable in providing insight), there are still fundamental human rights issues that can be difficult to fully digest.
All in all, we headed back to Jerusalem feeling fulfilled. The experience was something that many shy away from; perhaps there's no desire or perhaps there's a fear of instability. For those who want to learn more and gain a bit more insight into the Palestinian perspective, it really is an experience I would highly encourage. The group setting put us in a bus with 23 people, most of which we discovered wouldn't classify themselves as 'tour people' (Scott and I aren't tour people either). Still, considering all logistics and safety concerns many first timers worry about, this is a great first brush with the West Bank; a wonderful opportunity to see the highlights and to become familiar with where to go and what to do within the area. If you're one that is uncomfortable in mid-sized group settings, I would highly recommend reaching out to Abraham Tours and discussing private tour options in the West Bank. If it's your first time, having someone to help you navigate, to provide perspective, and to add an extra layer of comfort and local knowledge is invaluable. In truth, I would go back to the West Bank on our next trip but would spend at least a night in Ramallah or Jericho for a deeper experience.
What to Bring
Passports > Your passports may or may not be checked at a checkpoint. We were stopped at the checkpoint before re-entering Jerusalem and were required to show our passports and our Israeli visas that were provided upon entry. Be sure you have yours with you just in case.
SPF > We actually found the weather quite brisk in the morning and later in the day but it did get sunny and warm in the early afternoon. If you burn easily, be sure to bring sunscreen.
Footwear > You don't need hiking boots or even tennis shoes in Bethlehem by any means. In theory, you could wear flip-flops or sandals and be fine, but I would highly recommend close-toed shoes. The streets of Bethlehem aren't the cleanest in parts and some of the areas house a lot of rubble.
Water + Snacks > Bring a big bottle of water to keep you going throughout the day. It gets hot at times and there may not be opportunities for you to stop in a group setting and purchase water. Also, our lunch was incredible but we didn't eat until 3PM. With a 7AM breakfast, I was starving by 1PM and in need of a bite. Bring a snack or buy falafel in Bethlehem during your first stop.
  Best wishes from Jerusalem,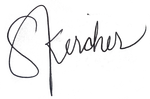 A big thank you to Abraham Tours, Abraham Hostel and Tourist Israel for making this trip possible. As always, all thoughts and photos are my own and are genuine.