Sunday is the ultimate fun day in Anguilla. Live music is available across the island and great lunch spots teem with locals and tourists alike during high season. With my parents in town for their first and only Sunday during their trip, we decided to expose them to a few spots that they hadn't yet seen. During their last trip to the island, we spent both Sundays at Scilly Cay, chowing down on crayfish and lobster and slugging all-too-powerful rum punches. This time, we started our morning a bit more casually with a jaunt to Savannah Bay followed by lunch at da'Vida, a quickie drink at Gwen's and dinner at Picante.
Savannah Bay
My mom was on mission whilst visiting Anguilla: besides turning her milky-white skin a shade of butterscotch, she wanted to find shells. Preferably large shells, but any would suffice. I thought she'd have decent luck at Junk's Hole; at the very least she'd be intrigued by the rugged landscape. Her luck was mixed, but she was like a kid in a candy store exploring the far reaches of the beach and digging up sea urchin shells and conch shell remains. A quick stop into Nat's Place provided us with drinks to cool off plus a johnny cake for my parents to experience. Success.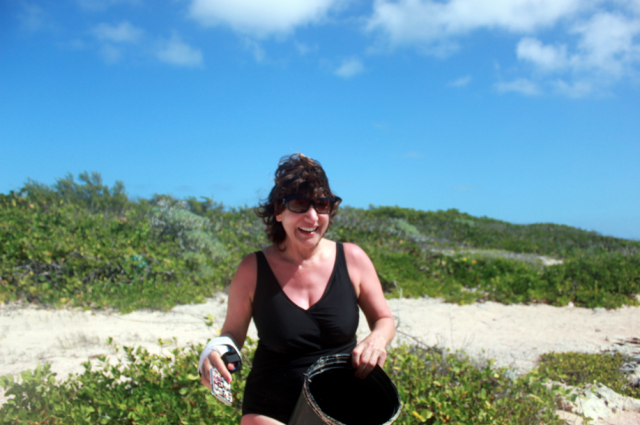 da' Vida // Lunch at Crocus Bay
When it comes to lunching in Anguilla, da' Vida makes my Top 3 list on the island (Straw Hat and Geraud's are two other favorite). The food is exceptional and reasonably priced and on Sundays Omari Banks serenades diners. We claimed lounge chairs on the beach from which to order our frozen concoctions and lunch before the masses rolled in. My mom and I opted for their famous frozen mojitos (a minty must-try) while grandma had her go-to, a BBC. In truth, we had to tear ourselves away from our comfortable seats on the beach to jet down to Gwen's for live music. In retrospect, I may have tried to pack a bit too much into one day. Lazing at Crocus Bay for the entire afternoon would have been fine in everyone's book.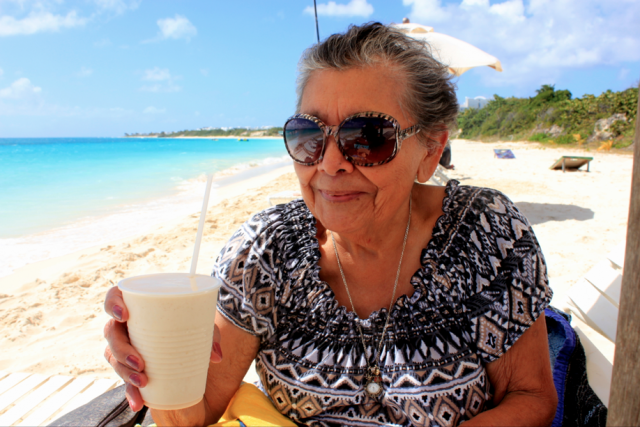 Picante // Dinner of Champions
Picante, with its casual vibe and Mexican creations, tops my list of restaurants in Anguilla. My sentiment seems to be echoed by many other visitors to the West End hotspot. After a day of exploring the island, Picante seemed like a perfect low-key option for our evening out. Throw in their watermelon-jalapeno margarita special and the night couldn't have been better. Plus, mom got to wear her new island garb courtesy of Marigot's market.
All in all, a fabulous Sunday from start to finish.
xo from Anguilla,