I recently posted a re-cap of my Saturday morning wherein Alex and I took a trip to Topkapi Palace. The Palace was gorgeous and packed with some incredible history, but as I mentioned in my previous post, it's important to know what you're looking for if you visit. There's a lot to see and we missed the mosque and Mohammed's cloak, which was one of the main draws for Alex. On the bright side, we did get to see Joseph's beard in the archives. I know I posed this on Saturday, but I have an honest question about this artifacts: how do they know to whom beard hair belongs? How do they know that it was Moses' rod on display and not just a random rod that was laying around from someone who lived at roughly the same time? How can they be sure it's a certain prophet's tooth? I'm just a bit skeptical about how l legitimate everything is, but I'll go with it.
When items are 'graded' by their relic levels (i.e. 'first-grade relic'), who is doing the grading and how are they justifying this? These are all the things that go through my mind when I'm wandering through museums. The same thing happened in Malta when I saw St. Paul's wrist bone, but I didn't want to be a skeptic while in church. Now that I'm out of a holy perimeter, I'm honestly wondering. If anyone knows, I'd be interested to find out. In the mean time, I'm going to trust that UNESCO (or whoever grades these things) is not being paid under the table to grade relics for countries looking for an influx of tourism.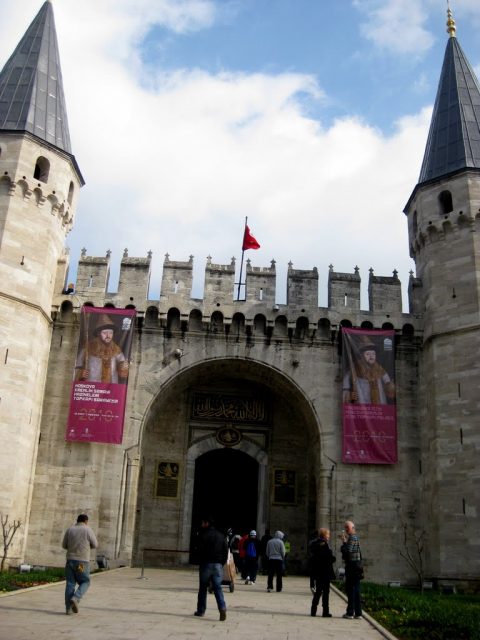 Cynicism aside, Saturday night involved a pretty cultural experience for our dynamic duo. We had planned on taking a boat over to Asia to have dinner, but we decided instead to catch the ceremony of the Whirling Dervishes at the Press Museum in Istanbul. I had heard of the Whirling Dervishes before heading to Turkey, but didn't really know much about them or the religious aspects of the ceremony. Al had been wanting to check out the performance (can you call it a performance? I'm going to, but I don't know if that's right…) after taking an Islam class in undergrad. A professor had mentioned it was a must-see, so, taking that to heart, we caught the 7:30P 'performance' on Saturday evening.
The ceremony is a religious one involving music, the chanting of poetry and the reading of the Koran, effectively putting the dervishes in a trans-like state. The entire thing including a 20 minute concert element lasted about an hour. I'm not sure how they can physically whirl in circles for 30 minutes, but it was an interesting experience. Check out the video:
After the ceremony, we grabbed coffee down the street from our hotel and chatted up locals while looking out at the Blue Mosque and the busy streets during our final night. Istanbul has been incredible and is definitely a city I'd like to return to explore more. The cultural mix is unique, and is a nice contrast to the typical Western European experience. The morning call to prayer, the bustling bazaar, the vibrant markets and the overall history made it a standout destination for me. I can only hope to make it back again in the future with enough time to explore other parts of the country!