Layover in Phoenix
En route to our final destination in California, we had an overnight connection in Phoenix. We toyed with a variety of flight routes, all of which had a number of connections due to the facts that a) we were booking on miles (the routes at the lowest point scale aren't always the most desirable), and b) we were headed to Santa Barbara, home to an airport about the size of Anguilla's. In the end, we found an overnight layover in Phoenix the best option. Neither of us had spent any time in the area, and we thought it may be a nice way to break up the flying. After a 9:30PM arrival, lost luggage, and a $50 cab ride, we made it to our final destination: Hyatt Regency Scottsdale.
The property is stunning and the service matches. Our first thought? If only we had more time here… Considering we hadn't spent any time in Scottsdale before, this would have been the perfect place to call home while exploring had we had the extra time. Plus, after a long day of travel and a minor hiccup with the luggage, this was a very welcome surprise from the team (who had already heard about our luggage issues):
It's pretty incredible how those extra touches can completely boost your mood. Being in the hotel industry ourselves, experiences like this are also a great reminder for us about how something like this can have such a great impact on guests. Somehow, the travel, the luggage, and the tiredness dissipated.
Despite our late arrival (even later for us, considering our bodies were operating on East Coast time), we suited up and headed down to the lobby bar to meet our friend who lives in the area and works at the Hyatt. Armed with prickly pear margaritas, we got a late night tour of the property before heading out into Scottsdale. Also, that cactus (above) is the largest cactus I've ever seen; it's the oldest and biggest cactus on the property. Apparently, each arm on a cactus represents a decade of life. This one's about as old as my grandmother.
Update: Our friends from AZ informed us that each limb represents quite a bit more than a decade; apparently the lifespan on these guys can be hundreds of years and it can take half a century before they even sprout arms. There's a lot about cacti I clearly don't know.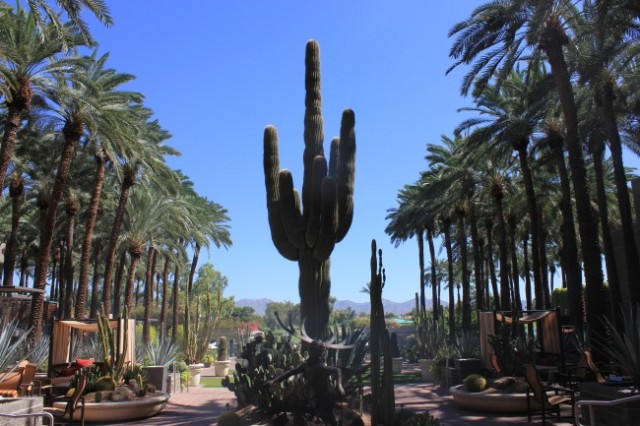 Now, for me to make any real observations about Scottsdale based on our 12 hours in the area would be superficial, at best. Still, a few things that struck us during our night there:
1. I'd never been to Arizona but have heard about the AZ heat like everyone else. We exited the airport at around 10:30PM and the temperature was still hovering close to 100°F. Residents were wearing pants in this weather. Clearly your body adjusts. I'm all for the sun and warmth, but whoa.
2. We didn't get to spend any real time in Downtown Scottsdale, but we did get a quick driving tour of the area. What I'd envisioned was something entirely different from reality. I had dreamed up a main downtown strip with one or two main streets, dotted with independent restaurants, cool bars, and live music making its way into the streets. What we saw looked more like a strip mall. Next to these go-to local bars, I half expected to see a Target, Michael's and Jamba Juice. It wasn't exactly the downtown feel I'd imagined. Perhaps we missed something?

3.  The sensation that we'd landed in a place that embodied Southwest culture was almost immediate after landing. I haven't been to New Mexico, which I imagine has a somewhat similar feel. While we were exiting the airport there were stores doling out dreamcatchers, Native American-inspired everything, and cookbooks with recipes that could be in a Bobby Flay series.
All in all, we were happy to have had a night there to briefly experience a sliver of Arizona. Have you been to Scottsdale before? What were your thoughts? Any must-try restaurants or bars?
xo from the West Coast,