Exploring Premier Hotels in St. Barths
In addition to world-class hotel accommodations, St. Barths has a thriving villa scene which accounts for more room nights than the hotel sector. With companies like Si Barth and Caribbean villa purveyor, Wimco, helping guests connect with luxury villas, the hotel scene isn't the only choice for accommodations when planning a Caribbean escape. That being said, for couples and small families traveling to St. Barths, hotels tend to make sense. I love the concept of renting a villa with a group (like we did in Ireland and in Guatemala), but sometimes there's a luxurious comfort factor in staying in a full service hotel. For us, a hotel provides more than just a room, it also brings a social factor. There's a concierge to glean advice from, a bar or restaurant from which to people watch and chat with other travelers, plus there are the amenities that make a getaway relaxing.
In St. Barths, a mythical land of luxury, glitz and glam, there are a handful of hotels that are total standouts for a shortlisted escape. Despite universally luxe accommodations, each hotel manages to have a vibe all its own, from undeniably elegant to modern luxury. On an island that makes Anguilla look big, we made a point to check out many of the hotels that had piqued our interest so we could get a sense of each property's vibe, location and overall appeal. Check out highlights from Hotel Taiwana, Le Guanahani, Hotel Christopher, Eden Rock and Cheval Blanc St Barths.
[Tweet theme="basic-border"]From jetset glam to beach house chic, the hotel scene in St. Barths has an option for every discerning traveler.[/Tweet]
Hotel Taïwana | Modern Luxury on the Beach
After evaluating the resorts on the island, we opted to stay at the 22-room Hotel Taïwana, a luxury resort on the island's northwestern side. Unlike Anguilla, the mountainous landscape in St. Barths provides for great views and allows for hotels that trickle down a mountainside for a dramatic facade.
As far as hotel locations are concerned, Taïwana's is hard to beat, just steps a way from acclaimed Anse des Flamands, a stretch shared only with neighboring hotel Cheval Blanc. The beach isn't quite as wide as some of our iconic stretches on Anguilla, but the cove – with islets and dramatic landscape in the distance – provides for a beautiful view from the beach.
As far as hotel locations are concerned, Taïwana's is hard to beat, just steps a way from acclaimed Anse des Flamands.
Suites are equipped with private plunge pools for those that want to take a dip and luxuriate in privacy, but the main pool provides a glimpse of the beach just steps away. As travelers who typically prefer to get out and explore, we found the location perfect, a quick drive to Gustavia for dinner and shopping. Even with our brief stay, the service was top-notch from start to finish. As hospitality professionals involved in a boutique property ourselves, it's always a great reminder for us of how special those personalized touches are, and reinforces why we love being part of a smaller independent property. We were greeted by name, had the team assist with reservations for lunch and dinner on the island, and saw familiar faces during our quick escape. The resort is luxurious with a modern vibe that captures the funky-cool essence of St. Barths without being pretentious. Fun, approachable, and the perfect blend of modern luxury and relaxation.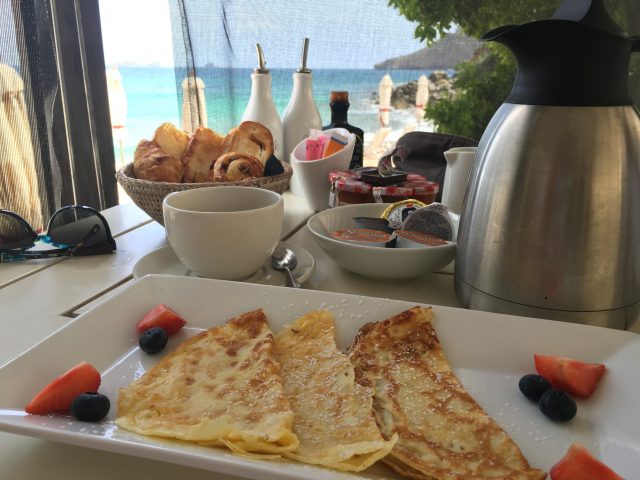 STAY: Hotel Taïwana, Anse des Flamands, St. Barthélemy
Room rates begin at €495 per night
Hotel Christopher | Contemporary Cool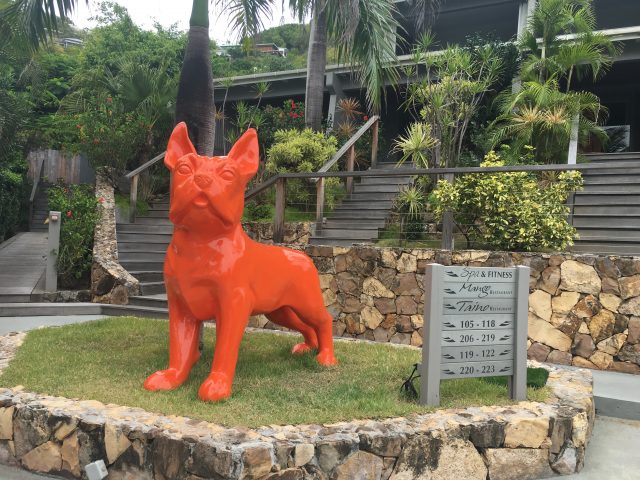 Hotel Christopher was shortlisted as a contender for our two-night getaway, and we actually learned about the property from our own hotel guests! Many guests who stay at Frangipani also stay at Hotel Christopher if they're blending Anguilla and St. Barths into a single adventure, and we wanted to scope it out to better understand the experience that they provide.
First impression: gorgeous landscape, fabulous pool, great bar setup and an incredibly welcoming staff. Located at Point Milou, Hotel Christopher isn't actually on a beach at all, but rather on a point overlooking the Caribbean. Unfortunately, the infamous Sahara dust, an unmistakable haze that shrouds the area in a pale grey dust and masks the bright colors, made its way through during our first couple of days in St. Barths. The photos can't really do the space justice since the dramatic impact of scenery and colors paled a bit from dust overload.
Being on an overlook, the team at Hotel Christopher brings a bit of the beach to the guest in an innovative way, by creating an upscale sandbox feel around one of the more captivating pools that we saw on the island. Surrounded by palms with a toes-in-the-sand beach bar at your fingertips, you'd almost forget that you were lacking real beach access. We saw many little ones on property splashing in the pool during our lunchtime visit and that's not without reason: the pool's shallow side makes it easy for children to enjoy without parents being on edge.
With 40+ rooms, the property isn't really 'boutique' by St. Barths standards but it fits into a nice middle ground: big enough to provide amenities like a on-site spa (by Sisley) plus a range of rooms for different budgets, but small enough where staff will recognize you. This seemed to be a common theme during our hotel hopping expedition: the service on island was nearly universally impressive, with prompt and friendly service and a genial spirit. Even with just an hour or so at Hotel Christopher, we talked with one of the managers, had a conversation with other employees about island life and seasonality on the island, and left with saying goodbye to the bartender who said au revoir to us by name. The beach bar lent itself beautifully to being the hub of socialization and was actually one of the elements that I was most impressed by. Within an hour of poolside sipping, we met another couple that we chatted with and ended up seeing many more times during our visit!
The beach bar lent itself beautifully to being the hub of socialization.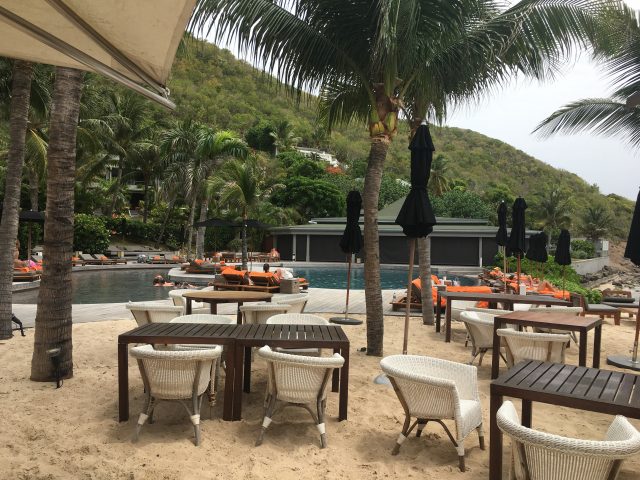 STAY: Hotel Christopher, Point Milou, St. Barthélemy
Room rates begin at €410 per night
Le Guanahani | Family Friendly Caribbean
If you've done any research on St. Barths, you've probably run into information about Le Guanahani. With 60+ rooms, it's the biggest resort on the island and has been part of a massive marketing campaign as part of its recent four-year facelift. At thirty years old, it's been around for a while and the hotel's vibe was the most distinctly Caribbean of any of the properties we visited.
An expansive estate, the property is well-signed so you can find your way to the beach(es), to the rooms, to the boutique and to the kids' club. The landscaping here was the most impressive that we encountered; a sea of palm trees and flowers that make you feel like you've truly descended on a tropical island paradise.
Of all of the hotels we visited, Le Guanahani was the most conducive for families. With a kids club on site and a kid-friendly pool (including a basket of beach toys nearby), there's nothing about this that attempts to exude an adults only vibe. The thatched beach palapas were the only ones we saw like this on St. Barths (much like our version at Frangipani Resort) and provide an iconic backdrop for beach goers wanting a Caribbean feel.
Of all of the hotels we visited, Le Guanahani was the most conducive for families.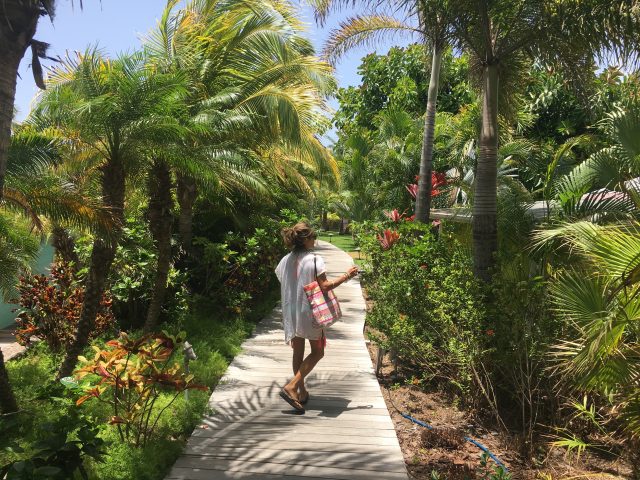 The property sits on a point with access to two beach stretches, one marketed as great for swimming and one that is better for snorkeling. The first beach we ran into was the primary hangout, where beach boys assisted people with finding a place to lounge on the sand. The beach itself was different from what we had become used to seeing at Flamands and St. Jean. Instead of the white sand and turquoise waters, the beach was more of a golden sand (à la California) with emerald-hued waters and a bit of seaweed dotting the stretch. Around the point, the second beach was met with a rocky shelf and an expansive sandy space that appeared to lend itself perfectly to outdoor weddings and events. (One of the benefits of larger properties like this is having more spaces to choose from to utilize for events.)
While the property is on the larger side – and felt that way – it did a nice job of capturing a bright, Caribbean, family friendly vibe. In truth, it felt a bit more Mexico to me than it did St. Barths but Le Guanahani is a great choice for those wanting lots of options on site (a few restaurants, the kids club and a spa on the property), and arguably the most family-friendly vibe for those traveling with younger children.
STAY: Le Guanahani, Grand Cul-de-Sac, St. Barthélemy
Room rates begin at around €450 per night
Eden Rock | The Original
Eden Rock.
The name alone is practically synonymous with celebrity-chic aspirational wealth and luxury. Originally the domain of 1950s Hollywood starlets and the global elite, Eden Rock has earned a reputation that can best be defined as legendary. Seeing it in person, perched ever so perfectly at the point overlooking St. Jean Beach, it has managed to maintain its fabled reputation despite the increasing presence of other high-end properties.
The property's iconic image comes with a price tag befitting the most discerning of globetrotters. Recently launched is their Christopher Columbus Suite at around €4000+ per night, a massive addition that occupies an entire floor of the hotel for the ultimate in luxury. The good news is that there are options when a thousands-per-night price tag isn't within the realm of possibility: travel during low season and a standard room can run you around €650 + taxes, though we had a difficult time finding anything for less than €950 per night during low season. Or head to one of their restaurants, On The Rocks or Sandbar, for lunch or dinner to scope out the scene.
STAY: Eden Rock Hotel, St. Jean Beach, St. Barthélemy
Room rates begin at €650 per night
Cheval Blanc St. Barths | The Ultimate Beach House Chic
Our neighbor on Anse de Flamands, Cheval Blanc was a stone's throw away and we knew we had to pop over and explore the famously chic Isle de France property. We opted to take a seat at the poolside space during sunset for a pre-dinner cocktail and it was as if the world was conspiring to make it the most beautiful setting imaginable. The barely pink sky matched the seashell pink touches of the resort impossibly well, highlighting the beach chic feel.
If I were to dream up my ideal beach house, this would be it: plush soft white sofas with pale pink accents, coffee tables with driftwood bases, simple but beautiful orchids sprinkled about to add life, and the right amount of candle light to bring an undeniably romantic and sexy feel. Unlike Le Guanahani which felt incredibly family friendly, Cheval Blanc's all white everything said 'adults only'. Not just adults only – posh adults only. To me, Cheval Blanc is undeniably the most elegant property choice on the island and there's no doubt that they work hard to create an environment that reflects that in every sense. The entrance brings a major wow factor, and the facade glows perfectly towards the beach front. The fact that they tuck 40 or so rooms into this seemingly small space is quite the design feat. One of my favorite aspects of the property's make up is the expansive pool deck that lines the beach. From the pool, guests easily overlook Anse des Flamands just steps away.
If I were to dream up my ideal beach house, this would be it.
Heading to Cheval Blanc for a drink? The €25 cocktails may induce a bit of sticker shock even on an island as costly as St. Barths. Instead, flip to their spirits list and wine list and you'll be happy to see options that won't bankrupt you. We ordered what we wanted – a glass of rose (for me, €12) and a Ketel One martini (for him, €10) – and enjoyed prices that were less than half of their signature drinks.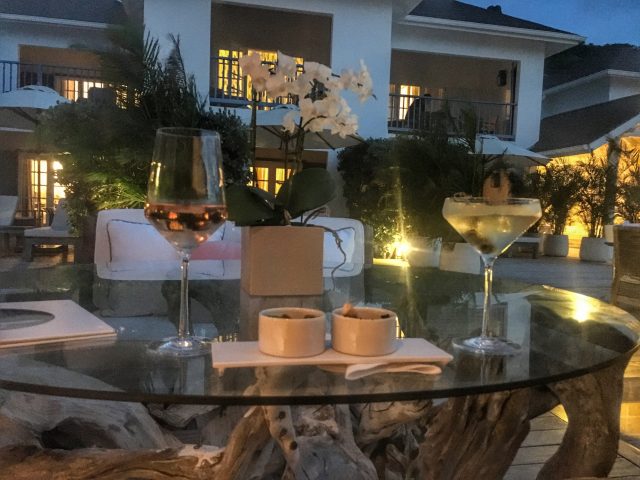 STAY: Cheval Blanc, Anse des Flamands, St. Barthélemy
Room rates begin at €620 per night
---
We loved our stay at Hotel Taiwana, which ended up being a perfect vibe and location for us, but each property has done a nice job of carving out a niche of its own to cater to different travelers.
Which hotel intrigues you most? Or, if you've been to St. Barths, which hotel did you love?