Travel favorites for springtime getaways
Earlier this year, I worked with PreTravels to share my favorite destination for a winter escape (spoiler: it was Quebec City!) and the editor reached back out to me about sharing my thoughts on best destinations for springtime.
Picking a favorite for spring or fall is incredibly difficult because they're such great seasons to travel, generally speaking. We often find that our escapes during September and October bring perfect temps, fewer crowds, and lower prices; a fortuitous mélange that creates the perfect conditions for travel. Quite honestly, it's hard to go wrong with any destination during those gorgeous, breezy months of April, May and early June as days slowly become longer and temperatures begin to rise. To contribute on this topic though, I quickly thought back on our recent travels: where has springtime generally taken us?
Central America.
We've spent the past few late-March and early April escapes in Central America with trips to Honduras, Panama, Costa Rica and most recently, Guatemala. The region has a tumultuous past and Costa Rica is one of the only countries in the region that has been able to really shake its bad boy image and reap the benefits of increased tourism. While Nicaragua is notably becoming Central America's next hot spot, there are still major strides to be taken for the majority of the region. For travelers that are willing to give it a shot, there's plenty on offer, and there's the real opportunity to delve into authentic cultural pursuits without any sense of activities and offerings being packaged for tourist's consumption.
Dry season is technically through April though as with our Caribbean home, weather can be difficult to predict in tropical climates. During our previous trips in early spring in Central America, we enjoyed great weather with lots of sunshine and comfortable breezes. Lake Atitlan's elevation can be an exception with its elevation bringing crisp nights and some daytime fog. The region also presents a range of options from beachy enclaves to more adventurous pursuits like spelunking, ziplining, ATVing and surfing, allowing travelers to easily craft an itinerary that melds R&R with a bit of action. For a city fix, Panama City is an anomaly in the region with a glam cityscape populated with hip restaurants and sartorially savvy Panamanians. It's also a great add on for a long layover as it's one of Copa's hubs, linking Central America to other regions of the world.
For a unique opportunity, head to Central America around Easter to take in the culturally rich activities surrounding Semana Santa, with a week of festivities in the lead up to Easter Sunday. The Easter celebration in Antigua, Guatemala rivals the world's best with a huge procession that weaves its way through the main square. For Catholics, it's a particularly engaging religious experience. For the non-religious, it's still an opportunity to take in a rich part of Latin American culture, with a sea of sights and sounds.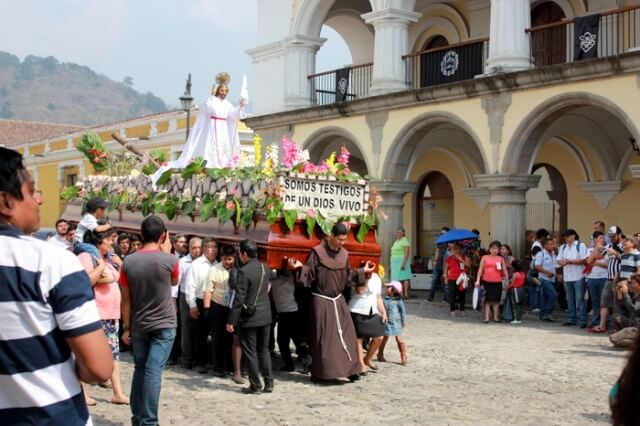 Where to start in Central America? Well, that depends on your travel style… and a bit on your risk profile. Costa Rica arguably boasts the most established tourism product in the region with good infrastructure, a largely English-speaking population (at least in tourist areas), and a range of activities with the jungle landscape as the focus. On the flip side, I find that it's beginning to feel a bit packaged in some ways; we found this especially true in Herradura and Jacó, near where we stayed.
For those wanting a buzzy city fix, there's no better city than Panama City, and there's truly no other city in Central America like it. Other capitals and major cities in Central America look pretty similar, and it's not necessarily a good thing: a bit smoggy, typically a bit higher crime, and normally not much to draw tourists in. Panama City is the opposite: a super cool Old Town (Casco Viejo), great markets and great opportunities for cocktails with a view.
For off-the-beaten path travelers wanting something that feels virtually untouched, mainland Honduras has some unique opportunities. We stayed in a quirky hostel near Lago de Yojoa where we went spelunking, rowing on the lake, and spent an afternoon touring Pulhapanzak waterfall in a not-so-safe way (cool, but not all that safe). We contrasted that with time in the seaside town of Tela where we spent a day exploring a nature-rich national park and taking in the beauty of Punta Sal. For those willing to give it a shot, Honduras can reward travelers with some exceptionally special experiences.
For those wanting something in between – not too untouched but not too 'done' – Guatemala provides a gorgeous balance. There's Antigua, a UNESCO World Heritage City, that boasts colonial charm at its best. Cobblestone streets are lined with cigar shops and eateries, and a main square is the beating heart of the city. A couple of hours away, you can zen out at Lake Atitlan, a destination touted for its spiritual qualities; not a surprise when you discover the ancient Mayan influences.
My overall take on Central America? I genuinely hope that all of the nations that make up this stretch go the way of Costa Rica and Nicaragua and really crack down on crime and work on developing their own brands of tourism. There's so much on offer and so much potential in this rather untouched part of the world. In the meanwhile, many places are somewhere in the middle, working towards bettering their offerings with relatively few tourists having yet discovered their beauty. Head there sooner rather than later and enjoy the authentic opportunities that await — you may find yourself like us, planning our annual springtime escape to continue to uncover Central America's gems.
What's your favorite destination for springtime?