Our trip from Santa Barbara to Las Vegas was a long one. In hindsight, we could have easily rented a car and made the drive from Southern California to Nevada in less time. We booked a flight out of LAX to Las Vegas for a 2PM departure, perhaps a bit ambitious considering we had to get to Los Angeles in the first place, and our travel day was the day after a wedding (read: a late night). We had initially considered taking a cab since all online estimates led us to believe it would be around $100 for a cab. When we talked with Angelenos that were at the wedding, they confirmed that the drive to the airport from Santa Barbara could be upwards of two hours, and that cabs may not even go that far. If they did, it would be far more than $100.
Time to rethink our plan.
After a quick search for buses or trains to get us from Point A to Point B, we discovered the Santa Barbara Airbus, a no-brainer for travel to the airport from the Santa Barbara area. For $40 each, we were picked up at a central point in SB (at 8:50AM, ugh) and driven directly to the Los Angeles Airport. The drive was estimated to be roughly two hours, and we arrived far ahead of schedule, leaving us plenty of time to get through security, and have lunch before heading to our gate.
For anyone looking for a way to get from Santa Barbara to LAX, this is the way to go if there are one or two of you. The ride was smooth, the bus was comfortable (reclining seats, a restroom, A/C, friendly driver, plus snacks + beverages for purchase), and the views for part of the journey were quintessential Southern California vistas. We got off the bus at our final destination and were both incredibly impressed with the experience; I would use the service again without a second thought.
Vegas Bound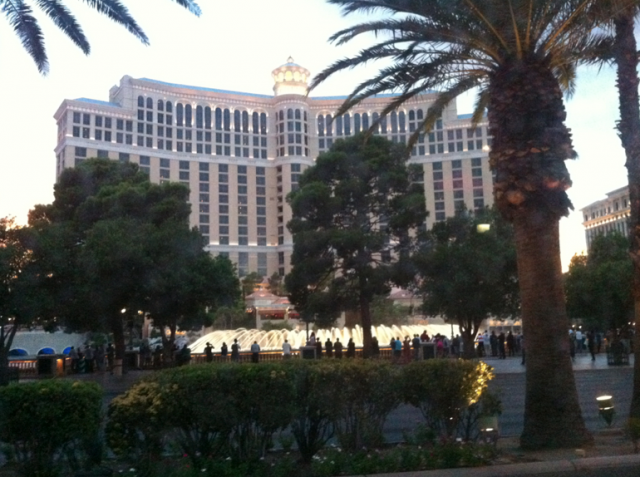 I had never for a second considered that there may be weather considerations when flying into Las Vegas. San Francisco, yes; the East Coast during the winter, yes; but Vegas? Not for a second. Of course our first fateful day in Vegas was met with thunderstorms (apparently not uncommon), creating weather that was unsafe for air travel in the area. We were stuck in LA until further notice. We boarded a plane, were told to deplane, and then waited again until Scott finagled us two seats on another plane bound for our destination. We were delayed before departure for an additional 30 minutes and then when we actually arrived in Vegas (praise the Lord!), we had to wait another 25 or so to find a gate. By the time we made it to our hotel, our 3:30PM arrival was actually 7PM. Still, we were in Vegas, and the excitement of being in the city was enough to make us forget the hours-long wait fueled by Starbucks' iced coffees and football. Plus, the sunset had the Strip lit up in cotton candy hues through our drive (terrible iPhone photo below).
Birthday Bash Scouting Trip
This trip, beyond being a fun weekday break and an escape from the sky-high prices of hotels in San Francisco and Santa Barbara, was in part a scouting trip. I'll talk more about this and some of our discoveries in an upcoming post, but we are currently in the process of planning a birthday bash for my grandmother who will be turning 90 in 2015. What better place for family and friends with a varying list of likes and priorities to celebrate than in Vegas? We spent some time each day talking with potential sites and vendors to put together what we think will be the ultimate tribute to my grandmother as she enters her tenth (yes, TENTH) decade of life. I'll be sharing that info here shortly so stay tuned, especially if you're in the process of planning a celebration of your own in LV.