As Kaia passes the 7-month mark, she's visited 10 countries, been on 15 flights (including 4 transatlantic), and stayed in nearly 20 hotels across the globe. She's adjusted to time changes and had formula from a market purchased in the mountains of Oman. There's no doubt that traveling with infants is different and requires flexibility, resourcefulness and a bit more pre-planning… not to mention more checked bags than you're used to. Below, I'm sharing insight on international travel with an infant. I'm focusing largely on air travel with an infant, plus things to keep in mind, but also a few notes for prep for arriving and staying in a new country.
I should also note – in the vein of transparency – that international travel with an infant is not easy and does take a bit to adapt to. Many Instagram accounts paint a picture of glamorous travel with baby, easy moments sharing new cities with a little one, and tiny tots noshing on international cuisine like pros. That's only part of the picture. Babies, like adults, have to adjust to time changes (more on that below) so that may mean a few difficult nights during the adjustment period. There are new realities to adapt to with dining time, some adults-only places you'll have to tearfully pass on, and knowing baby's needs (obviously) come before yours. There are lots of beautiful moments and memories to be made, but also the new realities of how travel has changed with a little one in tow. If you find the first few trips a bit difficult, just know you're not alone! It gets easier with time as baby gets a bit older and as you get more used to your new travel companion.
In the Air with an Infant
First and foremost, I'm sharing details about air travel with an infant as this is probably where I get the most questions from first-time jet setters heading out with the baby. I get it and believe me, I get a bit of anxiety every time we're heading to the airport with Kaia, but every trip does get easier as you find your new rhythm. One thing to just keep in mind when planning is that it's not just the flight to keep in mind — this isn't to scare anyone, but just to remind and inform! For us, a 3-hour flight to London from Rome, for example, isn't just a 3-hour flight to Rome. It's a two-hour drive to the airport, 2+ hours at the airport, and then a 3-hour flight pending no delays (more on that below). The 3-hour flight ultimately ends up being a 7 – 8 hour journey, not counting landing, clearing immigration, etc. All that to say, when you're mentally planning your day and air travel with your infant, you'll want to keep the bigger picture in mind and pack accordingly. More details, tips and tricks below!
Booking Your Infant Seat – What's Included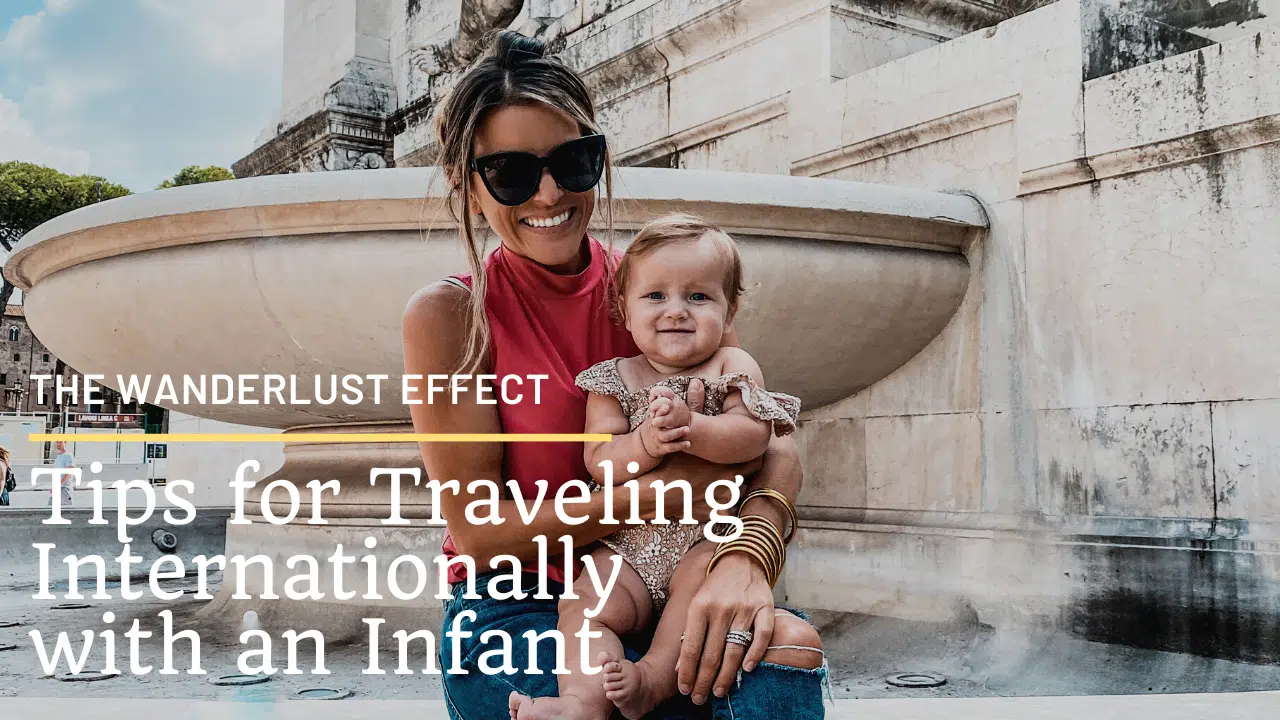 First and foremost, let's talk about booking your infant's seat. If you're traveling internationally with an infant, you need a passport. That seems like a given, but I've seen the question asked. Your baby is a person with their own identity and you'll want to be sure you have their passport prior to travel. There's a lot of talk about lap infants traveling for 'free'. To be accurate, infants don't travel for free as they do have to pay for taxes and sometimes there's a small infant fare. On international trips where we've flown Business Class (on points), we've had to pony up upwards of $300 – $400 for her despite the fact that she doesn't have her own seat. Some smaller, budget carriers charge a fee for an infant (sometimes €25 or so on budget European carriers). A follow-up note to that: sometimes airlines don't have an infant option when you're booking. Or perhaps you're booking airfare for the future and your baby is still in utero at the moment. The best approach is to call and add the infant to your booking. They'll assign the infant to the mother usually and this will appear on your booking. The infant receives their own ticket but will show as INF vs. showing a seat number.
All of that said, your infant is expected to sit on your lap and share a seat with you which means this approach does not guarantee that you'll have a seat for your baby in any way. If luck is on your side and an adjacent seat is available then yay! You can ask the agent upon check-in or the attendants when boarding but it's really a gamble. If you want your child to have a seat, you'll have to book them a child's fare. Now, your infant fare includes a carry-on for your child and gives you the ability to bring formula (more on this below); liquids that typically wouldn't be allowed for a normal flyer. I'm sharing more insight on this below in terms of packing and prepping as this was one of my main concerns!
The Bassinet — The Inside Scoop
You've heard of the elusive bassinet. It's like a unicorn add-on that every new mom is in awe of. These exist?! How did we never notice them before becoming pregnant or having a child?! It makes sense! We never needed them before and truth be told, they're not available on every flight. Not to mention the fact that each bassinet is different. Here's the inside scoop: bassinets are free and they're first come, first served. Generally speaking, the agents I speak to over the phone when booking air cannot guarantee them. If a flight has a bassinet, it's set up at a bulkhead seat and you have to let your flight attendant know to allow it to be set up prior to take off. When you're looking at a plane configuration online, you may notice a small drawing of an infant (in your previous pre-parent life you may have not noticed this or thought it was a bathroom symbol). These seats are designated bassinet seats. Again, not all flights have them and not all classes of service have them. I've been on flights where economy had bassinets but Business Class didn't. Each bassinet is different but they're generally very useful and allow you to be hands-free for a bit when your baby sleeps. On our earlier flights, when Kaia was 6 – 14 weeks old or so, we found these helpful as she slept frequently and was comfortable in the bassinet. Piece of advice: bring their favorite/go-to blanket from home! It gives them some comfort and allows them to cozy up faster.
Take Comfort – There's White Noise on the Plane
It's your first time traveling internationally with baby and you're concerned about the long flight… I'm going to remind you of one fantastic truth: there is so much white noise on planes. You know the white noise machines moms swear by for helping baby fall asleep at night? The plane is basically a big white noise machine so babies are lulled easily by that! Add to that the fact that there's a lot of ambient noise on a plane (more than you ever realized before) so if baby is whining, fussing or crying a bit, the likelihood is that you notice it far more than anyone around you.
Take Off and Landing
One of the big conversations with babies is around take-off and landing. Every parent traveling by air with a baby for the first time is aware of this and fearful of it. The common sentiment/approach is to allow the baby to nurse or to provide them a pacifier upon take-off and landing to help with their ears and any pressure. If they're sleeping, let them sleep. I wouldn't advise waking a sleeping baby to have them nurse or provide them a pacifier. Another added comfort: I had a very difficult time nursing due to some issues during my birth experience and Kaia never took to a pacifier. She's now been on 15 flights including 6  – 8 that were 7+ hours. We have never had an issue with her ears. Even if she isn't having a bottle, nursing, etc. she's never shown signs of pain or fussiness. I share that to just note that not all babies have issues. There's a constant fear that your baby will be in pain, screaming for the flight due to pressure, but that's not necessarily true. Of course if you can preempt the issue by nursing or providing a pacifier then go for it!
Prepping Your In-Flight Baby Bag
If you've followed my adventures in the past, you know that we're generally light packers. We travel for a month in a carry-on and think nothing of it.
That's past tense now (insert crying face).
Babies take a shocking amount of stuff — and it's very difficult to pare down when they're very young depending on your personal situation. You will have the ability to bring a carry-on on board for your infant. Pack wisely and thoughtfully. Big things to consider:
Formula. If you're like us and need to use formula or choose to use formula, bring enough (more details below).
Diapers, Wipes and Changing Pad. Bring plenty of diapers – plenty! – just in case. I brought a dozen on our first transatlantic flight from London to Miami and a friend scolded me about being ill-prepared. He had been in a similar situation and dealt with flight delays, a baby with a bad tummy and a whole host of issues and a dozen was barely enough to make it out unscathed. Generally speaking, I think a dozen is fine. Do what's best or you but be generous. Also bring a changing mat (we bring disposable ones AND a padded one), along with wipes. I prepare what I call a 'nappy changing kit' before travel. I take the changing pad (the non-disposable, nicer, cushioned pad), insert a disposable changing pad, put in two diapers, and a package of wipes and then fold it up so it's ready to go. When I need to use the lavatory to change her, I pull the changing table down, the pack is ready to go and I unfold. I bring the second diaper to use as a pad for her head just in case!
Backup Outfits. Always bring backup outfits for obvious reasons. If you don't, Murphy's Law dictates that you'll deal with the world's worst blowout and have no way to recover. Also, bring a backup outfit for yourself!
Toys and Entertainment: Bring toys your baby loves to entertain them. For us, that's Sophie (the ever-present giraffe), our Sea Tails crinkle book, a few rattles, a flexible mirror, and a couple of other toys just to mix it up in case.
A go-to blanket: As i mentioned above, whether your baby is sleeping on you or in a bassinet, a blanket that their go-to is a piece of home and gives them some comfort in new settings.
Any medications, specifics for baby: Whether it's Tylenol or something your baby needs more critically, obviously be sure to pack meds for baby in the carry-on.
Formula Packing and Options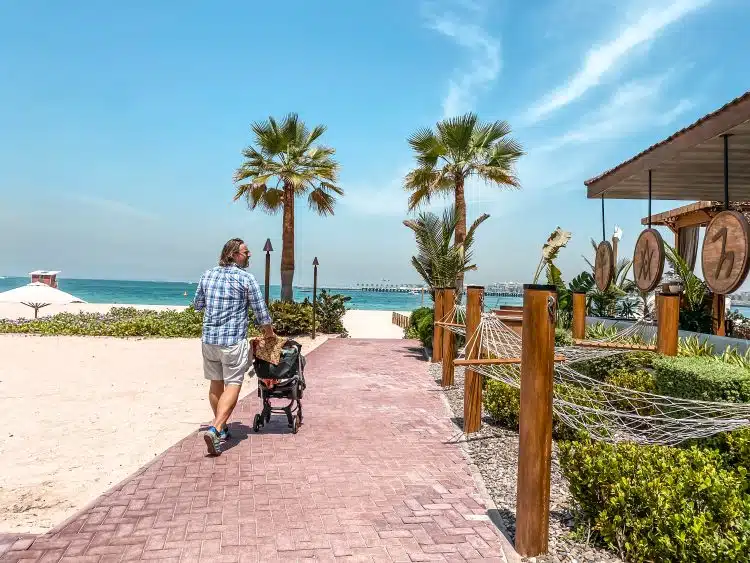 This was my biggest worry! How would I bring formula on board and what was my best approach for traveling with a formula-fed baby internationally? People have different takes on this, but this is what works for us: I have 5 – 6 bottles that we travel with. Generally speaking, at 7 months old, our baby eats about 150ml/5 oz. 5 times per day. I usually have 3 bottles filled, one with a ready-to-eat portion, then 1 – 2 empty. We have trained Kaia from her early early days to not expect warm formula. My mom gawked at this like it was some form of child abuse, but honestly — babies don't need formula to be warm, and if they accept it lukewarm or even slightly chilled – gasp! – your life will be easier for it. The filled bottles that we carry with us go in a cooler bag with ice (you can take the ice through security since you have an infant) which keeps them safe for consumption. I usually take a bottle out (it'll be freezing when you remove it) and allow it to warm with my body heat or request hot water from a flight attendant (or get hot water in the airport lounge depending on where we're at). Kaia doesn't require formula heated to a particular temperature so as long as it's not absolutely freezing, she's happy enough to have it. Also, in the spirit of being prepared for any circumstance, the worst-case scenario is running out of food for your baby. If you're a mom that is not nursing, this means you rely on formula. In addition to our prepared formula, we bring two 500mL ready-to-drink formulas that are shelf-stable. We've opened them before on planes when needed. They do need to be kept cold after opening so your cooler bag will come in handy again. Note that flight crew often cannot put your items in their fridge per FAA regs but they CAN provide ice, which they've kindly done for us in the past. In addition, I bring powder formula in my carry-on just in case we get stuck somewhere and I need to prepare more. That's a super safety precaution but always makes us feel safer in case things change unexpectedly.
With younger babies, the biggest concern is sanitizing bottles so bring extra, pre-sanitized bottles with you so you're ready to go. We have travel-friendly microwavable sanitizer bags but these aren't useful on the plane. If you're in a major bind at some point, boiling water run through bottles usually is fine as bottles don't need to be sanitized after every use though they do need to be cleaned properly shortly after use. I also bring a bottle brush when I can remember!
Is Business Class Appropriate?
We searched for answers to this ourselves before flying Business Class with her on a series of international flights. Is it appropriate to book Business Class with a baby? There are so many threads and so many personal anecdotes here, but let me just say that if you can book Business Class, do it. Our Business Class flights with baby were so much better than economy. I'm a petite person (5'1″) so I usually have plenty of room in a spacious Business seat which means I can happily share with baby. With full lay flat beds, I've sat with her to play, to cuddle, and to sleep. We shared a seat while she snoozed so while there wasn't a bassinet available, we had plenty of space to be comfortable. I've been side-eyed when walking into Business Class with baby, but really? As someone on a forum noted (astutely, I might add), someone's worried about my baby making noise during the flight… what about the guy next to me snoring? And reality check: there are usually good headphones in Business Class so they can cancel noise out pretty easily. Also note my comment above about white noise.
What if your baby cries for half the flight?
If you travel often, the reality is that this will probably happen at some point. Kaia fussed for at least 30% of our flight from Cancun to San Francisco (teething plus recovering from tummy issues). It was shitty. I felt terrible for the other passengers. I felt stressed in that moment. I did all that I could to comfort her. You know what? The flight is over now. We made it. We survived. It wasn't our greatest flight experience but it was in no way indicative of future flights either. On the following flight we took with her from SFO > Rome (12 hours) she was fantastic. Other passengers fawned over how wonderful she was and complimented us on having a chill child. So, that is to say, if that does happen, a friend reminded me: you won't see these people again. Do your best and that's all you can do. Infants are infants. You can't 'control' them and there's no behavioral issue (it's not like they're a 4-year-old screaming and running amok). They're babies — and guess what? We were all babies once. I need to remind myself of that same advice a lot, but I think the most important thing is to not have PTSD after a flight like that. One bad flight doesn't mean that your future flights will be bad. Sometimes babies (and adults, for that matter) have bad days.
What To Bring For Baby
Above I mentioned that we were such light packers once upon a time. With baby, things shifted quite dramatically, though admittedly, I do feel that the first six months of traveling with her were the most difficult in terms of her needs. As babies become stronger and more capable, the infant needs become less stressful. When they're tiny (our first international flight with Kaia was at 6 weeks old) they're fragile. Their immune systems are fragile and their bodies are delicate so you're naturally more concerned about having their comforts -and yours – with you.
If you're traveling to a country in the developed world, remember that babies exist EVERYWHERE. So, diapers, for example, are not something you need to pack en masse. We bring enough to get us through flights and a few days but usually stop at a pharmacy or similar to buy more in the destination. Formula can be trickier so I do try to pack enough to get us through a trip. We use Aptamil which has been universally pretty easy to procure. Travel anecdote: we were running out of formula while in Jabal al-Akhdar during our two weeks in Oman. As you can imagine, a mom is pretty quickly in a panic realizing she didn't pack enough food for baby and that she's also in the middle of a mountain town in Oman with about three restaurants, a gas station, and a minimart. Lo and behold, the minimart had Aptamil. I quickly procured two containers, counted my blessings, and vowed not to risk that again. When Kaia was tiny (before she could sit on her own) we also traveled with her Baby Bjorn baby bouncer to give her a place to sit and play without having to always lay on her back. We no longer need that given she can sit independently. Blankets are a piece of home – bring baby's favorite to put on the bottom of the crib and to put over baby as well. We travel with our portable baby monitor by Nanit (a must for us), along with a portable router for our Nanit, and a white noise machine. Depending on the destination, we may also bring things like swim diapers, floatation devices for infants, etc.
On the Ground with an Infant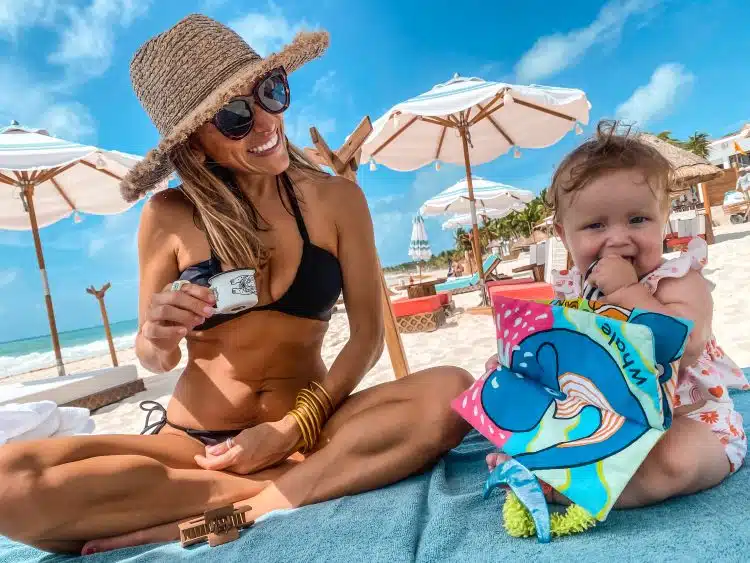 You've made it to your destination – yay! There's major comfort when the final 30-minute countdown is on and you're more or less clear. You made it!
Be Prepared for International Arrival – TSA, Global Entry, etc.
Reminder to frequent fliers new to traveling internationally with an infant: just because you've been jet setting for years with Global Entry doesn't mean that this is transmitted to your baby. I have found that TSA Pre-Check actually was assumed by the baby when traveling, but Global Entry is not. If you're flying into a major US hub there's often an option for an interview upon arrival but you must submit the application prior. If you've submitted your app, you can go to a window where your infant will be 'interviewed' (formality, obviously) and then can finalize their own process.
Airport Arrival – Special Family Lines
Piggybacking on the above, one of the benefits of international travel with an infant is that you often have access to special family lines and stroller-friendly pathways. I used to feel bad zipping past lines of people, but they're just as happy to get a baby moved through to avoid noisy infants and crying while waiting for passport control. Babies obviously still need to go through passport control (see above somewhat obvious – but apparently not-so-obvious – point that babies also need passports to travel internationally).
Hotel Bookings with an Infant
As a frequent traveler and as a hotelier, I can tell you that no request is too weird and where possible, hotels will do their best to honor your requests and needs. My common requests:
A crib: Some people travel with a Pack n' Play. I prefer to take as little as we can (which is still too much) so we request a crib when on the move. Kaia has slept in 20+ different cribs so is very flexible but my must is taking a blanket that is familiar so there's a sense of continuity for her.
A Kettle: We use formula so a kettle is important for preparing baby food (water must be boiled as formula isn't sterile).  Some rooms are equipped with a kettle but many are not and can be delivered upon request.
Microwave or Sterilizer: If you're traveling with a young infant and using bottles, you're likely still sanitizing as well. I'm not strict about a ton, but I was very strict about sanitizing to avoid any tummy issues. You have three options here depending on what you have access to: 1) Sterilizer bags + microwave, 2) a sterilizer, or 3) pieces boiled in a kettle. With the first option, you'll need a microwave to be accessible (though you can sometimes as hotel staff to microwave for you). The bags allow you to put in about 60mL of water, plus bottles, caps and nipples and microwave for 1.5 – 4 minutes (depending on microwave strength) to sterilize. With option 2, the hotel kindly provides a bottle sterilizer that gets plugged in and requires no microwave or special equipment from you (we do this at Borgo but it's not a common amenity). With option 3, if you're in a bind, you can boil some parts in the kettle to sterilize. It's the less safe/secure/proper approach but in a bind, it's the best solution. Bring your bottle brush if you can.
Luxury hotels will sometimes provide baby-friendly bath products, baby robes, baby amenities, etc. but I've found that true at very luxe properties like the Ritz in Dubai, the Ritz. in Muscat and the Belmond Maroma in Riviera Maya.
International Medical Needs
It's every parent's hope that their baby never gets sick and that they never need medical care internationally. We were 9 for 10 until we got to Mexico where Kaia got a virus (not bacterial/water-based). Babies touch everything and put their hands in their mouths constantly so it's just a matter of time until they get a tummy bug. Obviously, make sure that you have medical insurance and that your baby is covered under your plan. If necessary, get travel insurance as well. Keep a scan of your baby's vaccination records and of course know what medications they're taking, if any, and bring extras if they're on regular medications. In Kaia's case, we had telemedicine included with our insurance. After speaking with a doctor over the phone, we were advised to find a pediatrician to look at her in person. If a pediatrician wasn't available, we were to go to the ER to have her looked at. With infants, doctors are very conservative with their approach as babies can become easily dehydrated and affected since they're so small. We found a local pediatrician, got in quickly, had her examined, and visited a pharmacy to collect prescribed medications. It's frightening when babies get sick, especially when you're away from home, but know that developed countries (and developing countries, for that matter) will likely have a nearby facility for medical care and babies exist around the world so there will more than likely be a pediatrician to assist. Our insurance includes airlift in case there is a major issue requiring us to seek medical care away from the country we're visiting. It's not a bad idea to travel with baby probiotics and infant Tylenol to help with stomach issues and for fever and pain regulation.
---
If we've learned anything since beginning our parenting journey it's that it's the most humbling learning experience, it's an exercise in flexibility, resourcefulness, and selflessness that yields the most rewarding moments. When parents talk about the rewarding side of travel with baby, there's no doubt that watching some of your little one's firsts unfold overseas is one of the coolest and most rewarding things imaginable and it's those little moments, hearing tiny laughs that make all the extra suitcases and missed rooftop bars somehow worth it. ✧
Have you begun your international travel with baby? Tips, tricks, or reassurances to add for other parents out there?