You know an in-villa dining experience is spectacular when you choose to do it not once, but twice, in a single week (with the same chef, I might add). Once upon a time, I eschewed the idea of a private chef as the domain of the rich and famous; something aspirational that we could daydream about but not really experience. Fast forward to our time in the Caribbean, and we've enjoyed a few experiences with a private chef in Anguilla, which prompted us to start digging deeper when traveling abroad. When done right, the process is consultative, intimate, and produces a one-of-a-kind experience that generally can't be attained by dining out.
We decided to hire a private chef in Hvar as a surprise for my in-laws who were celebrating their 40th anniversary together. Parents are so hard to shop for (am I right?!) and we often find that gifting experiences – especially experiences that involve us making memories together – end up being the best gift possible.
We struggled. Generally speaking, Hvar doesn't have a shortage of great dining options. There were plenty of world-class places for us to happily dine for a week… and we would still have enough left over to daydream about for a future trip. That being said, with a gorgeous villa overlooking the harbor, we knew we could make an at-home experience extra special.
We started by enlisting the help of Emelie and Yvan, a young and talented French duo that own a company focused on private chef services in Hvar. The duo met years back and began collaborating on the private chef concept on Hvar. For foodies headed to the island, you'll be glad to know that Yvan and his wife, Chloé, also own Stari Grad-based ZaPodZub, a delicatessen and gourmet store in Hvar that they carefully curate, which is a perfect place to pick up your own specialty items as you start your getaway. In 2018 they're upping the ante by bringing on Alexandre, an executive chef from Four Seasons to help develop the Private Chef project.
Emilie and Yvan are both originally from France and understand the art of an eye-popping charcuterie plate and a dazzling bottle of bubbly. While she took the lead in the kitchen, preparing delicious and unbelievably artful plates, Yvan took the lead on service and wine pairings, explaining the courses and the accompanying wines.
We opted for a four course meal with wine pairings, all locally sourced wines from small producers that they've worked with over the years. We began our evening with an aperitif, a bottle of Croatian sparkling that set the tone for a celebratory evening. Paired with a range of cheeses, meats and local baked goods, we were rightfully torn between pacing ourselves (we weren't even at the main event yet!) and bouncing between hearty nibbles of truffle cheese, local meats, and oil-cured olives.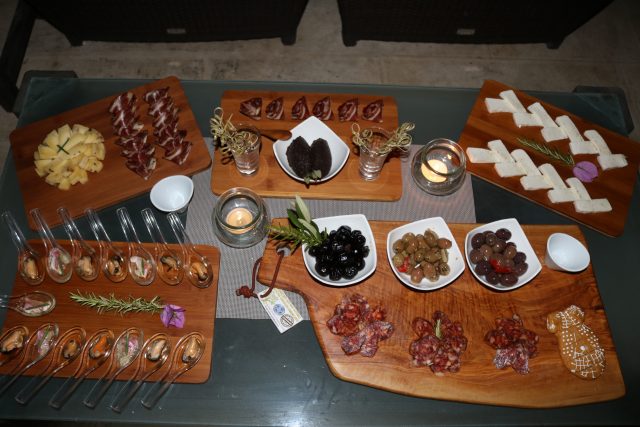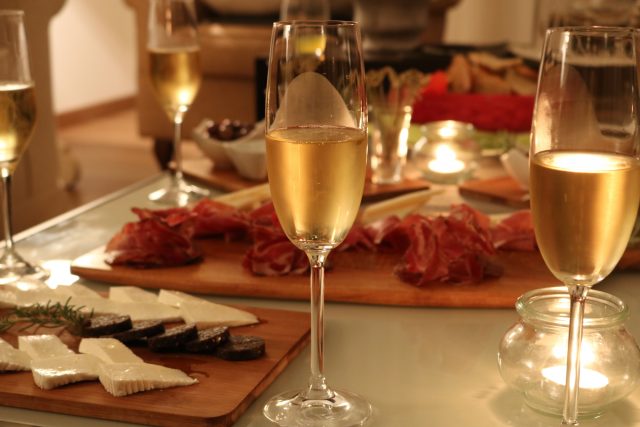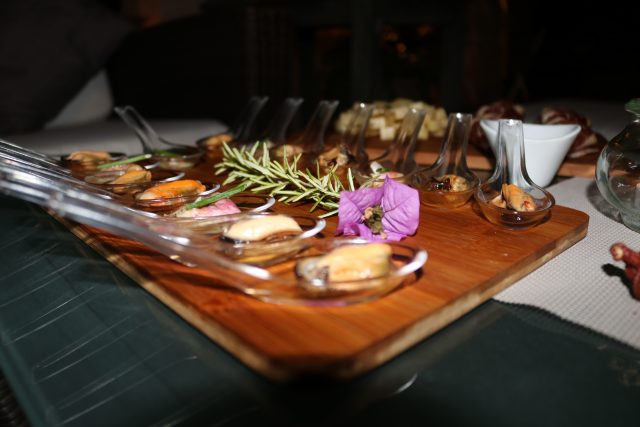 There's something really special about being pampered in your own home, and having a private chef is really one of the greatest expressions of this ideal. It's relaxing and low-key while simultaneously feeling luxurious, which is a lovely combination that can be hard to master. The service matched; professional and incredibly knowledgable with a comfortable and casual air.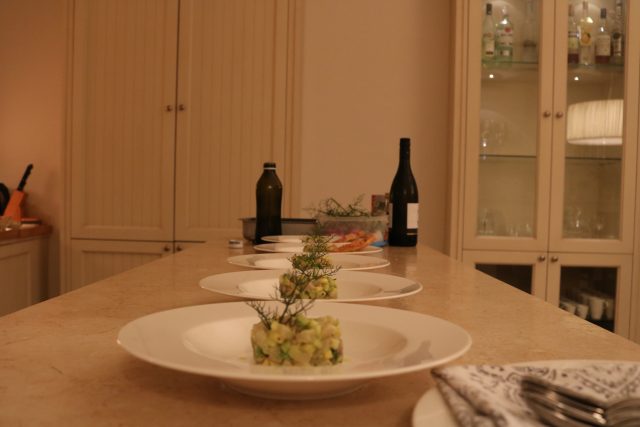 And then of course there was the food. Emelie is a master of her craft, and there's no way you can go wrong when you choose a menu. We had a choice of three to four options per course and we were utterly wowed by the food. We started with ceviche followed by a truffle pasta, before moving on to locally sourced seafood and a 40th anniversary celebration cake. Each course was paired with Croatian wines; varietals like pošip, plavac mali and prošek, which we became familiar with during our day of wine tasting on the Peljesac Peninsula. One of the facets we were most intrigued with was Yvan and Emelie's focus on curating items from small producers. Cheeses, meats, and wines are purchased from small farms throughout the region with a focus on organic and sustainable production.
And this cake? Homemade, of course.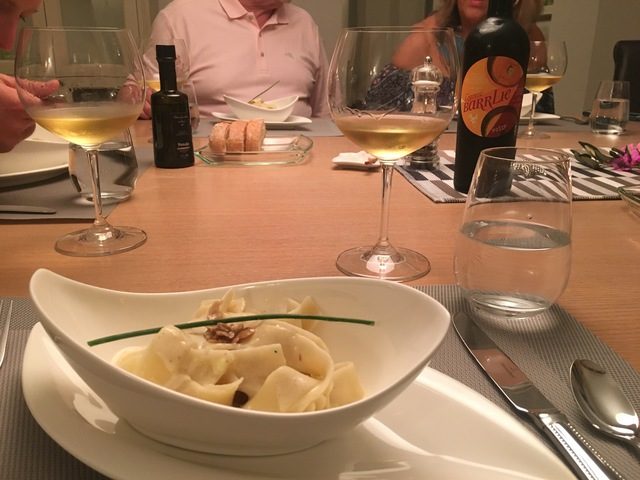 For family and group trips in particular, hiring a private chef is such a special experience. We felt extremely fortunate that our experience exceeded expectations from the start. We had such an inspired event that we ended up bringing Yvan and Emelie back for round two on our final night in Hvar! I've shared some tips for hiring a private chef in the past, and I find that much of creating your perfect in-villa dining experience is finding chefs/teams who are collaborative, inventive, and enthusiastic. So much of the private chef encounter is interacting with your host; watching their skills, talking about local insight, and learning about local produce and wines. Plus, when it comes to choosing your menu, being able to dialogue is key, and having a chef that gets to know what you're anticipating is important so everyone's on the same page. Our duo in Hvar had mastered their craft, plus they understood the true art of hospitality, which wasn't wasted on us. Despite the incredible dining in Hvar – and yes, we skipped some restaurants that we had originally anticipated visiting – we all felt that what we'd experienced was something highly personal and very special. The food was arguably the best we'd had on our entire trip, but our fond recollections of that night were about so much more than just food – they were about joint family memories in the making.
What are your thoughts on hiring a private chef on vacation?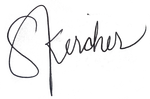 Looking for a private chef in Hvar? Reach out to Yvan and Emilie by email or check out their website for more.